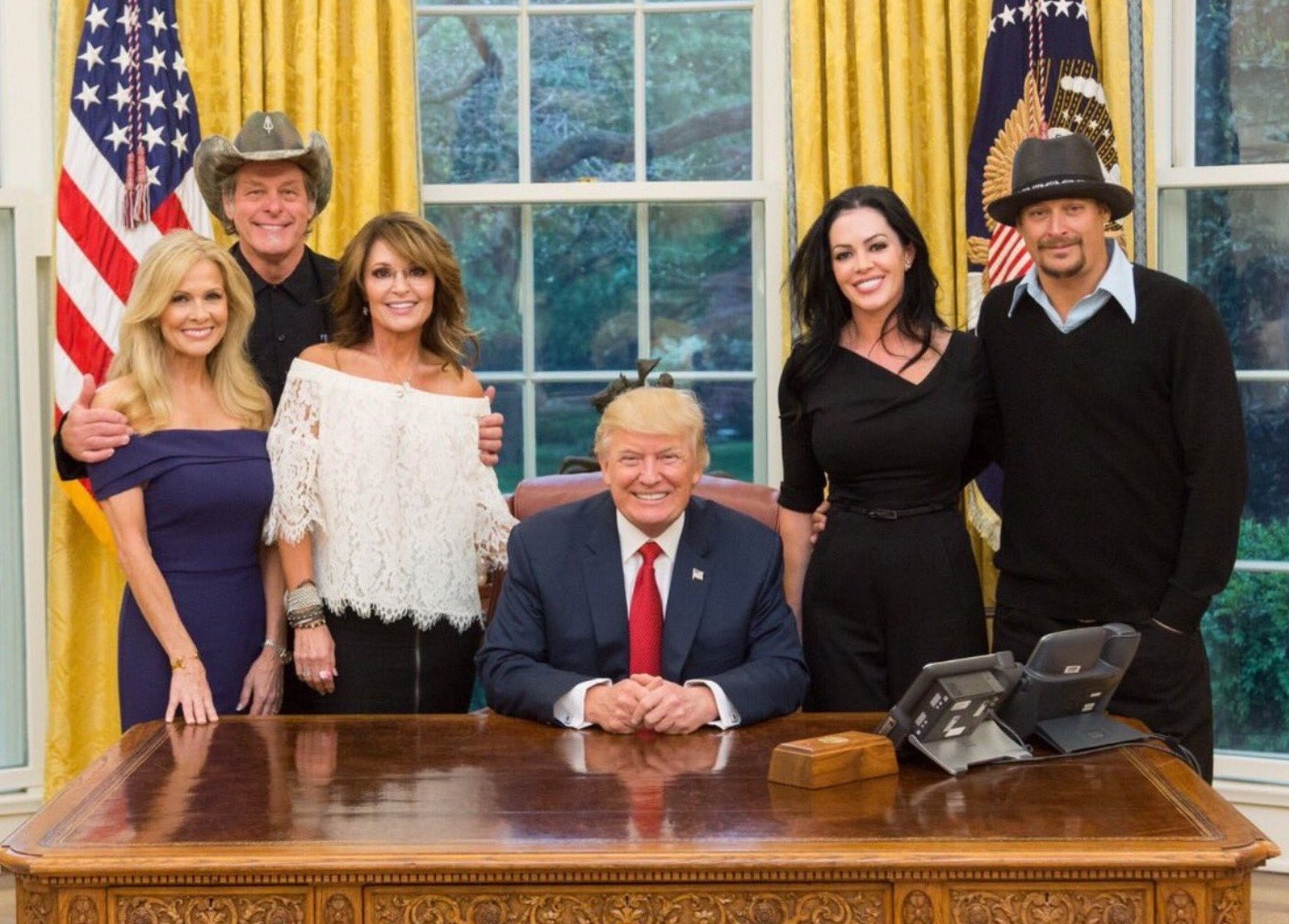 Remember last year when we thought it was a good thing that Donald Trump had made it possible for every violent, racist dumbass to "come out of the closet"? The idea was that these people shouldn't be hidden, we should know who they are and they should be dealt with in the sunlight. A funny thing happened though – they all came out of the closet with Trump's election and now they're emboldened. Now they're running the country and it's f–king awful. Ted Nugent is one of those dumbasses. Nugent LOVES Emperor Bigly. He thinks Bigly is doing a bang-up job and that the Trump White House is #winning. And now that Nugent has seen what Trump has done, Nugent wants a piece of it. Yes, the Nuge is thinking about running for one of Michigan's senate seats. Oh, God.
Ted Nugent is ready to serve his country whether that's in office or as a musician. The outspoken rock guitarist addressed rumors that began swirling in February that he planned to run for Senate in 2018.

"Well, I'm a terminal 'we the people American patriot' and I think I'm doing the most important political job in the world and that is participating in the scared experiment of self government and demanding constitutional accountability from our elected employees," he said on "Fox & Friends." He added, "There's no limit to what I'd be willing to do to help make this country great."

He's still mulling over a possible run for Senate and has been discussing his options with his "Republican friends."

"I'm a hell raiser," he said. "I'm what the Founding Fathers wanted all Americans to be…and it's all about the Constitution, the Bill of Rights, the Ten Commandants, the Golden Rule, being the best that you can be, earning you're own way." He added sarcastically, "Wow, I'm a radical."

While the 69-year-old weighs his options, he is glad to finally have a "hell raiser in the White House." He praised President Trump's efforts since assuming the presidency. "[Put] America first, make America great again, job security, secure the border. You know, it's so simple even guitar players can figure it out," he said of Trump's priorities. "If you're not pissing off the idiots you're an idiot," he added of Trump's critics. "He's not an idiot; He's driving the idiots crazy so I'm so proud of him."

Michigan GOP press officer Sarah Anderson told Fox News in February that they have not spoken with Nugent but that "Ted Nugent would be a great candidate to win against Debbie Stabenow."
I was really worried about this until I got to the part about Nugent running in Michigan. Like, I could totally see Nugent's ridiculous act and his general level of unhinged bigotry, chickenhawk, gun-totin' faux-patriotism going over well in a state like Alabama or, hell, Florida. But Michigan? I have to believe that a purple state like Michigan will see through this dumbass. Sigh… I'm ready for all of these people to crawl back under their rocks now, aren't you? Sunlight isn't the best disinfectant after all.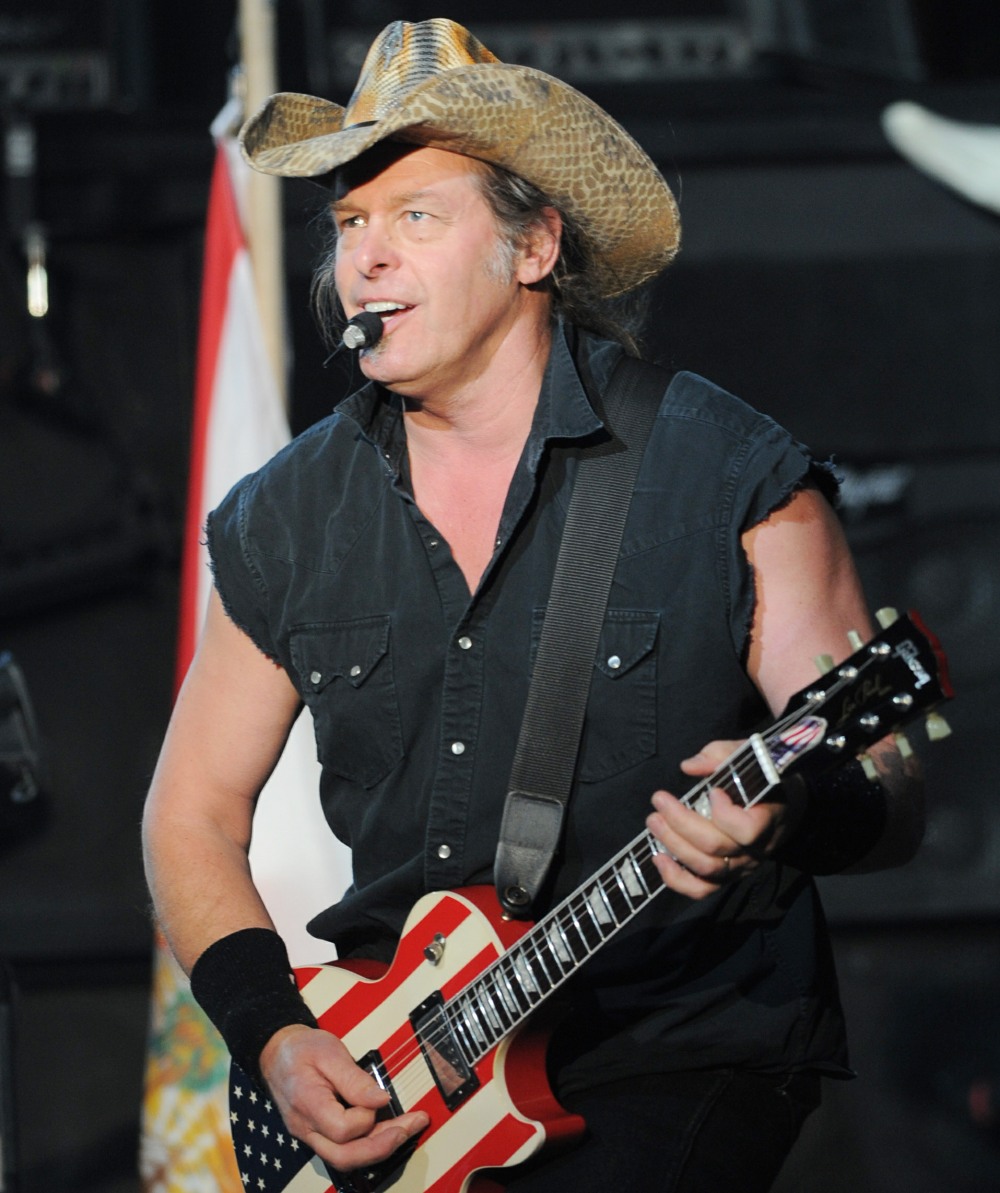 Photos courtesy of WENN.