Chloe Moretz was one of the many young faces of coach at last nights CFDA awards. Coach is trying to appeal to younger consumers with their brand ambassadors which is smart as they need to hook women who will be loyal to their purses throughout their lifetime. This begs the question though, where was Selena Gomez? She earned a multi million dollar contract with Coach and surely that must involve promotional activities like this. Instead coach had Chloe Moretz, Rowan Blanchard and a couple of other young women representing the label.
Chloe was is in this black-and-white above the knee length coach gown with a dippy white Peter Pan collar. She looked like she was dressed for a luncheon not a fashion awards ceremony. I do like her styling and makeup, although her eyebrows are a bit dark. She's only 20 so it makes sense that they would put her in a young-looking dress, but there's absolutely nothing special about this.
Rowan Blanchard was also in Coach, in a yellow floral number with flutter cap sleeves. This is very Little House on the Prairie and while it could be worse it's not good either. She has tiny sequins glued under her eyes.
Here's a group shot of the women in Coach including Sasha Lane in a sheer dress that's similar to Rowan's and Hari Nef in a 70s golf top with a floral skirt. It's clear that handbags, not fashion, are Coach's forte.
Continuing the theme of fashion from designers known for their purses, here's Mandy Moore in Kate Spade. This is really fug. It's sparkly leopard print with cuff sleeves! If you're going to do animal prints, which seem to have been out of fashion for several years, at least show a little skin. Plus her hair is all slicked back and whoever did her makeup put liquid eyeliner underneath her eyes. There's a reason that's rarely done.
Ellie Kemper fared better in pale pink Kate Spade with a snowflake pattern of sequins. This isn't amazing, but it's cute on her.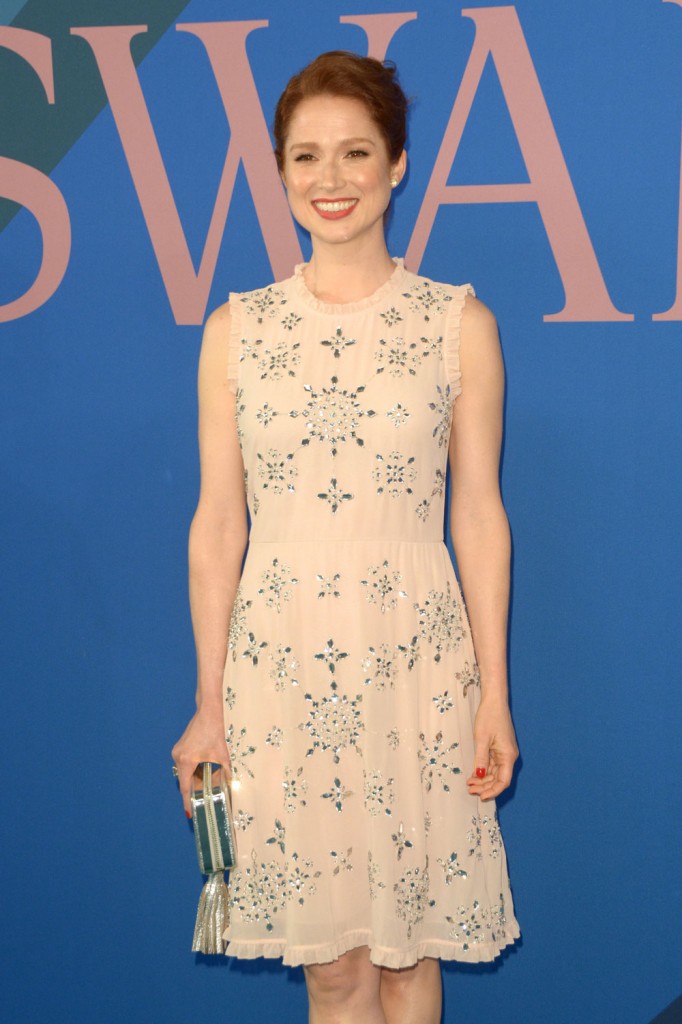 I think Ashley Benson got the worst Kate Spade dress although she's neck and neck with Mandy. The floral embroidery over black lace is striking, but the extra row of lace hem at the bottom is too much. Imagine this as tea length without the extra hem and it would be pretty, right? I love her hair and makeup it's just right.
Photos credit: Getty and WENN