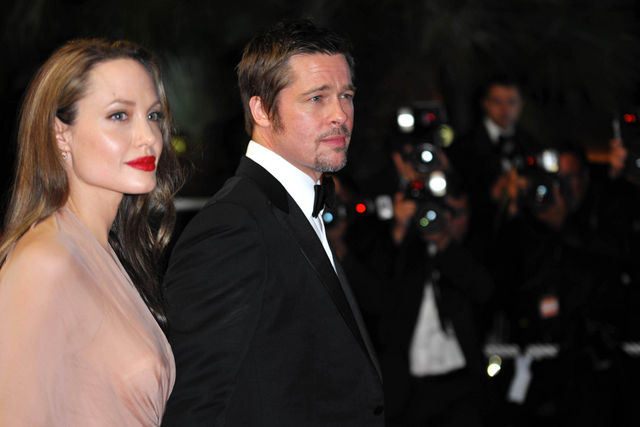 Just a week after declaring that Brad and Angelina were back in love, the National Enquirer is declaring an end to Brangelina. According to their sources, it is an "official split" and a "major split". Brad will be shooting three films back-to-back in California and South America while Angelina takes the kids to the French chateau for an extended holiday after she completes Salt. They are "going their separate ways with the hope of reuniting in the future if they can repair their volatile relationship." This seems based on the story we did yesterday, about Brad being in Los Angeles for a few weeks without Angelina. We've yet to get any kind of confirmation on Angelina's plans after she finishes Salt. She could be going to France, she could be headed to LA, who knows.
The most disturbing part of this report (in my mind) is the nonchalance with which they portray Brad's relationship post-split with his six kids – the Enquirer writes that "he'll meet up with the kids when he can." So I guess Angelina has full custody, according to the Enquirer's writers.
After months of behind-the-scenes battles, it's finally over between Brad Pitt and Angelina Jolie.

Hollywood's most glamorous power couple – who never married despite having six children – have grown tired of trying to gloss over their problems following five tumultuous years together, say sources.

Brad and Angelina are going their separate ways with the hope of reuniting in the future if they can repair their volatile relationship, disclosed an insider.

"They will make it official. It looks like Brad will be shooting two movies in California and in the Amazon, while Angelina is retreating to their French chateau with the rest of the family.

"It's an official split."

If the strong-willed couple can't find a way to get back together, sources say the breakup could turn into an ugly court battle over their $200 million fortune and the custody of their six children.

The deciding moment for the pair came when they had strained words with each other while in Cannes, France for the screening of Brad's new movie Inglourious Basterds.

They put on a romantic show in front of the media, but Angie, 34, and Brad, 45, become frosty as soon as the spotlight was off, say friends.

A jealous Angelina was said to be incensed over the attention Brad was getting from other women, having argued recently over Brad's continued contact with ex-wife Jennifer Aniston.

"Brad and Angelina will make appearances together from time to time, and he'll meet up with the kids when he can. But make no mistake, this is a major split," disclosed the insider.
[From The National Enquirer]
The National Enquirer has literally gone from rosy stories about how Brad and Angelina were so in love while in Cannes, to a week later and there's a major split. Did they get it wrong then or now? My guess is a little of both. Brad and Angelina are probably still together, but of course, they have issues. They probably both have moments where they want to kill each other. In my mind, Angelina spent a lot of time looking at Brad's horrible mustache and thought to herself "I wish I could bash his head in with a wine bottle." Yesterday, a lot of commenters pointed out that a couple can spend a few days or a few weeks apart without the world ending. So what's really happening in Brangelina-ville?
Photo credit: WENN.com