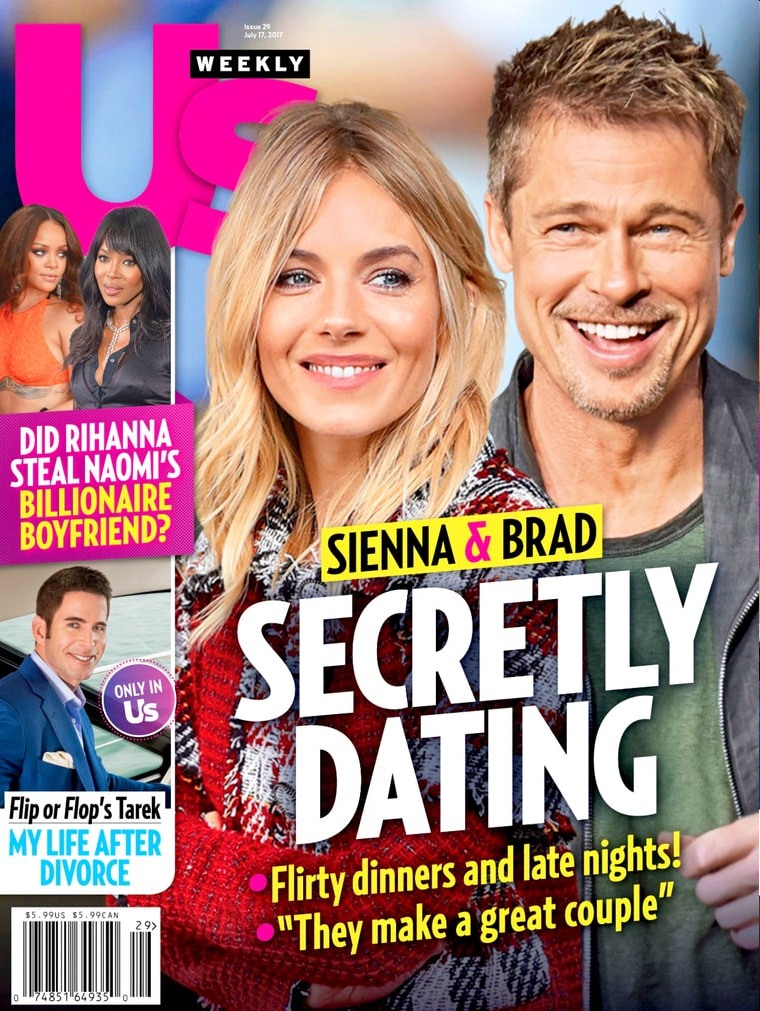 I generally don't like to disrespect or complain about major gossip outlets and their "takes" or long-reads about whatever gossip-rumoring is happening. But last week, in the midst of that Brad Pitt-Sienna Miller story blowing up, E! News ran an essay that seemed like it was written by Brad's publicist. It was all about how Brad Pitt is poor, pitiful and sad because of Angelina and he's dating in general and good for him, but he's not dating Sienna Miller because he's so sad and pitiful and MEAN ANGELINA. It was…a strange read. Especially given the "where there's smoke, there's fire" vibe around the Sienna-Brad story.
Speaking of, Us Weekly also chose to fan the flames of this Brad-Sienna story with their cover story this week. Someone is really pushing this narrative of "Brad has had such a hard time this year, poor Brad," and it's interesting to see how that dovetails with the Sienna rumors.
The past nine months haven't been kind to Brad Pitt. In the wake of his much-publicized split from Angelina Jolie, newspapers and gossip blogs painted him as the villain, claiming he'd had an affair with Allied costar Marion Cotillard and hired Russian hookers. And as he battled his estranged wife for custody of Maddox, 15, Pax, 13, Zahara, 12, Shiloh, 11, and 8-year-old twins Knox and Vivienne, Pitt also had to wait to be cleared of abuse allegations by the L.A. County Department of Children and Family Services and the FBI.

Now, the 53-year-old is looking for a partner to walk at his side, says a source. Single for the first time in nearly two decades, the affable Springfield, Missouri, native "has been on a couple of dates," says another insider. "He's hanging out with friends and those friends are bringing him out to meet other people."

And then there are the connections he makes himself. The Pitt source confirms he's had a few meet-ups with Sienna Miller, who starred in his 2016 biographical adventure, The Lost City of Z. Says a source of the duo — spotted hanging out at England's famed Glastonbury Festival in the early hours of June 24 — "They've been spending some time together."

The first hint of a flirtation came in early April. At a 25-person dinner for The Lost City of Z cast and crew in L.A., the actor and the 35-year-old Brit were seen chatting much of the night. They reconnected two months later on her side of the pond. When Pitt popped by Glastonbury with Bradley Cooper June 23, the pals connected with the blonde beauty, Cooper's costar in 2014's American Sniper.

"They are all good friends so they were hanging out," says the Pitt insider, denying a report from Britain's The Sun newspaper that Pitt and Miller were stroking each other and holding hands. Insists the insider of Pitt and Miller, mom to 5-year-old Marlowe with former fiancé Tom Sturridge. But should the '90s heartthrob want to make a move, the Pitt source sees a good future: "They would make a great couple."
If this was the Us Weekly of yore, I would put more stock into this story. But since Us Weekly was sold to American Media, the same company which owns the National Enquirer, I haven't been very keen on Us Weekly's gossip-reporting. Plus, this story feels like another piece written by Brad's publicist. I guess Poor, Victimized Brad is selling to someone, somewhere. It remains to be seen that Brad + Sienna will sell with that same fanbase though.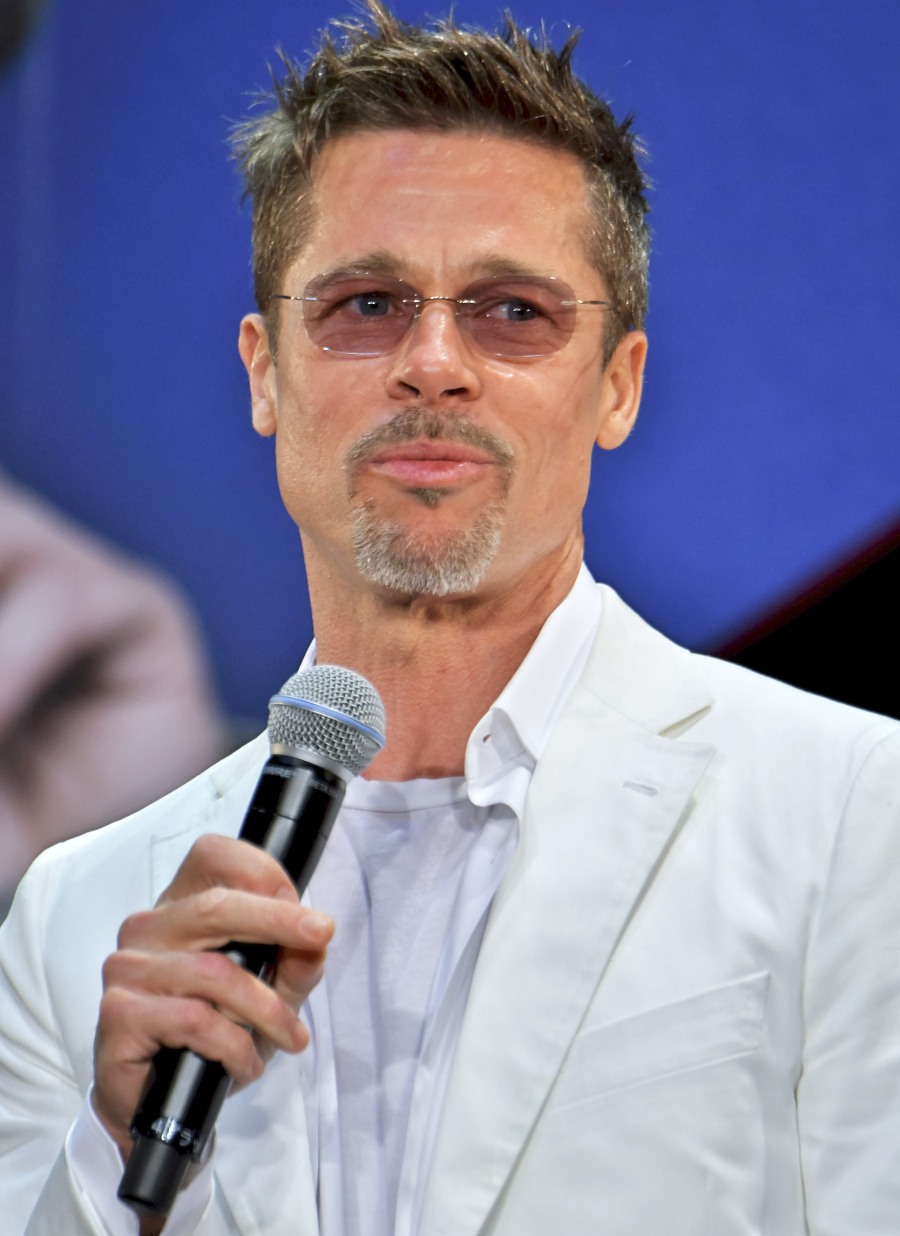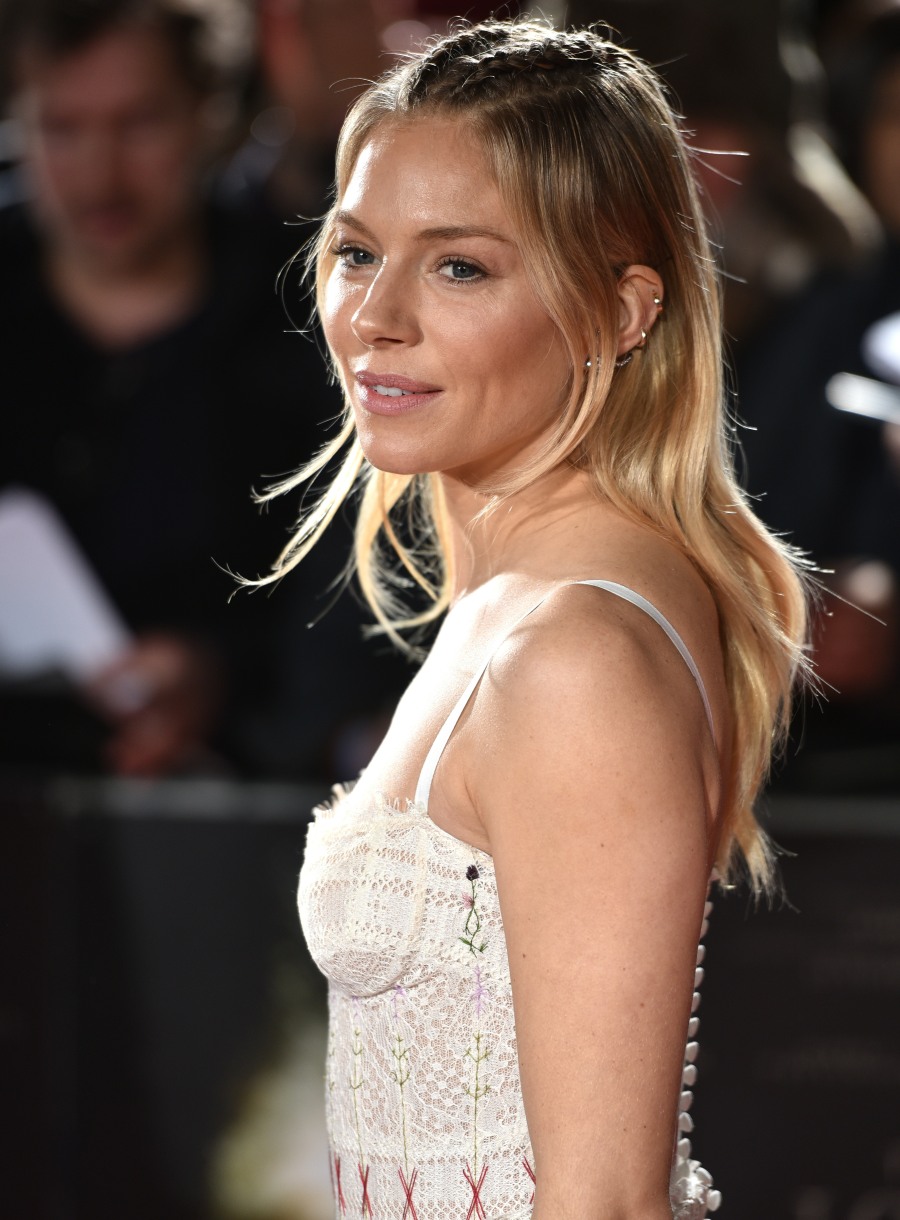 Photos courtesy of WENN, cover courtesy of Us Weekly.