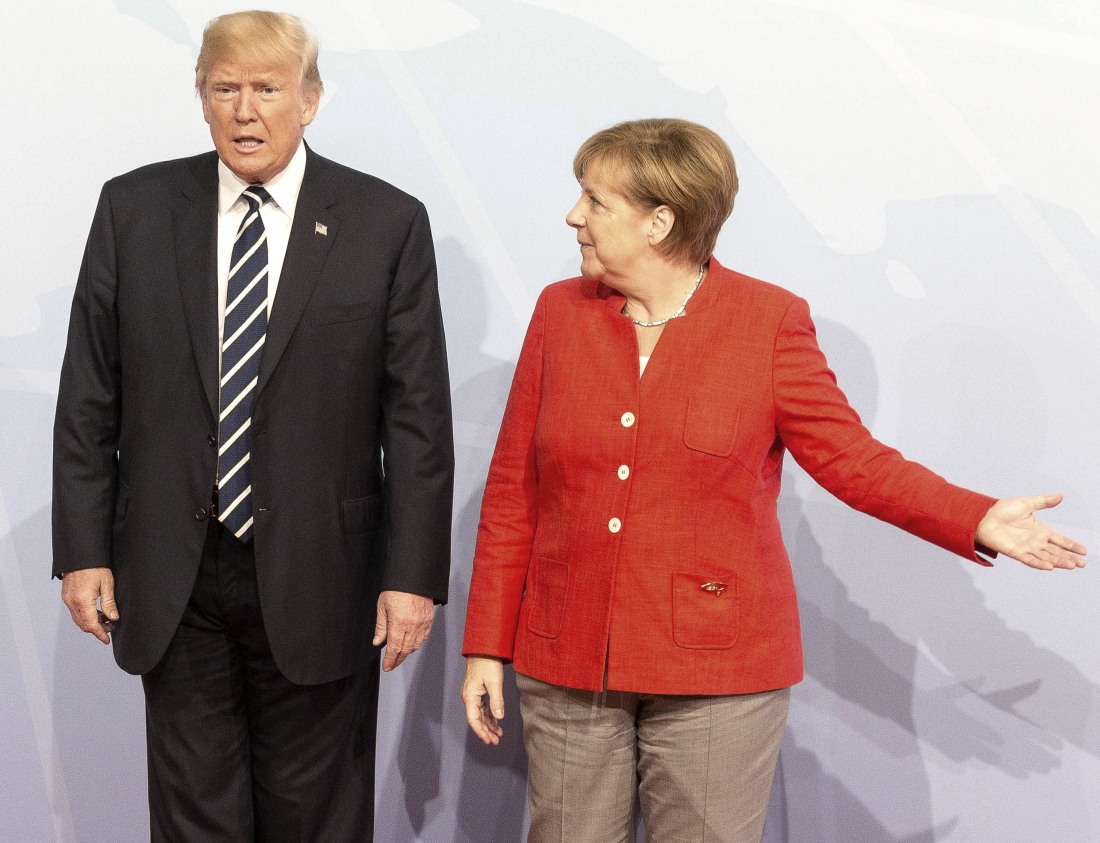 As I previewed yesterday, Donald Trump finally broke his silence about his two-hour meeting with Vladimir Putin at the G20 conference. Following the meeting, Secretary of State Rex Tillerson tried to sell one version of what went down, and Russian diplomat Sergey Lavrov sold another version. Even Putin spoke to the press afterwards, and Trump did not. As many pointed out, it seems like there were zero reliable narrators in the room, but if anything, Lavrov's version of the meeting seems to be the closest to the truth. Well, Trump finally "spoke." By that I mean he tweeted. His tweets read like the rantings of a treasonous madman. Here's what he wrote (I'm not going to embed this mess):
The G 20 Summit was a great success for the U.S. – Explained that the U.S. must fix the many bad trade deals it has made. Will get done!

I strongly pressed President Putin twice about Russian meddling in our election. He vehemently denied it. I've already given my opinion…….We negotiated a ceasefire in parts of Syria which will save lives. Now it is time to move forward in working constructively with Russia!

Putin & I discussed forming an impenetrable Cyber Security unit so that election hacking, & many other negative things, will be guarded….and safe. Questions were asked about why the CIA & FBI had to ask the DNC 13 times for their SERVER, and were rejected, still don't……have it. Fake News said 17 intel agencies when actually 4 (had to apologize). Why did Obama do NOTHING when he had info before election?

Sanctions were not discussed at my meeting with President Putin. Nothing will be done until the Ukrainian & Syrian problems are solved!
This is insane, even with our "new normal" of Bizarro-World Trumplandia. Putin "vehemently denied" meddling… and I guess Trump accepts his word, rather than the word of all of those American intelligence agencies. Fired federal prosecutor Preet Bahara noted sarcastically on Twitter: "When pursuing a corrupt politician, mobster or murderer on strong FBI evidence, if he 'vehemently denied it,' we just dropped it usually." Exactly. And then Trump goes on to say that he and Putin agreed that the DNC should have turned over their server. Sure. This goes along with Trump claiming that everyone was talking about John Podesta, a claim which was refuted by his own staffers, who told the Daily Beast that Trump was just wandering around the G20 conference, making up nonsense about Democrats.
But the really awful part of this sh-tstorm tweetstorm was this: "Fake News said 17 intel agencies when actually 4 (had to apologize)." Trump apologized to Putin because American media outlets reported (correctly) that Russia hacked the election. That is… disgusting. I don't have words. TRUMP APOLOGIZED. To the man who destroyed America.
Here are a few more things of note. One, this Australian journalist rips America a new one. We deserve this.
Wow. A searing assessment of the President of the United States by political editor @CUhlmann of Australia's ABC. pic.twitter.com/TnfUwAPkOP

— Bradd Jaffy (@BraddJaffy) July 9, 2017
Here's Richard Engel assessing the body count amongst Putin's enemies:
This is chilling. @RichardEngel on the body count of journalists and Putin's political opponents in Russia. https://t.co/TD3YY2ESMa pic.twitter.com/m5Jomav6CD

— Bradd Jaffy (@BraddJaffy) July 9, 2017
I need a stiff drink. Lord help us all.
Photos courtesy of Getty, WENN.