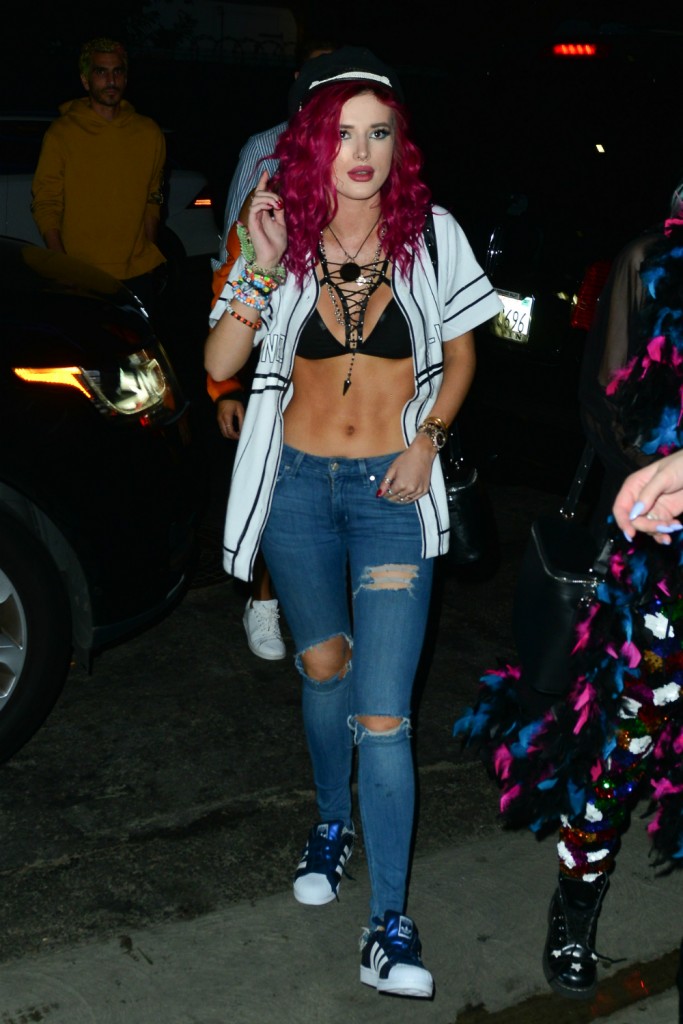 Monday, Bella Throne sat down to speak with Jenny McCarthy on Jenny's SiriusXM show to discuss Bella's romantic entanglements. I think the only way that sentence could turn me off more would be if I had to add, "after which, Jenny burped #45's inaugural address" to it. However, Bella is desperate for us to know about her dating life and even more eager for us to ask about it. Her latest romantic venture has been with Kourtney Kardashian's former boyfriend, Scott Disick… or is it? These two were on, then off, then on? And then who knows what was happening because honestly, eventually you must turn away from a trainwreck. But Bella said something very interesting to Jenny – a twist, if you will – in the ThorniDick fable: there's no sex.
Confused about Bella Thorne's love life? Allow her to clarify.

In the last year, the single starlet has been linked to Scott Disick, Tyler Posey and Charlie Puth—not to mention ex-boyfriend Gregg Sulkin (a platonic reunion, they said). And, eleven months ago, Thorne came out as bisexual. But as the 19-year-old Famous in Love actress said Monday on SiriusXM's The Jenny McCarthy Show, some relationships weren't actually romantic.

Let's begin with Disick, whom she once said was "charming" but "drinks a lot"—too much for her liking. Speaking freely with host Jenny McCarthy, she said, "I was never with him sexually."

"Really?" McCarthy asked, to which Thorne replied, "Yeah, no."

The actress added that she's still "very friendly" with Kendall Jenner and Kylie Jenner, whose sister Kourtney Kardashian has three children with Disick. "Kylie and I used to be really close, and as far as I know, they're super chill," Thorne shared. "I didn't have any problem with them."
Well color me surprised. However, Bella has never specified theirs was a romantic connection. She's favored terms like "hanging out" and "chilling" with him. She did tell TMZ she felt used for publicity after he was caught with his hand on another lady's @ss the minute she left their villa in Cannes, but in her interviews she primarily focused on his drinking. If they are just friends, they are very comfortable with each other, that's for sure.
Although I can't for the life of me see the benefit for Bella to have a causal, non-emotional friendship with a hard-drinking, C-List father of three who is 15 years older than her, it's not my life. I'm more amused that Bella claimed that she was "really close" to Kylie Jenner, but then struggled to remember her name. If Bella and Scott need a third for their BFF crew, maybe Jenny could join. Jenny and Bella bonded over the fact that they both think "the family" beat up on Scott. Yes, poor Scott – whatever has he done to deserve criticism?
Note by Celebitchy: US reports that Bella and Scott were out in New York City together last night at a party for Steve Aoki's new album and that they were showing "extreme PDA." They didn't leave together though. Didn't this happen the last time Bella talked about Scott? She gave an interview stating he drank and partied too much in Cannes, then mentioned very soon afterwards that she had just seen him. Oh and then they hit a paparazzi hotspot together, so I expect they'll do that next.