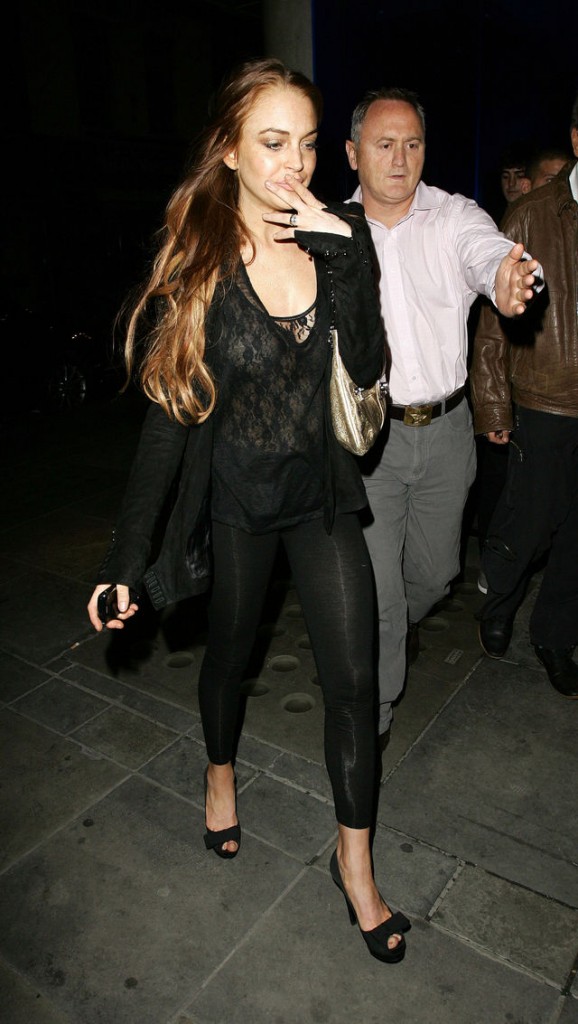 On Friday we heard a quote that Celebrity Rehab's Dr. Drew Pinsky gave to Parade Magazine in which he claimed that would take a serious setback, maybe on the level of losing a limb, to convince Lindsay Lohan to get sober. Drew said he's "really convinced that something horrible is going to have to happen to [Lindsay] before she really gets over [her addictions]… I have this image that she's going to lose a limb or something before she does."
This wasn't the first time Dr. Drew has made an inflammatory comment about a celebrity. He previously trash-talked former heroin addict Angelina Jolie for her charity work because she's not in a recovery program over 10 years after she used drugs. Drew said "people in recovery invest themselves in simple, selfless acts of service, not global self-serving acts." He also speculated that Tom Cruise must have been abused or neglected as a child in order to explain his involvement in the Scientology cult.
Lindsay might have responded to Drew's statement about her via her Twitter account. This sort-of looks fake but does include pictures of Lohan that look like unique candids. That could have been lifted from her known official locked account, though, It's hard to tell. Lindsay maybe-tweeted "I thought REAL doctors talk to patients in offices behind closed doors. Am I wrong? Hmmmmm. I think NOT! Yay!"
She does have a point that Drew shouldn't be talking so much smack about celebrities to the press. It does earn him plenty of headlines, though, and Lindsay knows a thing or two about that.
In related news Lindsay was still in London over the weekend, where she's been seen following her maybe on-again ex Samantha Ronson around. She spent the early morning at Ronson's hotel room on Sunday and showed photographers a suspicious-looking ring on her left ring finger. It could have been a reconciliation gift from Sam, or maybe Lindsay just wants us to think that's what it is.
Lindsay is shown out having dinner in London on 6/7/09 with french businessman Mounir Moufarrige. Credit: James Fox/WENN.com