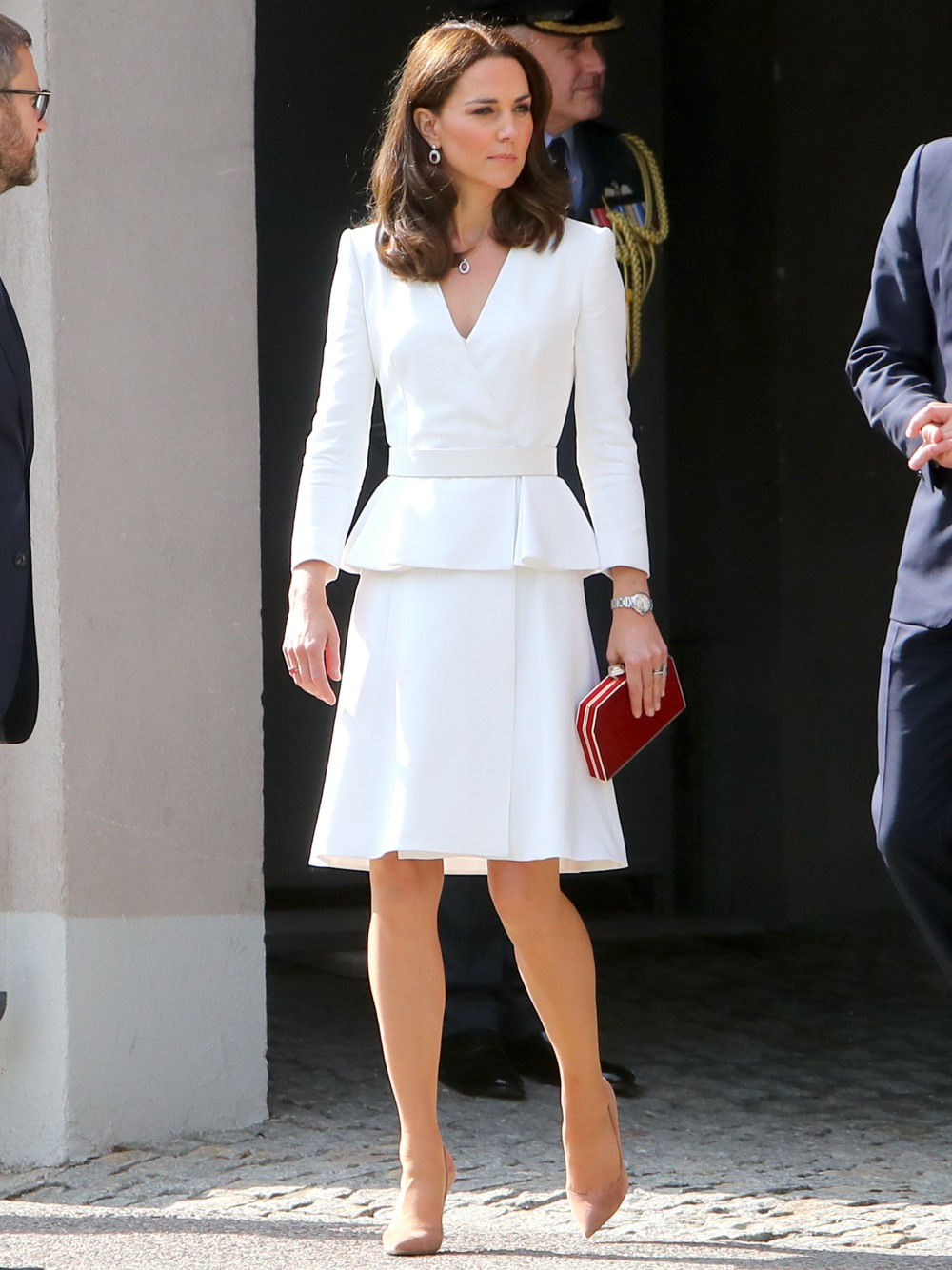 It's no secret that the Duchess of Cambridge loves to shop. It's no secret that she will spend weeks planning out her bespoke outfits for a five-day tour. It's no secret that she drops thousands of dollars on new clothes whenever she is forced to do a few hours of work. It's no secret that Kate seemingly needs the lure of shopping sprees, new coats, new jewelry and new couture just to get through her few royal duties. It's no secret that Kate overpays for clothes, and that she tends to buy dozens of coats, dresses and nude shoes that all look really similar. But here's something new: the Daily Mail has theorized that Kate is actually buying multiples of the exact same boring looks. So, whenever she gets credit for "repeating" a look, she's not really repeating anything, she might just have five of the same look.
She's gained a reputation for being sensible when it comes to fashion, shopping from the high street and re-wearing designer pieces repeatedly on public engagements to get maximum value out of her wardrobe. But while the Duchess of Cambridge might appear to be the poster girl for recycling, it turns out that she might not be quite as thrifty as she seems.

On Kate's recent visit to Belgium to commemorate the fallen of World War One, eagle-eyed royal watchers noted that her blush suede Rupert Sanderson pumps were impeccably spotless, despite the fact that she's worn them dozens of times before. It seems that rather than recycling the same old pieces, the Duchess in fact has multiple pairs of the shoes she like – habit that also extends to her wardrobe.

Stylist Rochelle White told Femail: 'Suede shoes are hard to maintain so if it's easier to keep many pairs on standby, who wouldn't? Kate likes to have a clean, sleek image at all times. Can you image if she stepped out on a royal engagement with scruffy shoes. She's likely to have back up shoes – all the same style – in various quantities. Kate has a strong signature style and knows what she likes. It wouldn't surprise me if she also gets a few of the same outfit made and has them ready to go, even if it is the same style.'

The prospect is all the more likely given Kate's fondness for nude coloured shoes that will go with any outfit. The light colour of the material is easily stained, plus she's generally on her feet during royal engagements, walking the streets to meet wellwishes or traversing the lawn at garden parties. So it would be impossible for her favourite blush, light grey and nude courts from Rupert Sanderson to emerge unscathed.

The Duchess also has a fondness for pastels and white when it comes to outfits, again a recipe for stains and grubby marks. And while she can certainly afford the dry cleaning bill, the trouble is that marks on delicate lighter fabrics can be very tricky to get rid of.

'Light colours as we know are hard to keep looking fresh and like new,' Rochelle said. 'Attending events and receptions means she's more likely to get pastel colours ruined by drinks, spills and knocks.

And let's not forget that Kate is a mother to two lively young children, who are no doubt eager to grab her impeccable outfits as they hug her when she returns from official engagements. In Belgium last weekend, for instance, she wore a white Alexander McQueen coat dress previously seen at Trooping The Colour a year earlier. As the Duchess stood on the balcony Princess Charlotte stuck her first on her mouth before wiping it on her mother's outfit.

'I think when Kate finds an outfit that looks good, feels good and is comfortable she would like to have it to wear again without the worry of trying to get it clean and looking like new,' Rochelle said. 'It might be easier for her to have her favourites in duplicates, so that they are always looking fresh.'
I actually sat here and spent too many minutes contemplating how one dry cleans when one is royal. I'm sure there are dry cleaning establishments which cater specifically to the upper-crust, but when one is royal, certainly there would be some kind of in-house dry cleaner? I mean, what does the Queen do with her clothes? Have them sent out? I would think not. So, if you have access to an in-house dry-cleaner, why would you need to spend the extra money on multiples of the same fakakta coatdresses? Now, all that being said, I'm not going to slam her for buying multiples of the same shoes, even if she's buying multiples of the same boring nude pumps. When you're not a shoe person and you find a pair you really like, I actually suggest this: buy multiples. I'm haunted by the multiples I did not buy of my old favorite pair of New Balance kicks (now discontinued).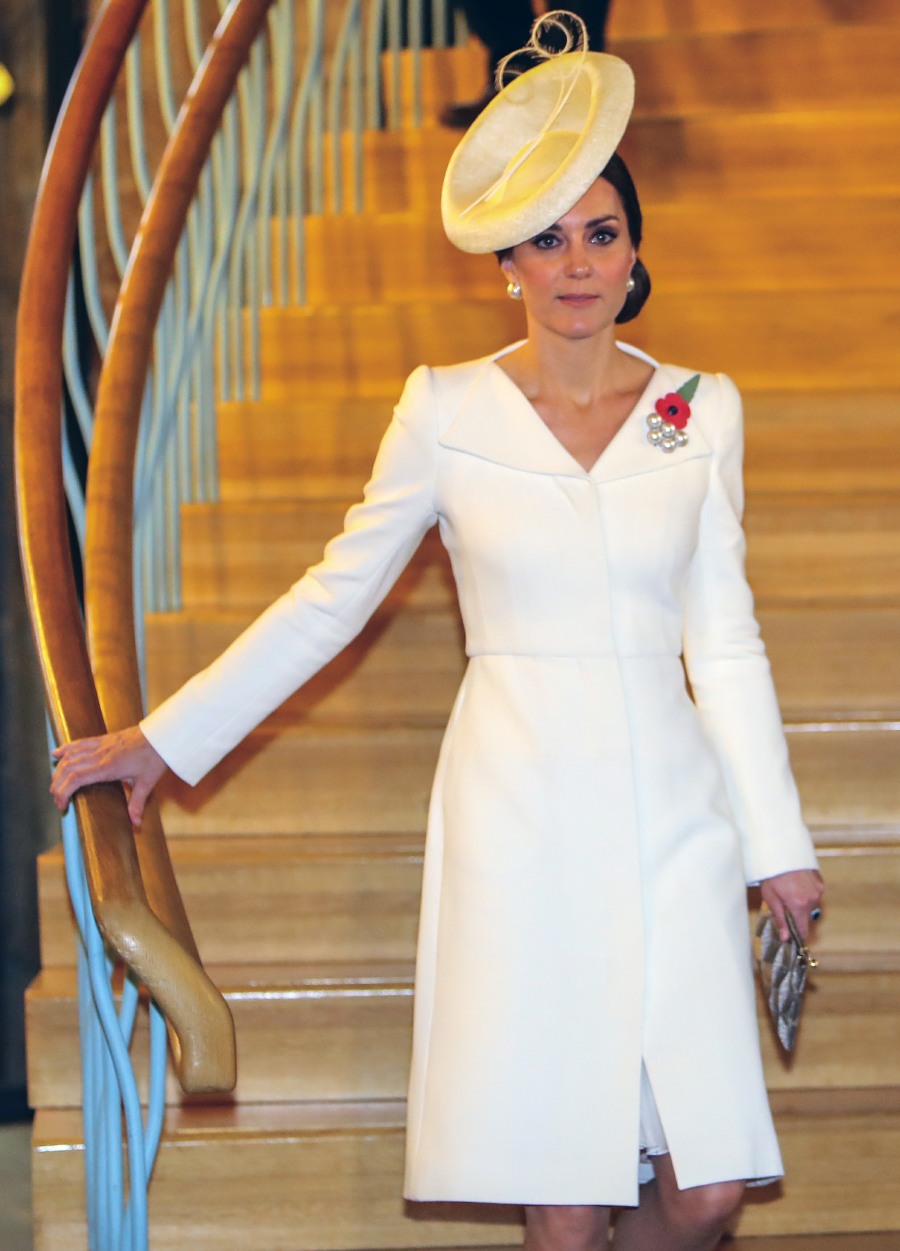 Photos courtesy of WENN.