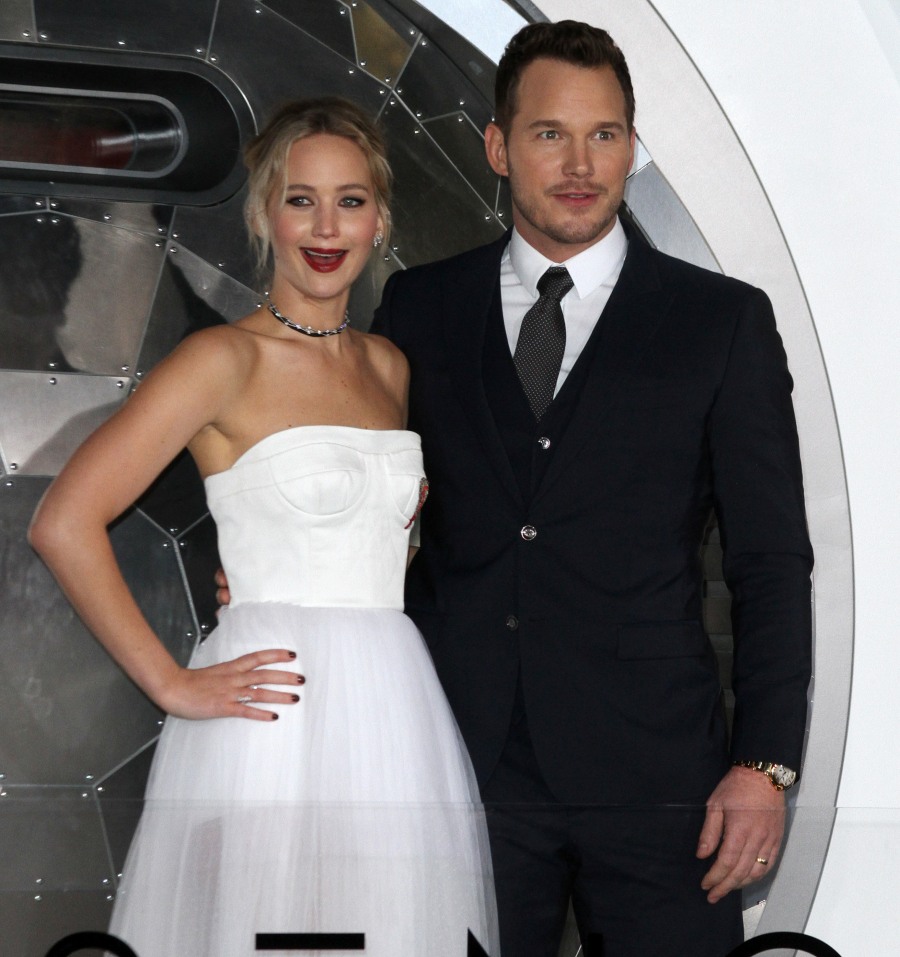 Late last year, Jennifer Lawrence and Chris Pratt went on a neverending tour to promote their space "romance" Passengers. J-Law and Pratt were widely considered to be two of the most charismatic celebrities, so it was weird that they actually didn't seem to have that much chemistry on or off-screen. Jennifer made a point of saying that she felt guilty about hooking up ON SCREEN with a married dude, and Pratt made it sound like all of the romantic scenes were pretty awkward. Basically, the movie that partially hinged on the chemistry of the two leads flopped hard because at the end of the day, no one was buying it.
Skip ahead to this week. Some die-hard Faris/Pratt fans are searching for a reason why their faves are now separating. And those fans think they've got the perfect reason: obviously, Pratt and J-Law were actually hiding their passionate chemistry and now J-Law and Pratt are going to get together in real life.
Jennifer Lawrence has found herself in the middle of Chris Pratt's shock split from wife Anna Faris after eight years of marriage. As the couple confirmed their separation on Facebook on Sunday, fans flocked to social media to bizarrely blame the actress, 26 – who starred in Passengers with Chris, 38, in 2016 – for the split.

Taking to Twitter, one wrote: 'I can't believe Chris Pratt and Anna Faris are splitting up this is all Jennifer Lawrence's fault.'

Despite there being no suggestion Jennifer had any involvement in the split, another wrote: 'Jennifer Lawrence broke up Chris Pratt's marriage lol.'

'Watch chris pratt and jennifer lawrence be a thing,' another Twitter user speculated.

Other fans were quick to recall the seemingly awkward exchange that Faris, 40, and Lawrence shared when embracing at the premiere of Passengers in December 2016. Though the ladies hugged it out in front of photographers, Anna appeared to have a pained expression while Lawrence kept her hands claw-like instead of fully touching her co-star's wife.
While it's true that Jen seemed awkward with Anna Faris, let me point out again: Jen was awkward with Chris Pratt too. It wasn't some super-cute, I'm-so-real, I-accidentally-farted-on-him awkwardness either. I actually got the feeling that Jen sort of thought Chris Pratt was kind of a douche, although I may have been projecting a little bit. So, is J-Law the "other woman" in this split? My gut says no. My gut says we're more likely to see Jennifer get knocked up with an Aronofsky baby as opposed to suddenly running off with Chris Pratt. Now, if you told me that Pratt has a jumpoff somewhere, I would believe you. I just don't believe the jumpoff is J-Law.
Photos courtesy of WENN, Getty.