Oh dear, here we go again. After enduring the on-again, off-again years of Katy Perry and John Mayer, it looks like we may get the same see-saw with Orlando Bloom. Katy and Orlando ended their relationship – amicably, of course – back in February. Since then, they have crossed each others paths once or twice but their interactions have been "brief". Not so much anymore. Katy and Orlando took in an Ed Sheeran concert this weekend (which is possibly the most boring sentence I have ever written). While there, they sat together, left closely behind each other, supposedly smooched during the concert and held hands back stage. At least this story doesn't involve naked paddle-boarding.
Six months after announcing they split, Katy Perry and Orlando Bloom were spotted together at an Ed Sheeran concert Saturday night at the Staples Center in Los Angeles on Saturday.

The two dated for 10 months before calling it quits in February, but several concertgoers tweeted they saw the pair holding hands and kissing while at Sheeran's concert.

They both wore similar black baseball-style hats with Perry's covering her blonde pixie hair as she stayed close to Bloom. She also wore a red bomber jacket, and leather black skirt.

One fan posted photos of the two sitting close to each other, tweeting Perry, 32, walked out of the concert with Bloom, 40, following close behind with a group of friends.

Another fan on Twitter wrote that she saw the two backstage walking together and holding hands.

After the show, they were spotted leaving together on Bloom's motorcycle.
I want to thank the person that reported that last bit, about Orland and Kay riding off into the sunset on Orly's motorcycle. You can see pictures here. What renegades they are – they probably didn't even reapply their moisturizer before they set off! Remember, when last we heard about Orly and Katy, it was when Katy ranked Orlando behind John Mayer as a lover. And that happened after John admitted to still being obsessed with Katy, or at least her shampoo. Plus, let's not discount the whole hand-holding situation that went down with Chris Martin at Glastonbury. I think it's time to admit it, folks – Katy is a serial concert hand-holder. This spider web of Englishmen and musicians would be so much fun were it not for the fact that everyone involved is so incredibly tedious. Or is this all a smoke screen to cover up her new fling with Robert Pattinson? Like, Katy knew if she was spotted with an ex, the media would be attracted to that like moths to a flame. And since we know now that Orlando is a relationship advice guru, maybe Katy was just seeking his advice about Rob?
Obviously I'm kidding. Katy is a few weeks away from her big Witness Tour. Her image currently is all about being liberated, self-discovery and living her best life. I'd wager she has some downtime before her tour and decided to hook up with a former. Good for her – sounds fun. I am more concerned about why am I not hearing any of her songs on the radio? Apparently, Witness debuted at number 1 but the second week sales suffered the largest drop in history. Ouch. And it's not getting better for the album. That's rough considering how much promotion Katy put into it. At least she has Orly to comfort her… or John. Or Robert. Chris?
I didn't take the best pictures of them because I was also crying cuss Ed was performing 😭 my emotions were all over the place!

— M. Valencia (@_monthse) August 14, 2017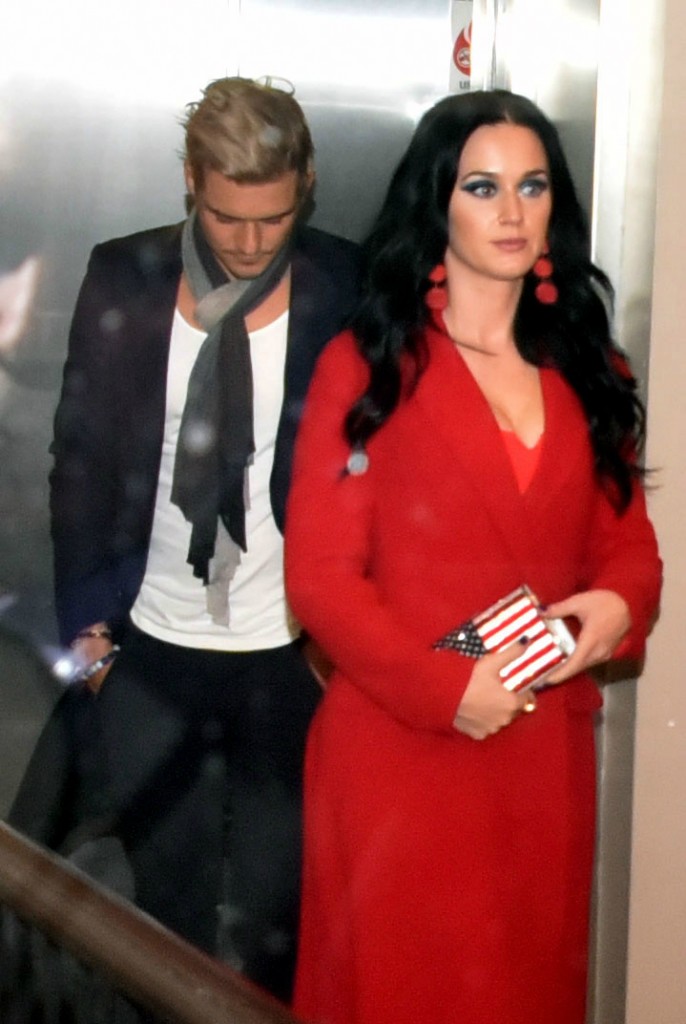 Photo credit: Twitter, Getty Images and WENN Photos