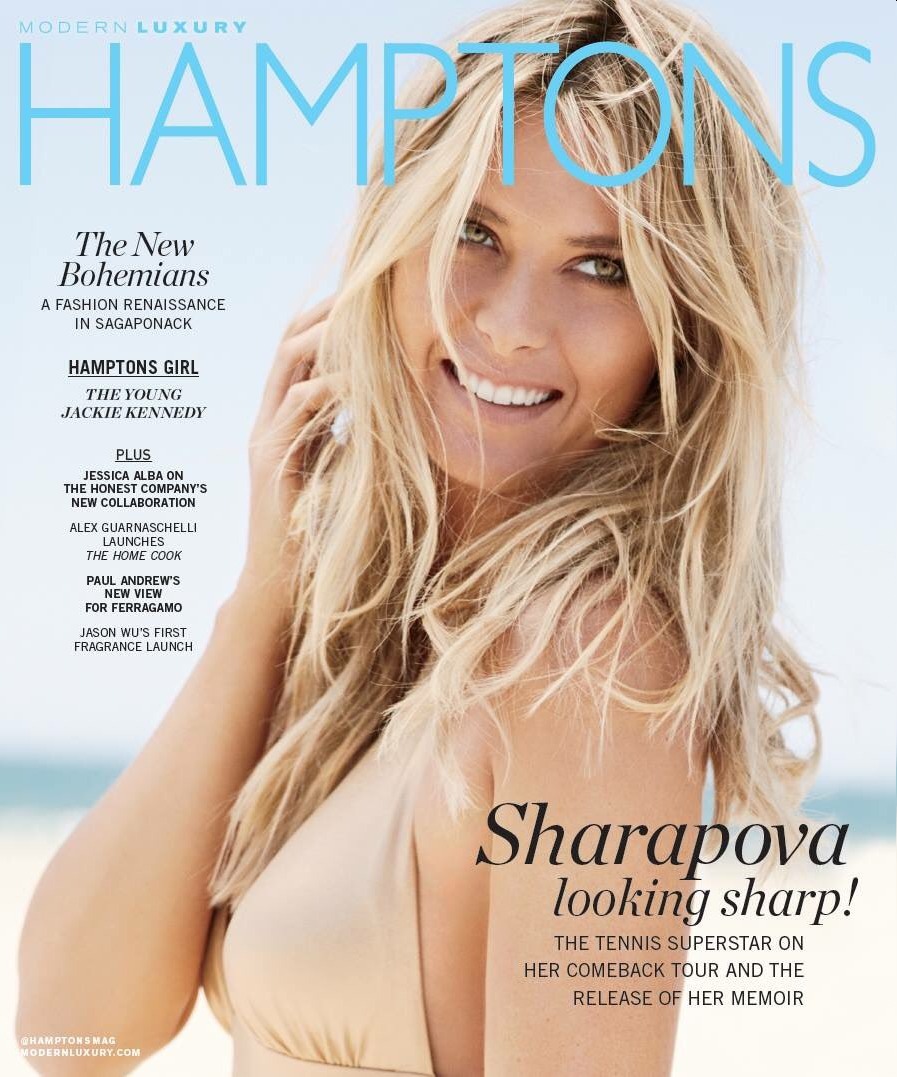 I would kind of love it if Serena Williams was a next-level media ninja, actively trying to pull focus away from Maria Sharapova and her book tour. I don't think that's what's happening, for the record. I think Serena is just doing interviews because she's on maternity leave and sort of bored. And if Serena gives birth in the middle of Sharapova's book promotion, so be it!! Ha. Anyway, Maria's book comes out in mid-September, and she's going to have a big promotional swing for it in New York, because chica got a wild card into the US Open. Hamptons Magazine actually fudges the fact that Wimbledon offered Maria a wild card into qualifying, and she was going to take it before she "got injured" during her not-so-great comeback this spring and summer. Sharapova pulled out of the Cincinnati tournament this week too, but now we know she'll definitely be playing in New York. My prediction? She doesn't make it past the third round. *sad clown noise*
Anyway, Maria covers Hamptons Magazine to talk about her life and her book and how her suspension for her use of the banned substance meldonium was, like, the best thing for her. You can read the full piece here. Some highlights:
On vulnerability: "As a professional athlete, there's only so much that you're allowed to keep to yourself, just because of the openness in which you have to carry your life, from press conferences to meet-and-greets to playing in front of thousands of people. But I think the vulnerability with which I was able to finish the book makes it that much better, because during that period I really learned that, as a woman especially, vulnerability is not something that is easy to share. There are so many instances when I was vulnerable or I didn't feel like I had a lot of power or strength, and I look back at those times, and they made me so strong. Because of that, I share a lot more in the book than I would have if I didn't go through [that experience].

The bottomless hole. In the book, she writes that following her suspension, she "had a bottomless hole beneath my life and in I went. Everything I worked for since I was 4 years old, that whole crazy struggle, was suddenly cast in a new, terrible, unfair light. What followed were days of despair." About that time period, Maria says now: "It's the frame of mind that I had from early last year, from the first few days of when I found out that I'd be out of the game for a while. It's the attitude that I carried with me throughout this whole period, and that also comes from my life experience. As I look back at who I am as a person and what I've achieved, it was definitely sad to think that anyone would say I ever took the easy way out…"

In 2015, she thought she would be retiring soon: "I'd been playing professionally since I was very young, and there were certainly moments in life where you want to feel like a normal person. You want to be there for your friends and for your family, when they need you and not just when you can. Going into another press conference after a loss, and everything that you built on the court, in 15 minutes getting punished for losing a match… it makes you think. And in that period of my career, retirement was very much [on my mind]. I have so many other passions in my life as well, and although tennis has [been] the core of my life in the past 30 years, as a woman, there's so much to look forward to. I was 28; at that stage, I never really thought that I'd play past Rio [the 2016 Summer Olympics].

Whether she feels like she has a better chance for a comeback with Serena on maternity leave: "I can't look past the fact that I haven't played for a long period of time, and you can never replicate what you do in training to playing matches. So I have to look at what's ahead of me, and that's the next match and the next tournament. It takes a lot to get that feeling back of the repetitiveness, the match play, of playing five matches in seven days. The physicality of it is very intense, and that's one of the things a lot of people overlook, the amount of physical strain the body goes through in a week. To be able to do it week in, week out is an adjustment for someone who hasn't played for a while. So that's where my mind and my focus is, rather than who I'm going to be playing against.
Note that she never says Serena's name, not even to say "I wish her luck with the baby" or anything like that. It's all about Maria, and her struggle, and her vulnerability, and how people (correctly) believe that she was using meldonium to get a leg up as a professional athlete. At the time of Maria's suspension – had the suspension not happened – I would have thought that she was simply going through a rough period, as many athletes have ebbs and flows to their careers. But seeing Maria's poor performance through her comeback this year… it makes me wonder if she shouldn't seriously think about retirement for real. Like, her body can't handle the tour life anymore. I also sort of think that Maria only came back for the money – mostly the money she's getting from renewing all of her sponsorships after her suspension, not from actually winning matches.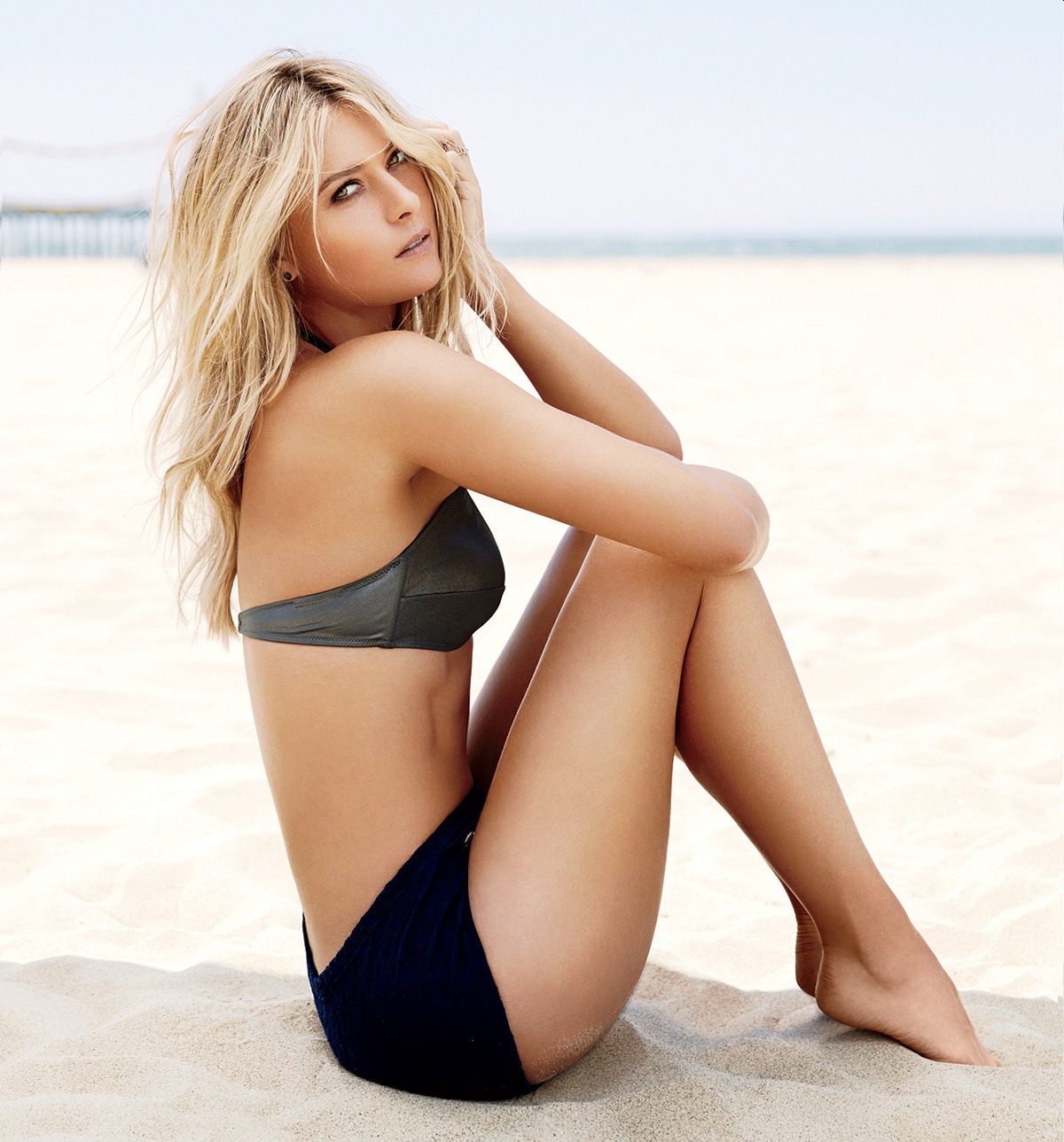 Photos courtesy of Hamptons.