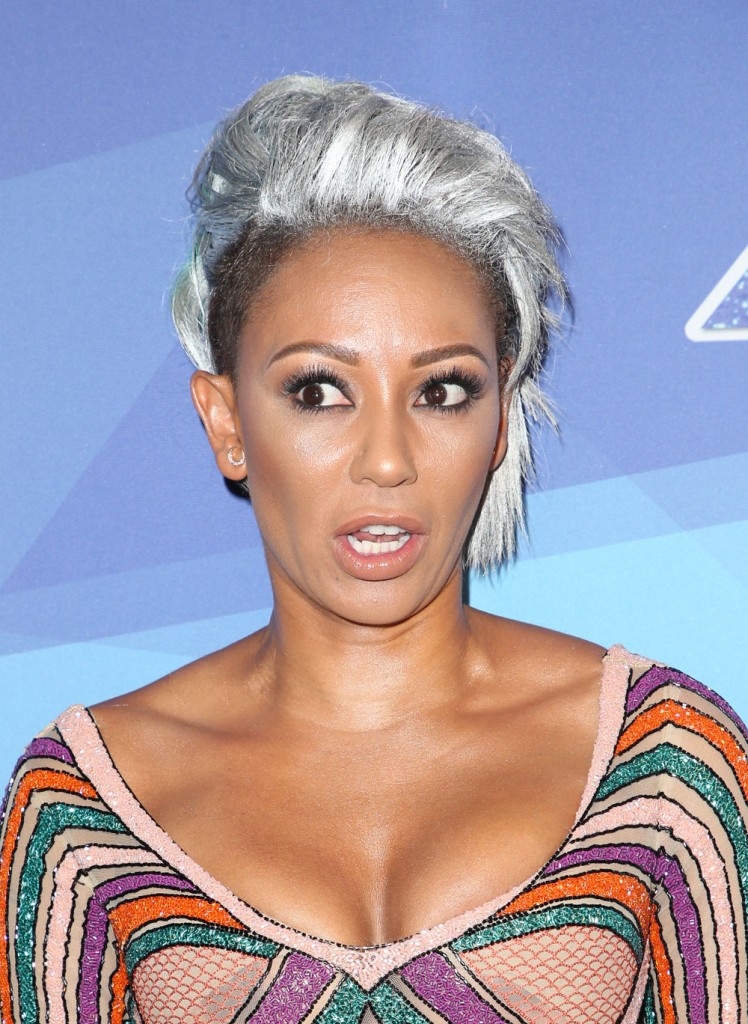 Above is a photo of Mel B with the same bizarre half-shaved asymmetric haircut we saw her with last week. I mentioned that it doesn't seem to suit her at all, and most of you agreed. She recently dyed it shock white with some blue patches (it was previously orange blonde), she worse it all teased up to a live show of America's Got Talent, and it looks even worse now. Poor Mel. At least her dress distracts from her hair.
The last we heard about Mel B's lovelife she was dating a Beverly Hills cop and practically living with him after a very short period of time. Sources told TMZ it was "complicated" and guess what? In Touch reports that he's married. Of course he is.
Just as her divorce from Stephen Belafonte gets uglier, Melanie "Mel B" Brown has found love again with a Beverly Hills cop — and In Touch magazine has learned that his "marital status is complicated and messy."

"He's married," the former Spice Girl's close friend tells In Touch exclusively. "He's a cop with the Beverly Hills Police Department. He's also younger than her."

Though they haven't been dating long, "She already seems to be in love with her new guy," says the friend, explaining that the America's Got Talent judge met her beau while dealing with law enforcement in the aftermath of her divorce.

"This guy is giving Mel a huge ego boost. He worships the ground that she walks on, and she loves it," the friend tells In Touch.

However, friends are wary of him because of his marital status, but Mel has been assuring everyone that "he was unhappily married for a while," adds the friend. "He had planned to separate from his wife prior to meeting Mel."

Now she has to worry about Stephen using her new romance against her. "Her divorce from Stephen is still not finalized. He could absolutely use [her relationship with this married man] against her in court," adds a source.

"Mel's life is complicated enough right now," says the source. "The last thing she needs is the over-the-top drama of dating a married man."
So "planned to separate from his wife" is not the same as "was separated from his wife." "Planned to separate" means he was actively looking for a way out and that he found one in Mel. Maybe that's why he's staying over her house all the time – his wife is at home. Mel really needs to go to counseling and reset her picker. I would say that I hope he's a good guy, and maybe he is in comparison to her ex, Stephen Belafonte, but most guys would be. Plus his actions do not indicate he's anything but a cheater and a liar.
Oh and Mel threw her drink on Simon Cowell during a live showing of America's Got Talent last night. He made a very rude and tasteless joke about how a failed performance was like "Mel B's wedding night, a lot of a lot of anticipation, not much promise or delivery." So she got up, chucked her water at Simon, and then walked off. She looked like she was laughing though. This isn't even the first time Mel has thrown her drink on Simon this season. In the last instance Simon joked, after a mediocre dance performance by a cop, that Mel "was successful without being able to dance." Here's a link to to a video of that. I did wonder if that's the cop Mel is dating, but all the reports about him say they met while she was dealing with the police in the wake of her divorce.
After I wrote all this I read the news that the nanny's defamation case against Mel (go here for background) will go to trial on July 23rd next year. A judge just made that ruling in the case yesterday, and there's a photo below of the plaintiff, Lorraine Gilles and her husband, Michael Bleau, outside court.
On any other night, this would be the craziest thing to happen on #AGT. pic.twitter.com/toWPVW65Sx

— America's Got Talent (@AGT) August 23, 2017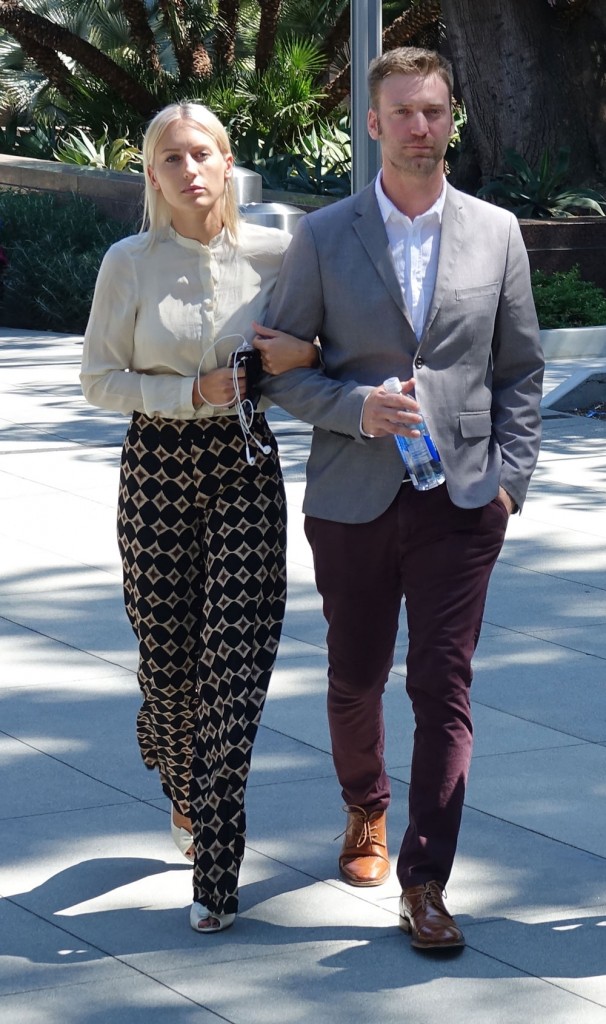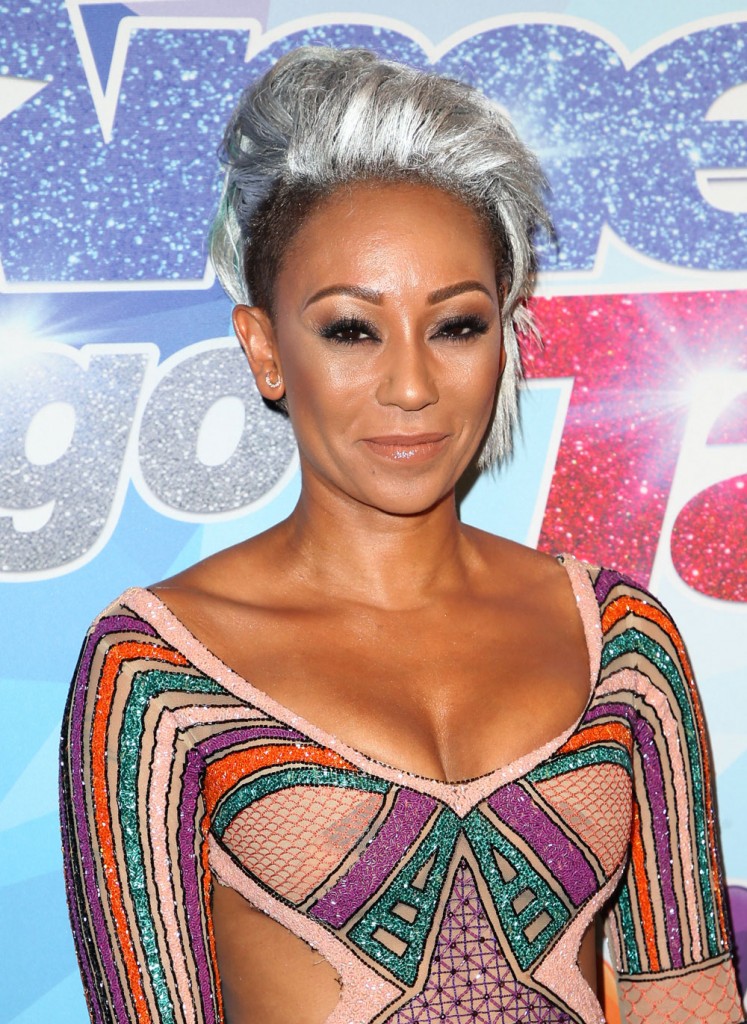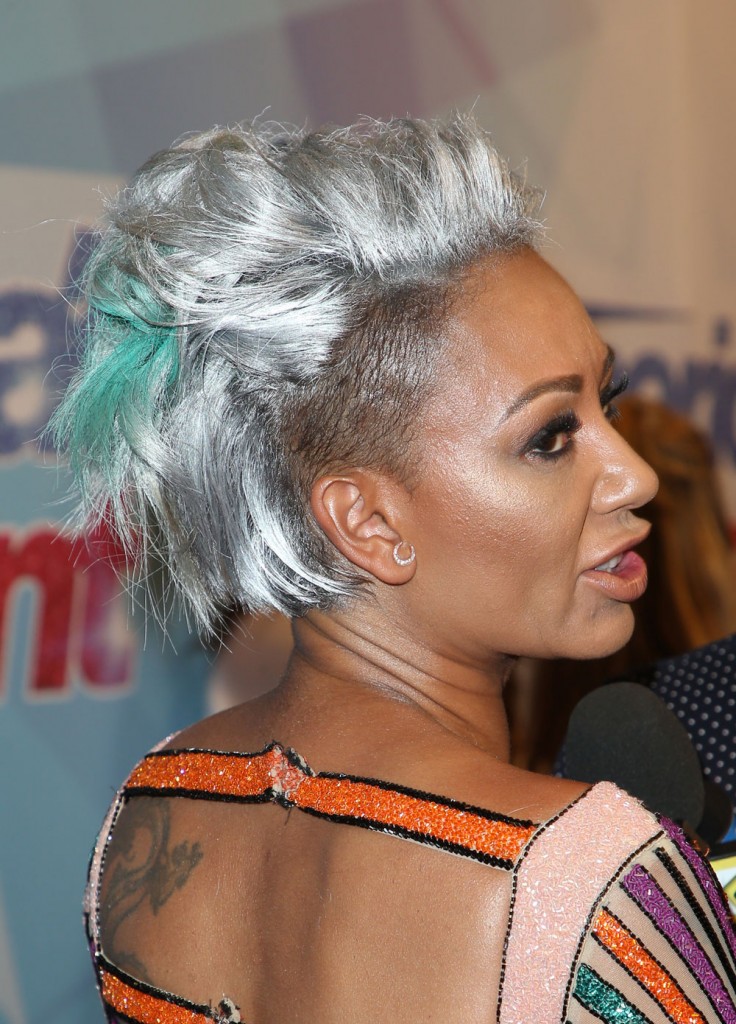 photos credit: WENN and Backgrid