Embed from Getty Images
We're about to see a lot more of Megan Mullally – and that's not a bad thing. The seemingly ageless actress, who I can't believe is 58, is primed to reprise her role as Karen Walker on the eagerly-awaited (by some, not all) return of Will and Grace. Megan, who made her Broadway debut in 1995 (playing Rizzo in Grease, by the way), is also returning to her musical roots. She is one half of the duo Nancy and Beth, a project she launched with singer Stephanie Hunt. The bluesy band dropped their first, self-titled album (which is pretty good, actually) and toured through June and July, and now Megan is on the promotional trail for W&G.
With the show, the band and being married to Ron Swanson himself, Nick Offerman, Megan is a busy woman. As she tells Woman's Day, her age isn't an impediment to living your best life and getting things done. In an essay in the magazine's October issue, she talks about her collaboration and friendship with Stephanie, living life to the fullest and recognizing that age is nothing but a number. Megan admits, "My motto has always been 'What next?' You never know what opportunity is right around the corner. And, most important, it's never too late." Words to live by, Megan. Here are some more:
On being a "late bloomer": Out of necessity, I've developed a sense of patience over the years.

On the 30-year age difference between she and her Nancy and Beth bandmate: The age difference between Stephanie and me has never been a problem. Age is just a construct in so many ways. We have an affinity for the same thing, and when I'm around her, I feel relaxed and creative. If anything, we feel like contemporaries. Music is a great equalizer, age-wise.

On life after 50: I'm more sure of myself now than I was 30 years ago. I've learned that there's no such thing as "too old" to pursue the things that inspire me. In fact, you can do whatever you want to do for as long as you want to do it.

Around the time I turned 50, I stopped caring so much about what other people thought of me. There's something powerful about not taking yourself too seriously. It shows in my work life and even in the way I dress and wear my hair. For many years, I was afraid to have a funky hairstyle or be perceived as too "different." My mother's way of dressing was very Nancy Reagan, but since junior high, I've always loved vintage clothing and unconventional style.

My real style, the way I feel best and most comfortable, is casual and boyish. After I turned 50, I cut my hair short and dyed it bright red. Now I've grown it out very long and kind of scrappy, because why not? I would say, Never play it too safe. Have fun and take chances! Follow your passions. You never know which band you might find yourself singing and dancing in when you're 58 years old.
Megan is a wise woman and I do agree it's never too late to try something new I always wanted to do stand up comedy and, at 46, I finally gave it a go. I'm still doing my best to keep 'em laughing. Follow her advice, you won't be disappointed. I mean, look at her…she created one of TV's most memorable characters, she's living out her rock star dreams and she's married to Nick Offerman (and if those two ever split, I will know that love truly is dead). And, you know, if Will and Grace isn't embraced by fans once again, I think Nancy and Beth is definitely a viable career option for Megan. The band is good. Check out the video for the single "Please, Mr. Jailer." I do hope Will and Grace is a ratings hit, because I've definitely missed Karen.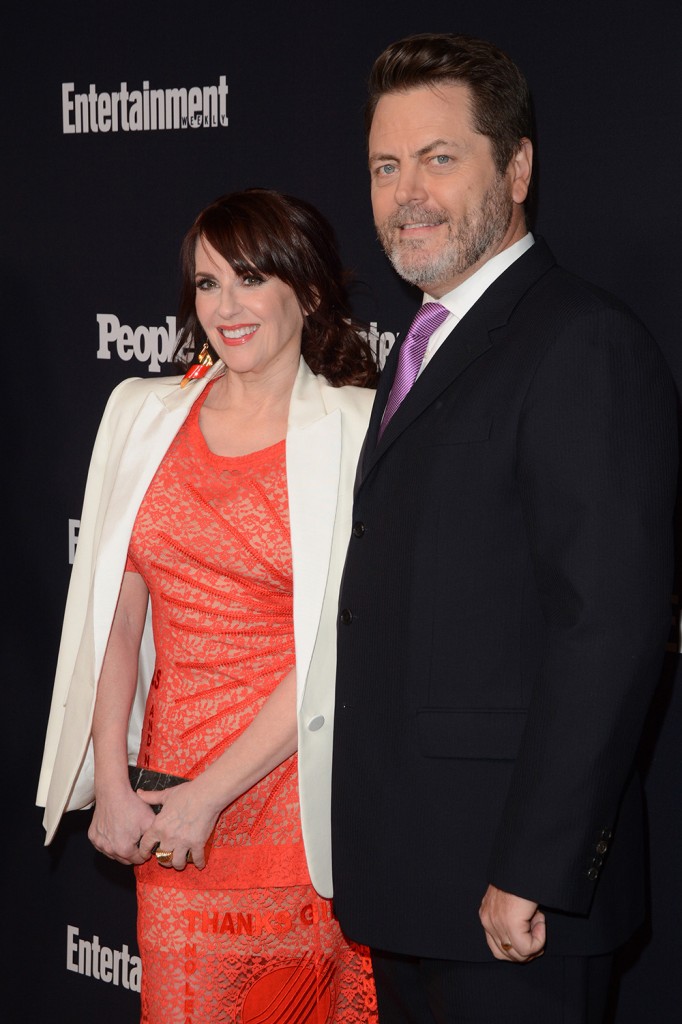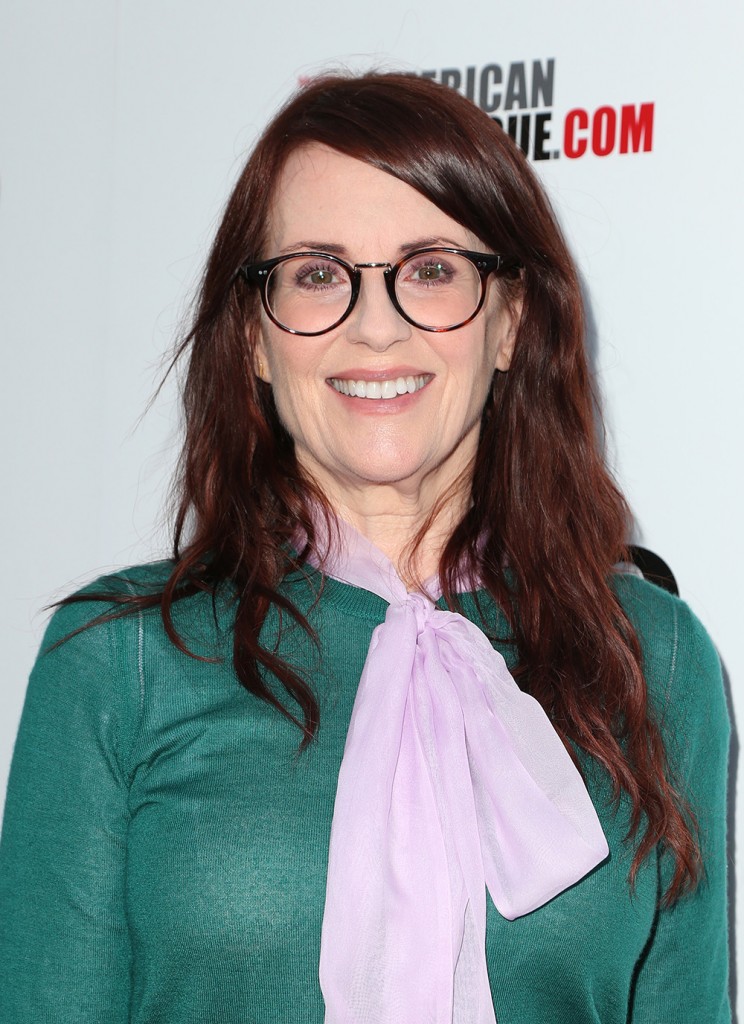 Photos: Getty Images, WENN.com