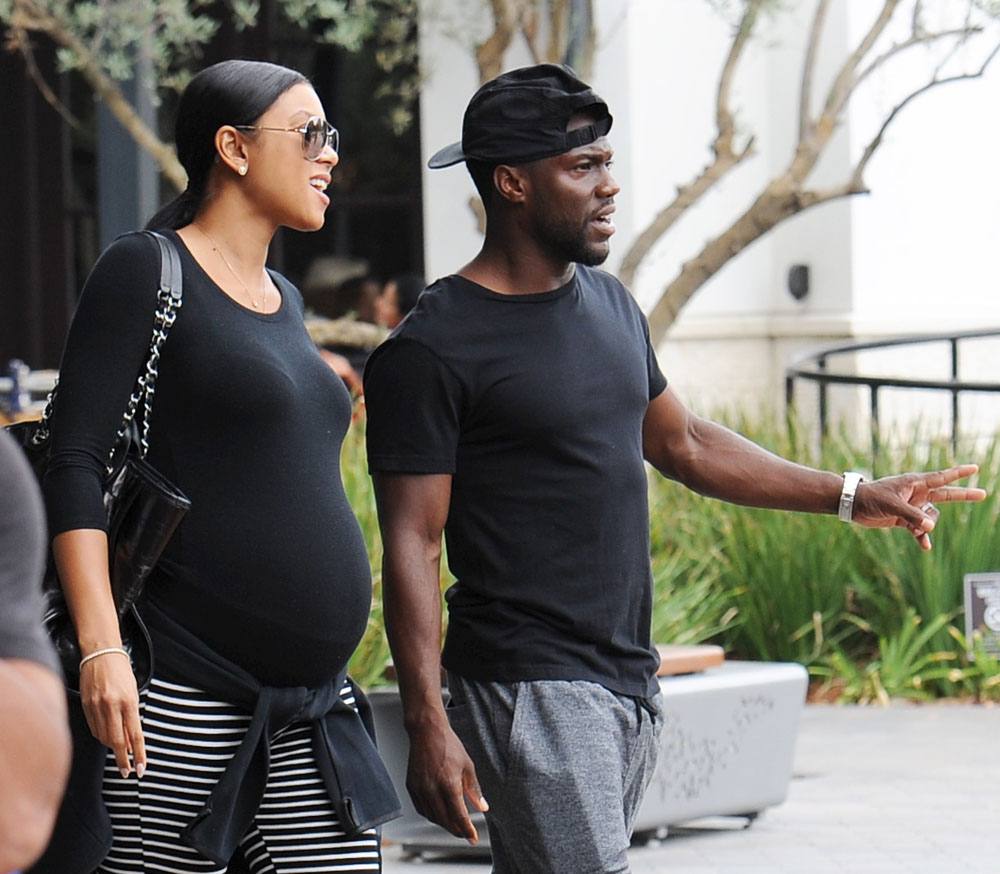 As you know, Kevin Hart recently posted an apology video to his pregnant wife, Eniko Parrish, and to his kids with his first wife, Torrei Hart. It's been widely reported that Kevin was videotaped in a compromising position(s) and that the other party is demanding money or will release the footage. (TMZ has the details that Kevin had sex with the woman in question and some of her friends in Vegas on the weekend of August 18-20. She has reportedly been trying to sell the footage to the blogs and allegedly demanded a large sum of money to take a lie detector test. Kevin contacted law enforcement to investigate.) In the video Kevin said, in part, "I made a bad error in judgement and put myself in an environment where only bad things can happen and they did."
This whole thing is predictably blowing up in Kevin's face. TMZ reports that the woman's name is Montia Sabbag, that she's 27 and works as a "traveling stripper… who hits up whatever clubs she can book." Less misogynistic outlets have confirmed her identity and have a more generous description of Sabbag's career, calling her an "actress and model." People reports that Sabbag has hired attorney Lisa Bloom (who is also representing the plaintiffs in the Usher herpes lawsuit) and that she will hold a press conference this morning at 9am PST. (We'll report on that tomorrow.)
Meanwhile Kevin's wife, Eniko, seems to be standing by him. The two were photographed out together yesterday and E! reports that she's forgiven him, however that news came out before new photos were published on TMZ of Kevin practically sitting on a woman's lap at a club. Those were said to be taken on August 19, which is consistent with the cheating timeline. Read the insider quotes given to E!, which make it sound like Eniko is well aware of the cheating:
"Eniko is aware of what's going on and that Kevin is not perfect," the insider explained. "She has accepted his apology and is focused on her pregnancy and what's to come. She has no plans for divorce. She believes Kevin is a good husband and always comes home to her."

"She is bothered that these stories find their way into the press and that people are asking her about it," the source said. "But she does her best to ignore it all and move forward. She listens to her husband and is not going to get stressed out. She is supporting him and standing by him."

"Kevin is really embarrassed by what happened. He wishes he could take what happen all away," a source shared with us. "He doesn't want to lose the women [sic] he adores so he is doing whatever he can to gain her trust back."
Notice how that insider quote is phrased. "Kevin is really embarrassed by what happened" as if it just happened to him and it wasn't a series of deliberate choices. Kevin is not embarrassed he slept with a bunch of women in Vegas, he's embarrassed it went public.
So Eniko "listens to her husband" but whether she believes him or not, she's not going anywhere. They just did a pap stroll together yesterday. Meanwhile Kevin's first wife, Torrei Hart, has confirmed in a new interview with Inside Edition that Kevin did cheat on her with Eniko, however she refuses to speculate whether Kevin would similarly cheat on Eniko. Torrei has spoken out prior to this about the fact that Kevin cheated, but she's remained above board throughout it all. She told IE "When I met [Kevin], he was selling sneakers. He starts to get fame and I'm feeling, okay, well, a little left behind." In Kevin's standup routine he jokes "Yes people, I cheated. Am I ashamed of it? No. Do I wish that I could take it back? No." Torrei said "I have an ex husband who has routinely used me in [jokes]." She's only stating facts. Kevin traded Torrei in for a woman who would look the other way and now Eniko is doing just that. She's not going to divorce him now, she's going to wait it out, probably until the magical ten year mark. Rumor has it they don't have a prenup.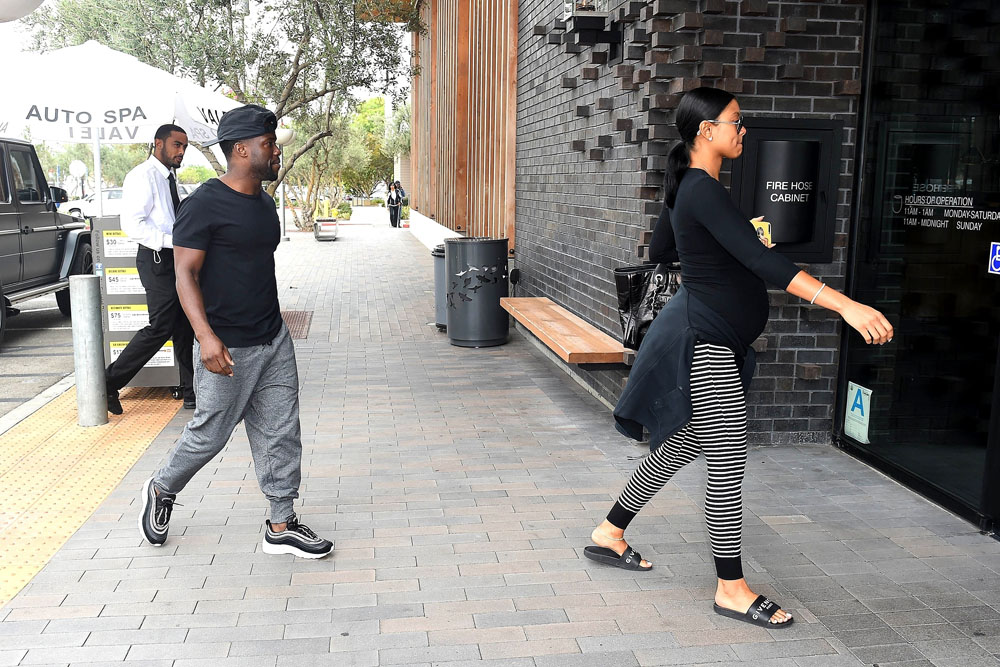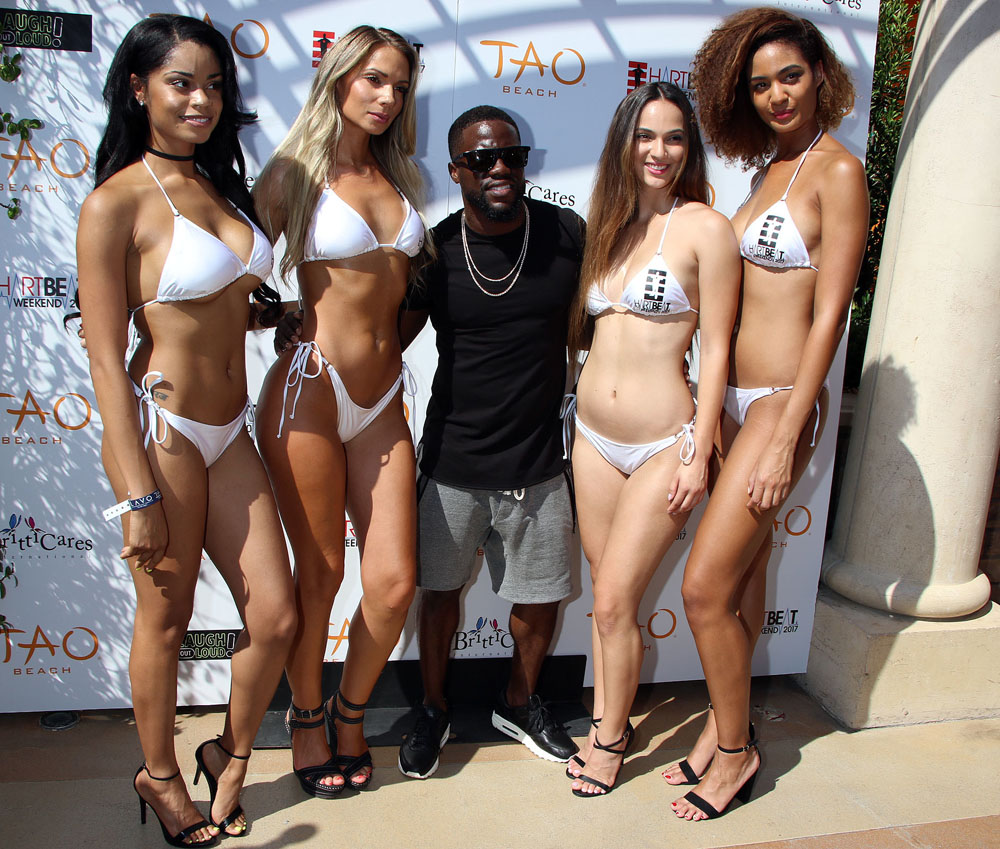 Photos credit: WENN, Getty and Backgrid