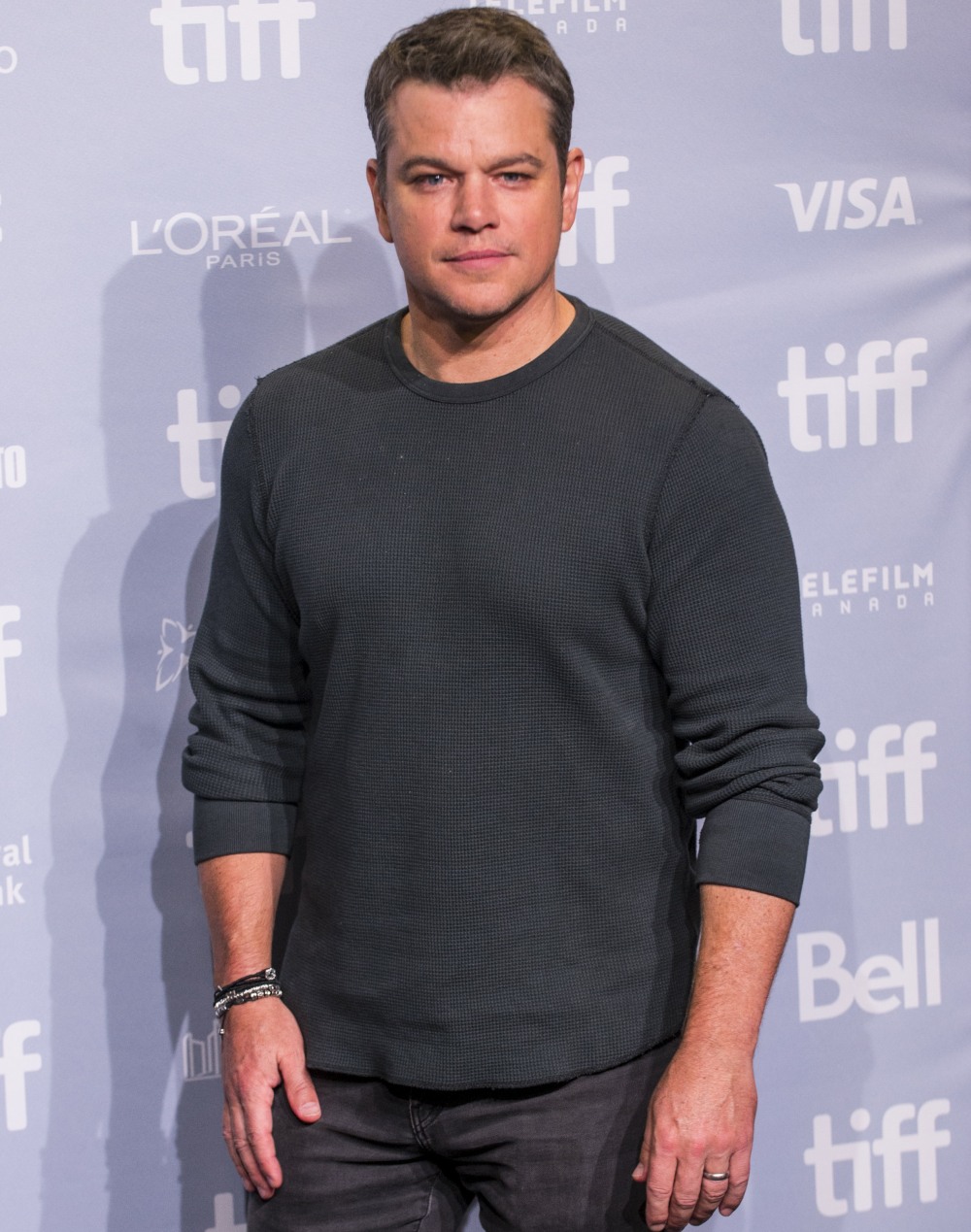 I think the knives were probably always going to be out for Matt Damon and Ben Affleck specifically. Their careers were formed, nurtured and forever altered because of Harvey Weinstein. Weinstein packaged them and sold them and made sure that they won their screenplay Oscar. They worked with Weinstein again and again over the years. So, of course Matt and Ben would always be "expected" to come out and say something. But after Sharon Waxman published her media-criticism piece about the New York Times killing another exposé in 2004, the knives were out for Matt even more. At the time, Waxman was writing about Fabrizio Lombardo, someone employed by Weinstein in an official capacity, but someone whose main job seemed to be "procurer" and "pimp." Waxman wrote, "After intense pressure from Weinstein, which included having Matt Damon and Russell Crowe call me directly to vouch for Lombardo and unknown discussions well above my head at the Times, the story was gutted." Weinstein had Matt Damon provide a character reference for a man who was likely procuring women for Harvey's pleasure.
Everyone was waiting for Matt to say something. And finally, he has. Much like George Clooney's conversation with the Daily Beast, Matt sat down with a friendly outlet (Deadline) and even allowed follow-up questions. You can read the full piece here. Some highlights:
His memory of the phone call he made to Waxman in 2004: "My recollection was that it was about a one minute phone call. Harvey had called me and said, they're writing a story about Fabrizio, who I knew from The Talented Mr. Ripley. He has organized our premiere in Italy and so I knew him in a professional capacity and I'd had dinner at his house. Harvey said, Sharon Waxman is writing a story about Fabrizio and it's really negative. Can you just call and tell her what your experience with Fabrizio was. So I did, and that's what I said to her. It didn't even make the piece that she wrote. As I recall, her piece just said that Russell and I had called and relayed our experience with Fabrizio. That was the extent of it and so I was very surprised to see it come back. I was never conscripted to do anything. We vouch for each other, all the time, and it didn't even make her article. Whether it didn't jibe with her storyline…it was an incomplete rendering of someone that I was giving but I had perfectly professional experiences with Fabrizio and I didn't mind telling her that…I'm sure I mentioned to her that I didn't know anything about the rest of her piece, because I didn't. And I still don't know anything about that and Fabrizio. My experience with him was all above board and that's what I told her.

Whether he was asked, in 2004, to provide a character reference for Harvey: "No, I just remember it being a negative piece, a hit job on Fabrizio, was what Harvey was saying. Basically, that he had no professional experience. Harvey said, you worked with him. Can you tell her that he was a professional and you had a good experience, and that was it. I didn't mind doing it, because that was all true.

On the criticism he's received from people like Jessica Chastain: "Look, even before I was famous, I didn't abide this kind of behavior. But now, as the father of four daughters, this is the kind of sexual predation that keeps me up at night. This is the great fear for all of us… We know this stuff goes on in the world. I did five or six movies with Harvey. I never saw this. I think a lot of actors have come out and said, everybody's saying we all knew. That's not true. This type of predation happens behind closed doors, and out of public view. If there was ever an event that I was at and Harvey was doing this kind of thing and I didn't see it, then I am so deeply sorry, because I would have stopped it. And I will peel my eyes back now, further than I ever have, to look for this type of behavior. Because we know that it happens. I feel horrible for these women and it's wonderful they have this incredible courage and are standing up now.

The change that's happening: "We can all feel this change that's happening, which is necessary and overdue. Men are a huge part of that change, and we have to be vigilant and we have to help protect and call this stuff out because we have our sisters and our daughters and our mothers. This kind of stuff can't happen. This morning, I just feel absolutely sick to my stomach.

Matt says he's not the story: "This would have been a difficult past couple of days even if my name hadn't been dragged into it. I am not the story here. The story is these women and what happened to them. So if I'm experiencing this discomfort, it hardly bears mention. There are some real victims here and they are being incredibly brave. Hopefully, them going through this experience right now will help them heal. They are who we all should be thinking about.

He would never try to kill that kind of story: "For the record, I would never, ever, ever try to kill a story like that. I just wouldn't do that. It's not something I would do, for anybody.
CB and I were talking about whether Matt Damon comes across as someone who "performs" his wokeness, and I think he does (CB thinks the same). I rolled my eyes a few times at the talk of his fears as a father and "we have our sisters and our daughters and our mothers." Yeah, but… what about the women who aren't related to you, dude? What about your female coworkers, your female assistants, your female producers, your female costars? Why do men think that mentioning their female relatives is some kind of shorthand for "trust me, I'm a decent guy"? Breaking news: plenty of dudes who have daughters are pretty terrible people (see also: Harvey Weinstein, Donald Trump). Now, all that being said, I do believe him about the 2004 conversation – I think Harvey asked him to do it as a defense of Fabrizio Lombardo, to provide a character reference for Lombardo and that's it, and that's what Matt did.
Photos courtesy of WENN, Getty.