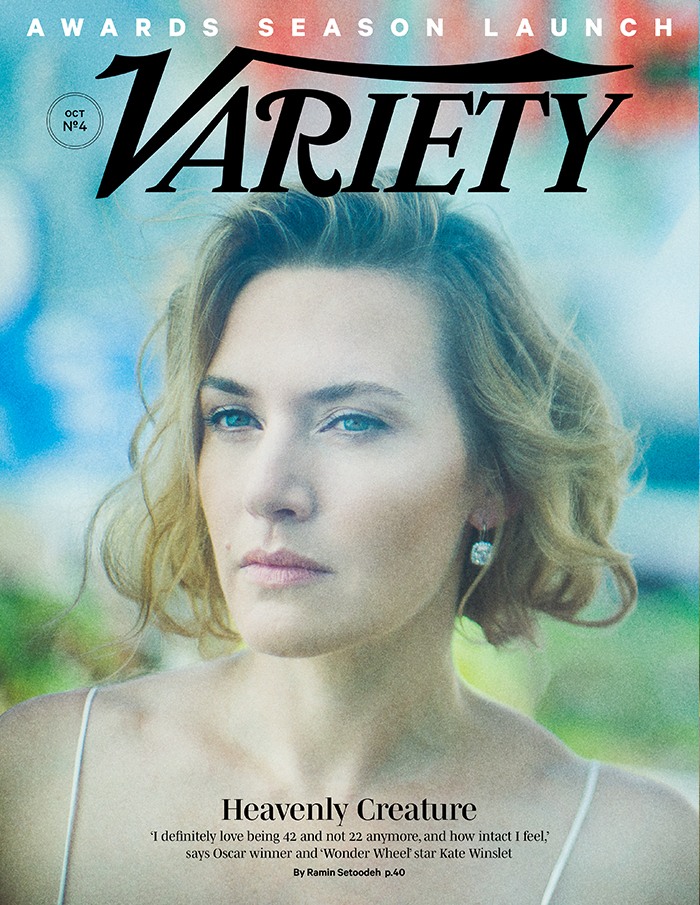 What do we expect from Kate Winslet at this point? I'm really asking. Winslet wants to view herself as some kind of responsible adult, a brave truthteller in Hollywood, someone engaged in political and social issues. But the truth is, she's just sort of a regular actress, lying her ass off about dumb sh-t, trying to make herself the biggest heroine or the biggest victim of every story she tells, or completely misjudging the national mood. Kate covers the latest issue of Variety to promote her new film, Wonder Wheel. Wonder Wheel was directed and written by Woody Allen. This is not the year to promote a Woody Allen film, let's just say. Variety makes it clear that this interview was conducted before the Harvey Weinstein story blew up, a scandal in which Winslet told a story about refusing to thank Weinstein at the Oscars (even though she thanked him at the SAG Awards just a few weeks beforehand).
So what should Winslet do with this promotional tour? Pull a Fassbender and just jet off to Ibiza with Ned RockNRoll? No, she can't. But she also can't give the same kind of response that she gave back in September, in her New York Times interview:
NYT: Did the allegations against Woody Allen give you pause?
Winslet: Of course one thinks about it. But at the same time, I didn't know Woody and I don't know anything about that family. As the actor in the film, you just have to step away and say, I don't know anything, really, and whether any of it is true or false. Having thought it all through, you put it to one side and just work with the person. Woody Allen is an incredible director. So is Roman Polanski. I had an extraordinary working experience with both of those men, and that's the truth.
[From a previous Celebitchy story]
So that's what she said two months ago. What is she saying now? From Variety:
Variety: There's been a discussion about actors in Woody Allen's movies as a result of the allegations against him. Did that factor in your decision to star in his new film?
Winslet: Um. [Winslet narrates her own silence.] "She pauses." It's just a difficult discussion. I'd rather respectfully not enter it today.

Variety: There was criticism on social media of an interview you gave to The New York Times, where you said Allen provided "an extraordinary working experience."
Winslet: I don't read how people respond to things. We're always as actors going to say the wrong thing. I think it's better to respectfully step away from the discussion.
To be clear, this is her version of being "smart" – she doesn't want to give anyone a juicy quote that will make people yell at her. OF COURSE she doesn't "read how people respond to things." That's why she's being so f–king cautious about it. And to be clear, it's not like she refuses to talk about Woody Allen at all – she praises him throughout this Variety interview, she humblebrags about how she's so brave and fearless when he criticized her for being "too actressy," brags about Woody calling her personally to offer her the role, and talks about how her late mother was "so proud" that she (Kate) was working with Woody. She only wants to "step away from the discussion" when the conversation is critical of her actions and choices. Man, this is going to be a fun promotional tour.
Photos courtesy of Getty, Variety.