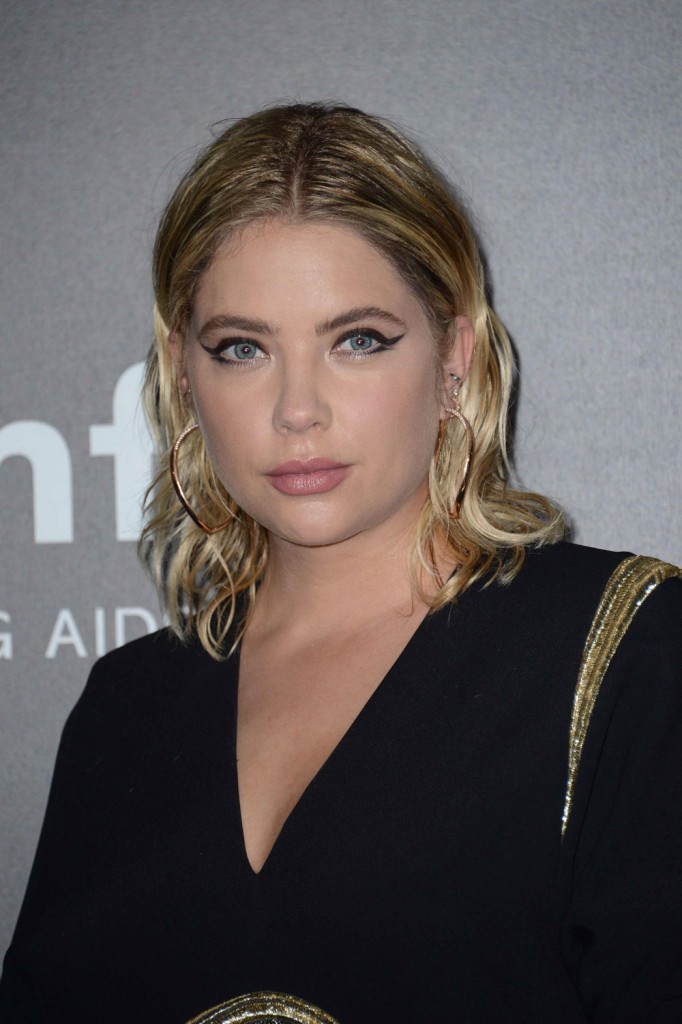 The more I hear from the women who starred on the series Pretty Little Liars, which ended this summer after seven seasons, the more I like them. Both Lucy Hale and Troian Bellisario have opened up about their battle with eating disorders and body image, and Sasha Pieterse of PLL has talked about how hurtful it was when she was mocked after gaining weight from a medical condition. Troian has also stated that all the makeup they wore on the show creates false expectations for women, and she's called for Photoshopped ads to have warning labels. Add Ashley Benson, 27, to the former Pretty Little Liars cast who believes that Photoshop is harmful. Ashley did a new interview with Stylecaster in which she talked about body image, Photoshopping, and social media. She had a lot of opinions I agreed with so I wanted to cover this.
She's taking a break from social media now that she doesn't have to promote PLL
"To be honest, I don't use social media a lot anymore. I Instagram sometimes, but I don't really go on it. When I was on the show, we really had to be heavily into Instagram and Snapchat and whatever. I felt like it was taking up a lot of my time. I feel like when you're always on social media, you're living in this fake life. I'd rather just not look and enjoy my time."

On how Photoshop creates unrealistic images
"'PLL' had put up this poster and it was from our first season and it was completely crazy. Nobody looked like themselves. Even for magazine covers, they'll Photoshop out a mole, make your boobs bigger or your waist four sizes smaller, and you're like, 'That's not even me.' You never know how it's going to turn out because you have no control and you're not editing the photos, but it sucks when you're like, 'Wow. That's a completely different person.'"

She wants people to know her photos are edited, although she asks photographers not to change her body
"I always make sure to tell people, with any shit that I do or anyone else does, that unless it's announced that it's not Photoshopped, it's Photoshopped. And don't get down on yourself for not looking a certain way because A. It takes a lot of hair and makeup, a ton of good lighting, and after the shoot, it's all this editing."

She sees body diversity is improving but says body shaming is still a problem
"I hate that people still make those comments. I don't think it should matter, the pressure of being a size zero, because everyone is talented. Everyone deserves a chance and the weight thing is too much pressure to put on anyone."

A lot of the roles she sees for women are crap
"Women don't really have a lot of good lead roles. There's always some weird storyline with them. Half of the movie roles they bring me, I don't even want to play this person. I don't want to play a role like this because it's not uplifting. It's not positive. They're just pointless fillers for men. I hope that it's not always about a guy and it can be about a woman, but I mean, we'll see."
I like her! She had a lot of to-the-point things to say about sizeism, body image and social media. I also really like her perspective on the role of women in film especially. It's a shame that women are secondary to men's stories in Hollywood but it's a fact. The system behind the stories that get mad is disgustingly corrupt and unequal as well, as we've seen in so much detail lately. Also, I agree with her about social media. I still use it but it's a time suck and I try to be conscious of whether I'll post a photo or activity to Facebook. (I'm old, I don't use Instagram or Snapchat, all my friends are on Facebook.) I've given it up for months at a time but that's where I get invited to parties and find events so it's a key part of my social life. It becomes a kind of feedback loop in that you post about your parties and outings and look to see what your friends post. I should really find a way around that. Also, we all know that person who posts all their sh-t to Facebook/Instagram and makes their life seem wonderful. It's entertaining in a way, but it can also be grating. Oh and of course even Facebook photos can be filtered and edited too, it's so easy lately.
I checked Ashley's Instagram and she does still post, especially paid content, but it's usually only every handful of days which probably feels like a break for her. Someone commented on the post below that they thought Kevin Jonas was dead! We haven't seen him in a while that's true.
Puppehs!
Event photos are from the amfAR Gala on 9-22-17 and an iGo.live Launch Event on 7-26-17. Credit: WENN and Instagram/Ashley Benson