Embed from Getty Images
Above is a photo of Jennifer Garner at a screening last night of The Tribes of Palos Verdes, out December 1. She's wearing a black slip dress with minimal accessories and block heel dress sandals, which are a good choice. Her hair is parted down the middle and straight, which makes her look younger. She just Instagrammed some clips from a Thanksgiving cooking segment she did on The Martha Stewart show in 2003, in which her hair was styled exactly like this. So that's where she likely got the idea to do her hair like that again. Plus it looks shorter than it was over the weekend, but she just may have had the extensions taken out.
Yesterday we covered an interview that Garner did with News.com.au. It was presented with very little context and no questions from the journalist were included. Garner was uncharacteristically candid, which made me question whether it was an actual interview or something cobbled together from multiple sources and possibly embellished. This wasn't a Vanity Fair cover piece, she had no clear motivation for telling News.com.au that she "would not have chosen this life for myself or for my kids" and that she didn't like being single.
Plus she sounded like she was defending her ex, Ben Affleck, by stating about harassment cases that "We can't just assume that every man has done something awful or that every man is guilty; due process is important and has to take place." To be fair she said that as a general response and didn't mention Affleck specifically. Many of you took Garner to task and others defended her, it was a polarizing interview. It sounded to me like she was still covering for Affleck and like she was talking out of both sides of her mouth somewhat. Affleck did that too during his Colbert interview.
People Magazine has a follow-up with brief quotes from a Garner source and they pretty much mirror what she told News.com.au – that being single is an adjustment for her. The source also states she isn't taking him back.
"Jen is great," a source close to the actress tells PEOPLE in the magazine's new issue. "She is still getting used to being single."

Garner told reporters this week she hasn't "been on a date" since separating from Affleck (they filed for divorce this April) and is "not interested in dating." She added: "I would not have chosen this life for myself or for my kids."

That doesn't mean she wants to change it at this point, says the source. "She isn't dating. She isn't taking Ben back. She is happy where she is right now. She is a naturally positive and a very grateful person. She feels very lucky for her life with her kids."
Some of you wondered yesterday whether Garner is waiting for Affleck's new relationship with Lindsay Shookus to implode. She's reconciled with him so many times after all. I do think she put her foot down at some point and that he went public with Lindsay as a result. Nothing would surprise me about these two at this point however. What was her motivation for spilling to News.com.au though? She really opened up to them and I wonder about the circumstances behind that. It's like she's no longer hiding behind sources and is just speaking her piece.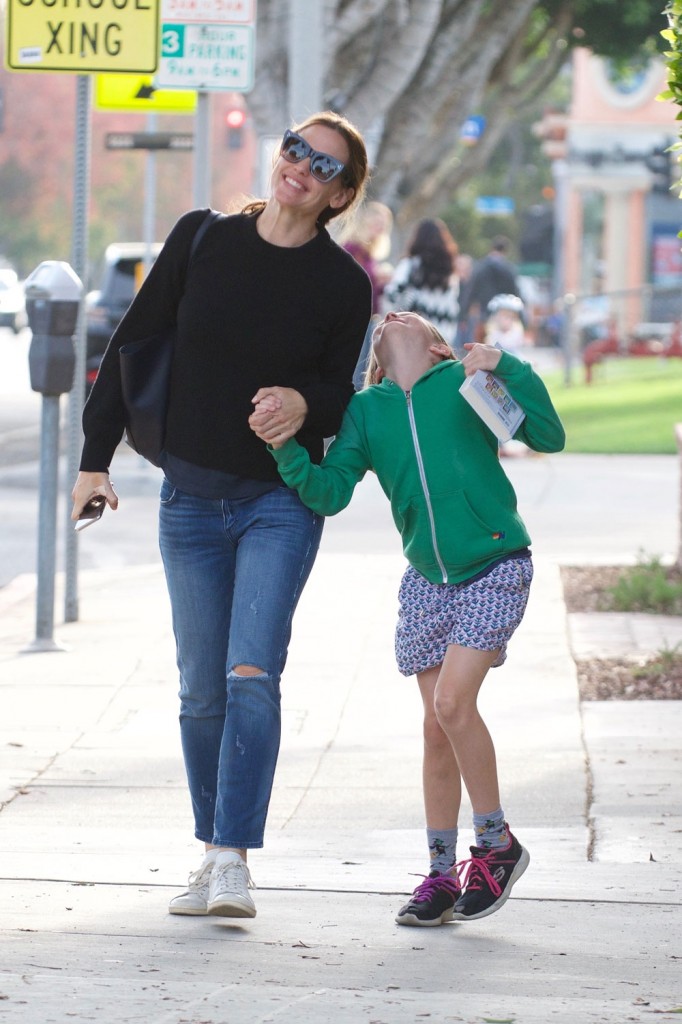 Photos credit: WENN, Backgrid and Getty