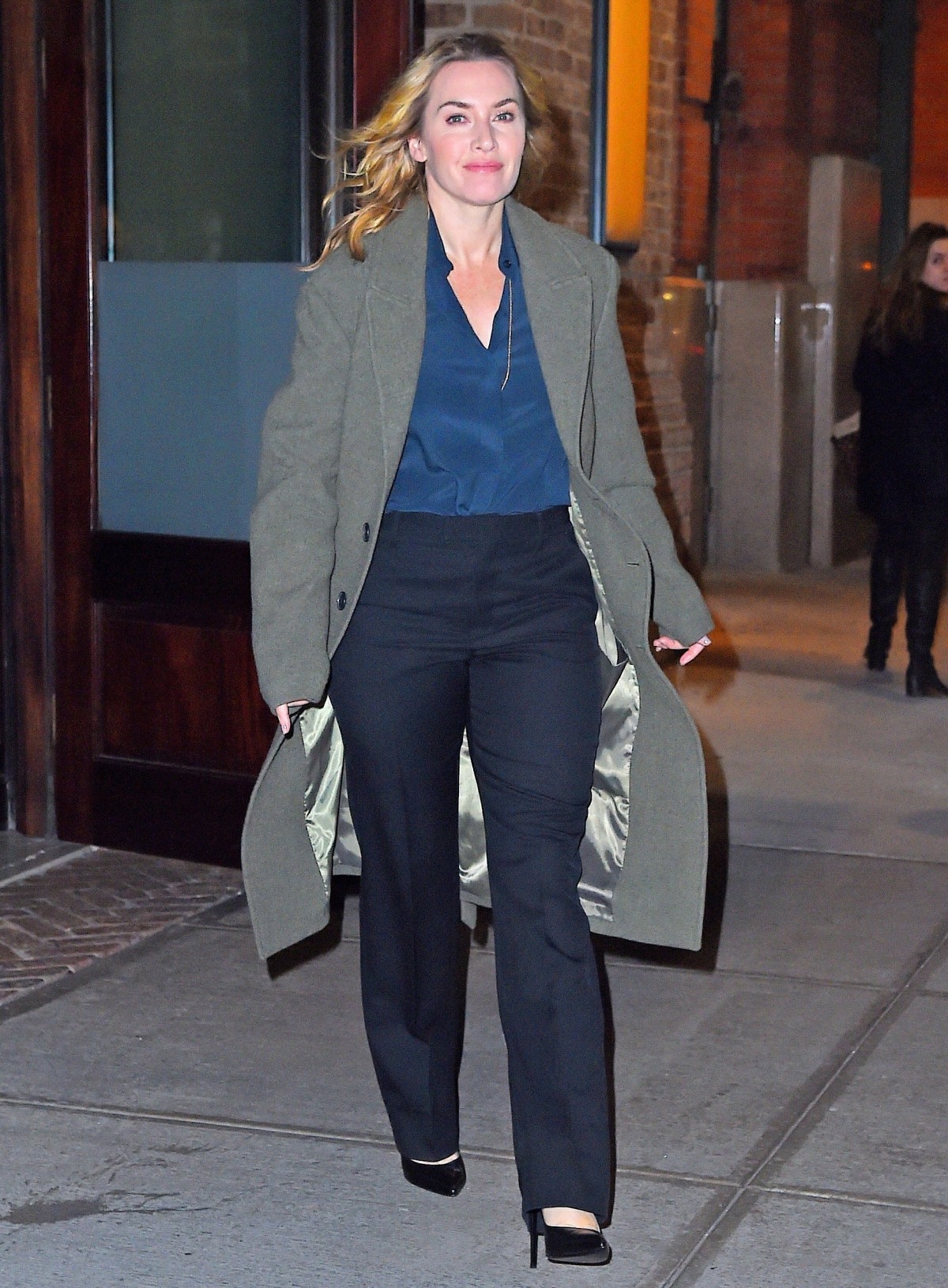 Here's the one nice thing I'll say about Kate Winslet in this post: I really love her outfit in the above photo. Beautiful trousers, beautiful blouse, and a fantastic coat. Usually I hate her style, but she looks great in this kind of office-work attire. Anyway, these are some pics from Winslet's promotional stop in New York last week. She's promoting Wonder Wheel, which was written and directed by Woody Allen, and she's pretty much expecting an Oscar nomination for this. I don't think it's going to happen, mostly because the critical response has been mixed-to-bad. It's an odd year for the actress nominations – in that it feels particularly loaded for a change – and so I really don't think Winslet will get much more than a Golden Globe nomination. And even then, maybe not, because it's a Woody Allen film.
So, Winslet is promoting this film and her publicist must be giving strict instructions to reporters to not ask Winslet any further questions about Allen. Or rather, any questions about Dylan Farrow and her accusations. So instead we get Winslet unironically saying that Woody Allen knows women so well that he's probably a woman. Girl, stop. Some highlights from this terrible Sydney Morning Herald piece:
Winslet thinks Woody is a woman: "I think on some level Woody is a woman," Winslet jokes as she ponders the question of just how the filmmaker continually creates such memorable female characters. "I just think he's very in touch with that side of himself. He understands the female characters he creates exceptionally well,. His female characters are always so rich and large and honest in terms of how they're feeling and he just knows how to write dialogue for them to communicate all that."

She didn't want to be too influenced by Woody's Tennessee Williams influences: "We've seen such extraordinary performances – particularly from women – in Woody's films and I wanted to join those great women but only by making her my own person and staying away from any cliches."

Woody Allen on "the biggest misconception" about who he really is: "People think I am an intellectual because I wear these glasses and they think I am an artist because my films lose money so it's a great image but it's not me. I am the person that is home with a beer in front of the football game on television, not upstairs with a book on Danish philosophy."

Woody credit his wife Soon-Yi Previn for inspiring him to continually write strong female characters. "She's got a very domineering personality and is hyper competent and I'm hyper incompetent and can't work the TV set without calling her into the room. She handles all the money and I get a small allowance of $35 every couple of weeks from her and I'm fine with that because she takes a huge amount of tedious responsibility off me and I'm confident she knows what she's doing and I don't!"
Is it cool if I feel sick to my stomach after reading this mess? Kate Winslet is like one week away from declaring Woody Allen the feminist of the year. And Woody crediting his daughter-wife for helping him write female characters?? MY GOD. It's like neither of them can even hear how crazy and awful they sound. Maybe Woody and Winslet actually deserve each other??
Photos courtesy of Backgrid and Getty.