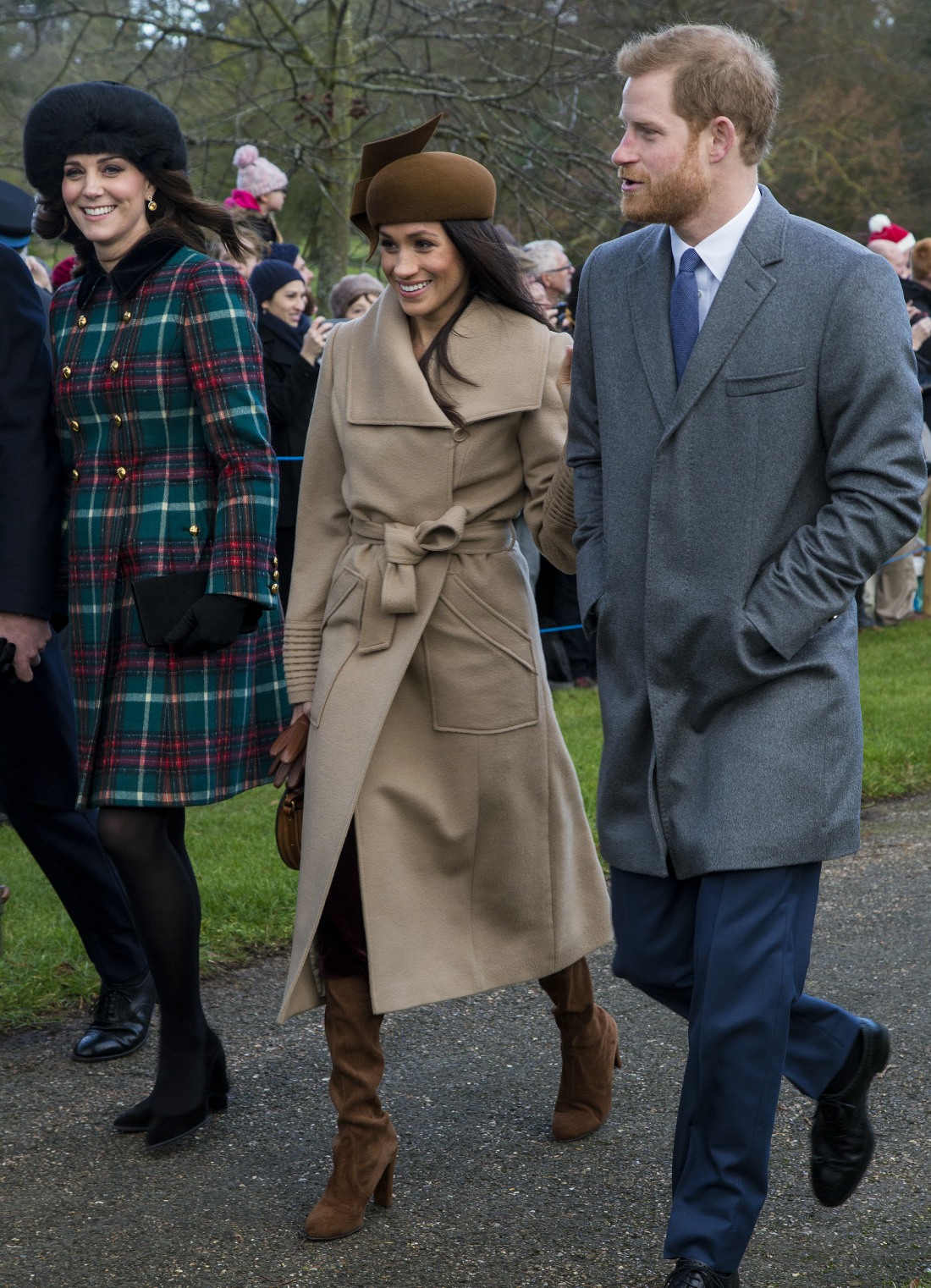 So I won't be accused of favoritism, let me just say at the onset that I didn't like what Meghan Markle OR the Duchess of Cambridge wore to the big Christmas Day pap-walk. I thought they both chose terrible coats. I'm used to not-liking Kate's coats, but I had such high hopes for Meghan. Oh, well. These are photos from the big royal walk to St, Mary Magdalene church at Sandringham. Apparently, thousands of well-wishers lined the path, hoping to get a glimpse of Meghan specifically. The royals knew that this was their big money shot: Meghan interacting with royal family members other than Harry. They saved the shots of Meg interacting with Camilla and Queen Elizabeth, but Prince Philip was in the same frame as Meghan in many photos, because he was walking just ahead of her.
The big money shot was Kate and Meghan together, and they did walk together, with Harry and William walking on the other side of their ladies. You know the positioning was worked out ahead of time. Neither woman shot daggers at the other, and both seemed smiley and happy. Meghan and Harry are reportedly staying at Anmer Hall with the Cambridges, so Meg and Kate have probably gotten to know each other a bit better over the holiday.
For the big church stroll, Meghan wore an expensive ensemble. The tan coat is from Canadian fashion house Sentaler, at a cost of $1295. She wore Stuart Weitzman boots ($795) in brown goatskin leather, and a Chloe purse costing $1550. She also wore Maison Birks diamond earrings costing $7K. Of the entire ensemble, I would imagine she'll get the most use out of the earrings. The hat, on the other hand… like, I don't hate the hat. I loathe the coat, but I'm okay with the hat. But the hat was widely discussed in the British media as being, like, too chocolatey? I think that shade of brown suits Meghan more than the tan shade of the coat.
Meanwhile, Kate wore a $3500 MiuMiu tartan coat with a fuzzy collar and shiny gold buttons. The material looks crazy-stiff, like she's wearing a scotchgarded Christmas-tree skirt. She chose this because of the buttons, I know that for a fact. She paired the coat with a Mulberry clutch, Tod's pumps and some Kiki McDonough citrine earrings she's worn several times before.
All in all, I think this whole thing was probably pretty successful. I look forward to many joint appearances to come with Meg and Kate's Annual Ugly Coat Competition.
Merry Christmas! The Duke and Duchess of Cambridge, Prince Harry and Ms. Meghan Markle have joined members of the Royal Family for the Morning Service on Christmas Day in Sandringham. pic.twitter.com/6DMRGFPntt

— Kensington Palace (@KensingtonRoyal) December 25, 2017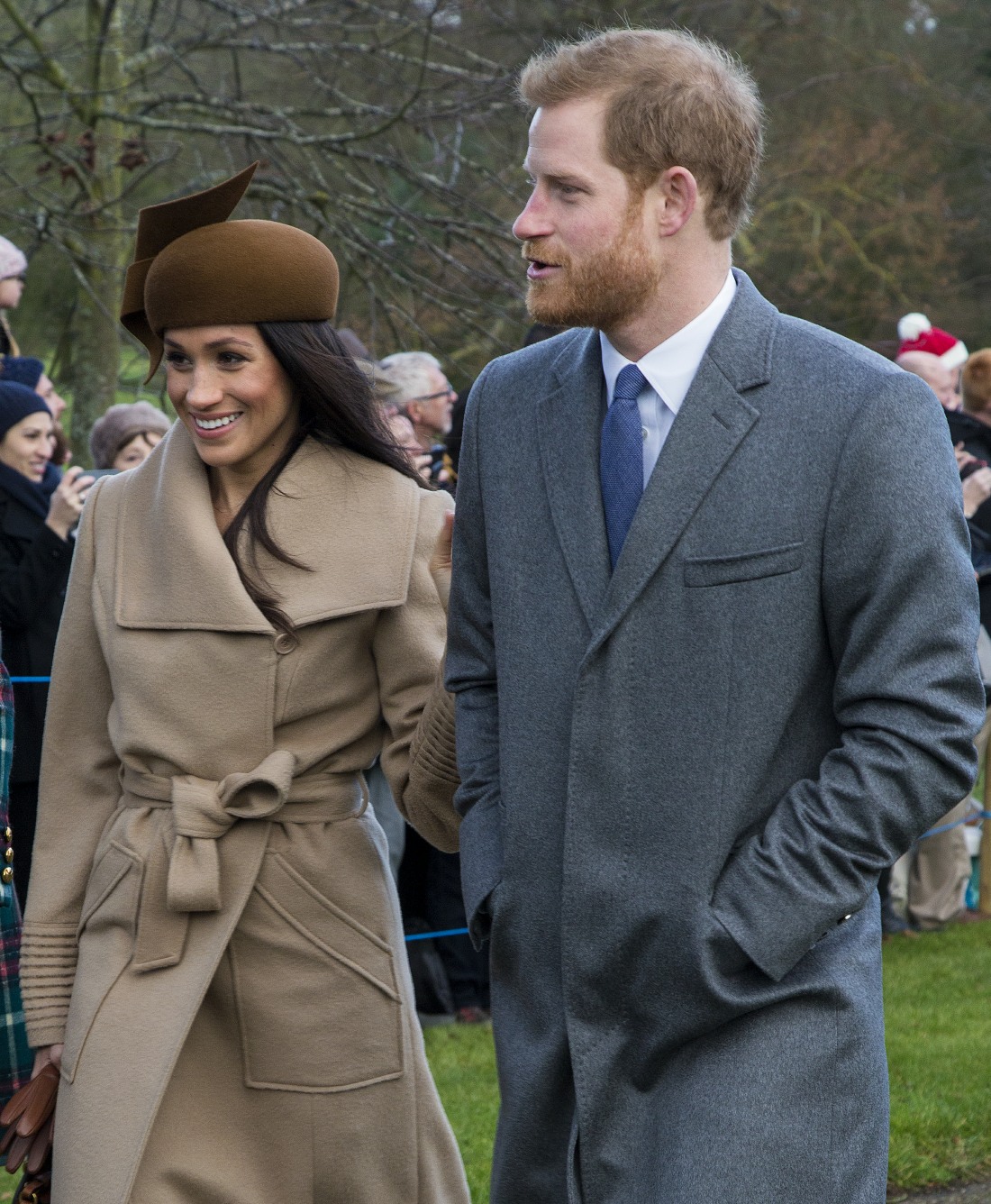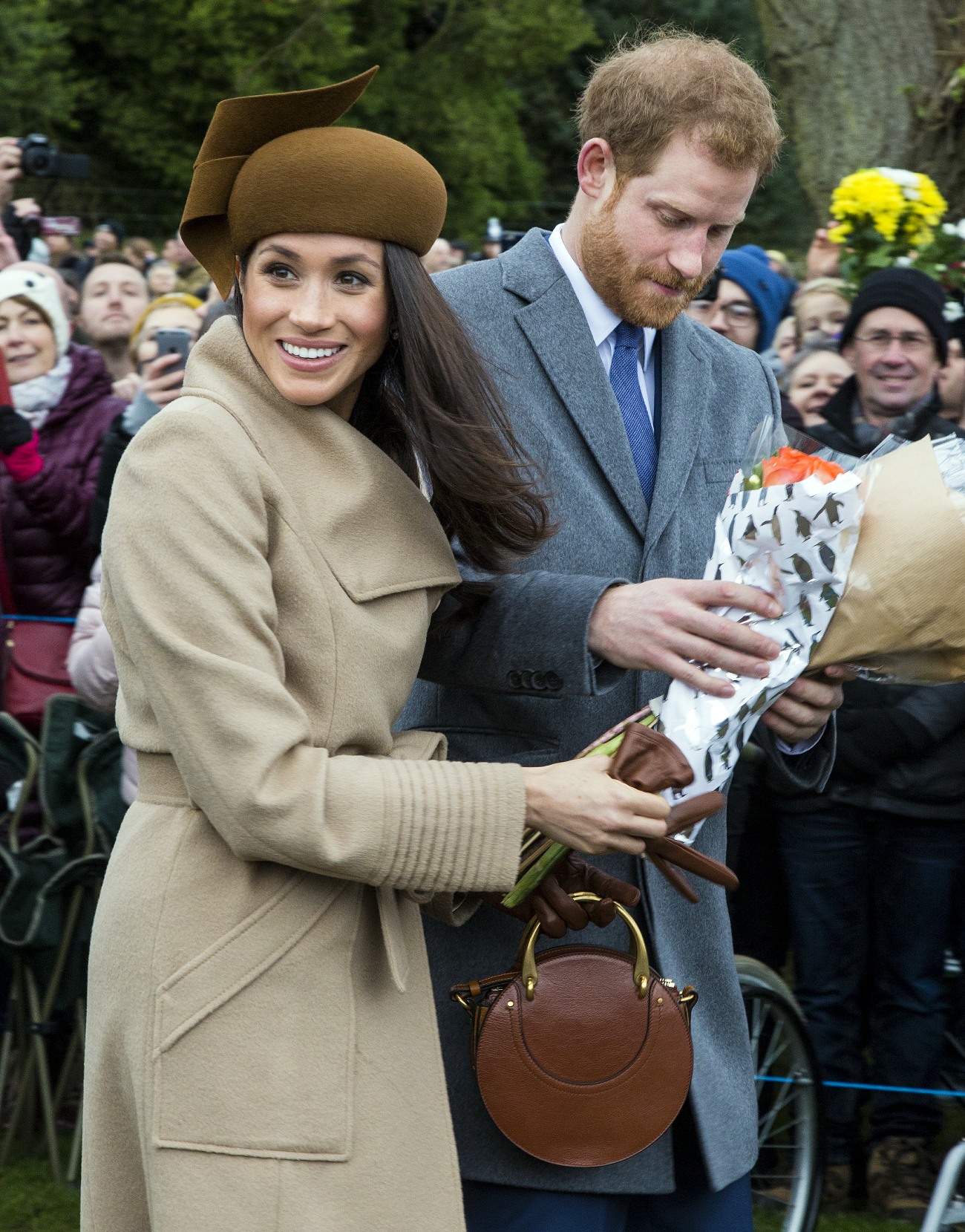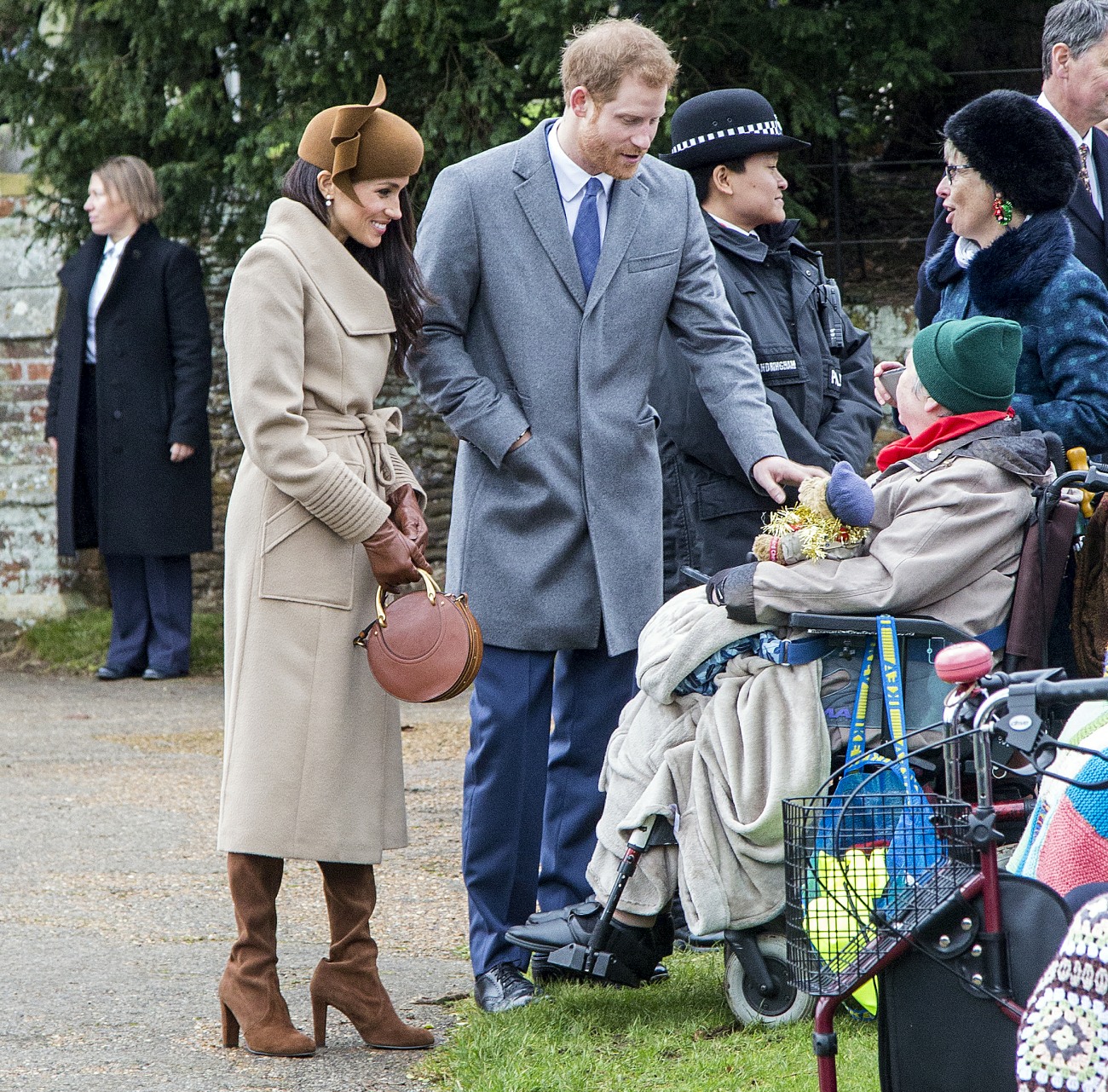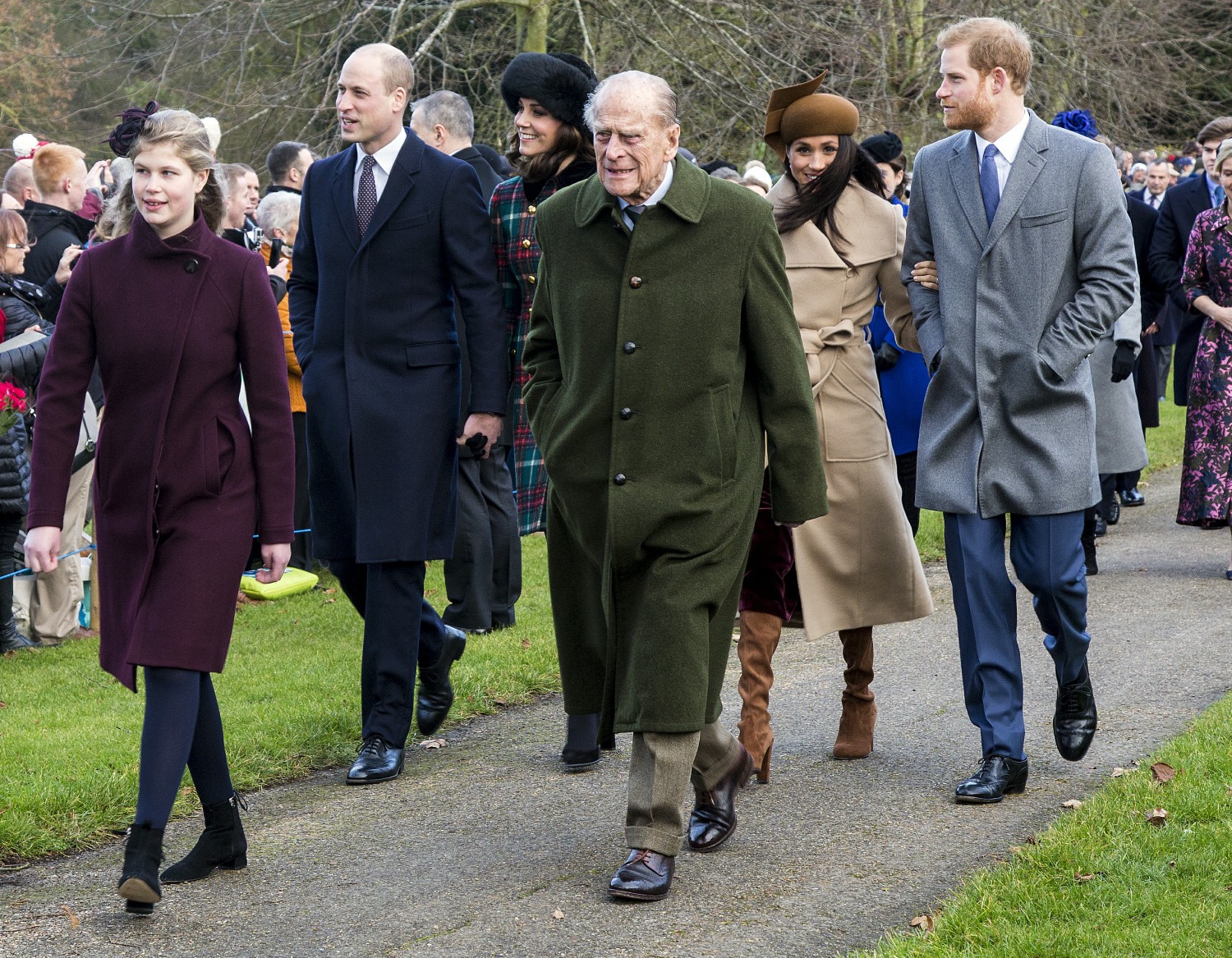 Photos courtesy of WENN.