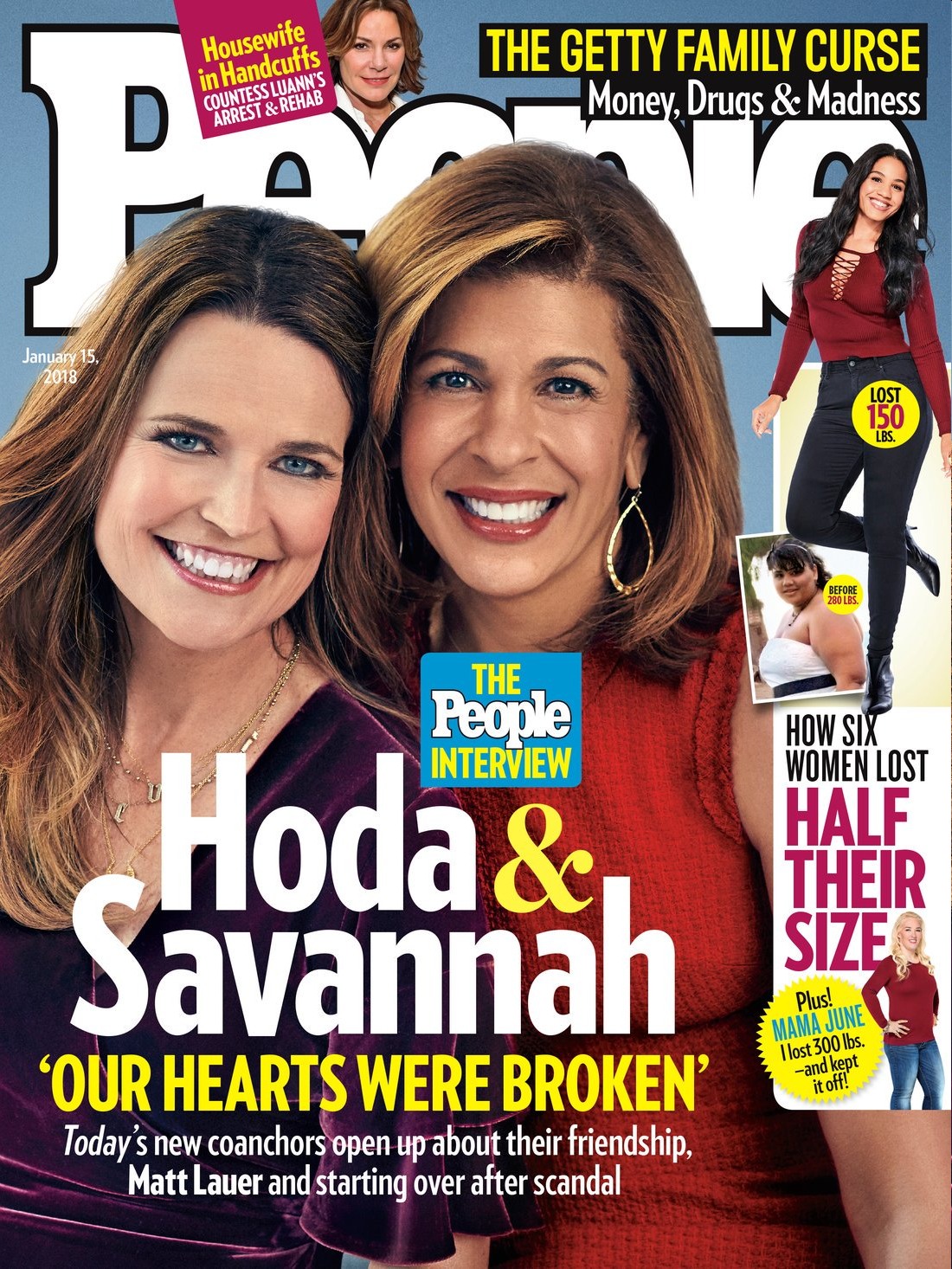 The last time I wrote about Matt Lauer, I mentioned that since Lauer's departure – forced departure – from NBC, the Today Show's ratings have actually improved. It's one the saddest postscripts to the Lauer debacle, because the bros at NBC News believed for years and years that Lauer was their guy, Lauer was "worth" the exorbitant paychecks, that he was the one driving viewership. That's why NBC News honchos gave Lauer free rein with his locked-door rape-button and his orchestration of Ann Curry's dismissal. As it turns out, the Today Show was always bigger than Matt Lauer. As it turns out, the ratings are still good and people still tune in. So instead of replacing Lauer with another dude, NBC is just going to stick with Savannah Guthrie and Hoda Kotb.
Hoda Kotb is officially Today's new co-anchor. It's been a time of controversy and change at NBC's beloved Today show, but Kotb and Savannah Guthrie aren't about to let turmoil dent their morning cheer. In an exclusive interview for this week's issue of PEOPLE, on stands Friday, both are bracingly upbeat — and these women really (really) like each other.

"When you click with someone, man, woman, it doesn't matter. If it works, it works," Kotb says of their synergy. "We're sort of like sisters, and everybody wants a sister."

That friendship has carried Today through the rockiest period in its 67-year history. On Nov. 29, the show's star Matt Lauer — a friend of both women — was fired for alleged inappropriate sexual behavior. (Multiple sources describe the cause for termination as an affair that violated NBC's terms of employment, but in the wake of the news, allegations that included lewd behavior and sexual assault also surfaced.) Kotb continued to fill in for Lauer in the days following his dismissal, and the network liked what what it saw.

"We're very fortunate to have someone like Hoda who brings immense talent and tremendous positive energy, and then on top of that happens to have wonderful chemistry with Savannah," says NBC News Group chairman Andy Lack. "It makes this a decision that everyone can embrace and feel terrific about."

Adds Guthrie: "It was such a shock to wake up one day and not have Matt, but it was the most natural and comforting thing in the world to have Hoda right there. No one wanted that to stop."

Just before the holidays, NBC execs offered the job to Kotb, who will continue hosting the show's 10 o'clock hour alongside Kathie Lee Gifford for the time being.

"Weirdly it doesn't feel like the headline because we've worked together for a long time," Kotb says.

"We're grateful to NBC for not having some old fashioned notion about what should be," Guthrie adds. "I think they looked at it and said, 'Why would you change this? This is working, it feels good.'"

As for Lauer? "We know he's working on his family, we know that for sure. Of course our hearts go out to the brave women who have told their stories," Guthrie says. "What we are experiencing and processing now is how to honor and remain a true friend to someone even in spite of learning things that are deeply disturbing. And we are trying to navigate that path with integrity."
Eh, it's fine. I think this was probably the best possible outcome from this entire sh-tshow. I would have been angry if NBC News couldn't comprehend a morning-show line-up with just women as anchors. It reminds me of a series of tweets I saw a few months ago, when several congressmen had been outed as predators, and some dude basically tweeted "wow we're just going to have elect asexual robots to Congress now" and someone responded, "ugh, you know you can just ELECT WOMEN right?" NBC News had to figure that out for themselves – why hire a dude to replace Matt Lauer when they could just have wall-to-wall women as anchors?
Cover courtesy of People Magazine, additional photo courtesy of Getty.