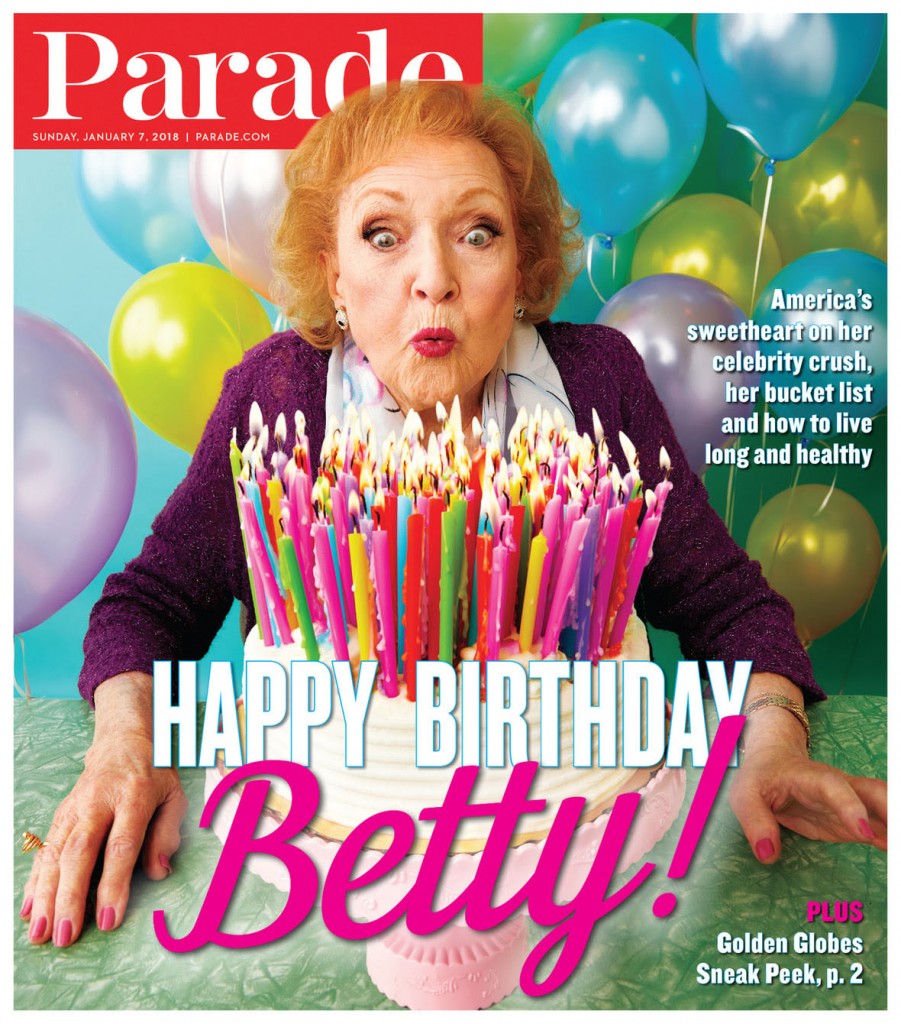 Betty White is covering Parade Magazine to celebrate her 96th(!) birthday, which is on January 17th. The cover image is so cute, featuring Betty blowing out 96 candles on an oversize birthday cake. Betty is still just as witty as ever, she still has a crush on screen icon Robert Redford, 81, and she still hasn't met him. I've heard her say she loves Robert Redford so many times. Why have they not yet met? Someone needs to make this happen for her. She also tells Parade that she loves to work (she's guesting on the show Young & Hungry on ABC) and she gives us advice to just "keep plugging away, don't give up." I love her and I'm so glad Parade chose to feature her. Here's more.
Her career advice to newcomers in her industry
"You just keep plugging away, you don't give up… Do your work, learn your lines and come in prepared. Don't think you can wing it, because you can't. We're in show business, which is fun, but take your business seriously, because it is a serious business."

There's little context to this next quote, they just say it's her take on the industry
"I think the business is in pretty good shape; I don't have to fix it. I will, but I don't have to."

On how she feels appreciated
"I got an award for everything. Inhaling, exhaling . . . I've been so spoiled rotten."

How she wants to be remembered
"Warmly. I hope they remember something funny. I hope they remember a laugh."

On her love of animals
"I'm an only child and my mother and my dad loved [animals]. We had them as long as I could remember."

On if she'd like to repeat anything
"I don't have time to miss much, because I'm still working. I just love to work, so I'll keep working until they stop asking."
I believe I would like to hear Betty's take on #MeToo and the uncovering of the Hollywood harassment epidemic, but maybe she's not at a point where she's ready to talk about it. In the scheme of her very long career, the floodgates have only just opened on this story. I bet she has so many stories of her own and of the other women in her industry, many of whom may have since passed away. Given what she said in this interview I doubt she'll say anything publicly.
Betty is still deeply committed to animal rights and well being through her charity work. She currently has a golden retriever named Pontiac, whom she calls "the star of the house." OMG Betty White has an Instagram! It only occurred to me to check it after learning she had a dog and here Pontiac is, he looks like such a good boy!
As for her approach to life, I'm going to get a dog and keep working as long as I can. If that's the secret to longevity count me in.