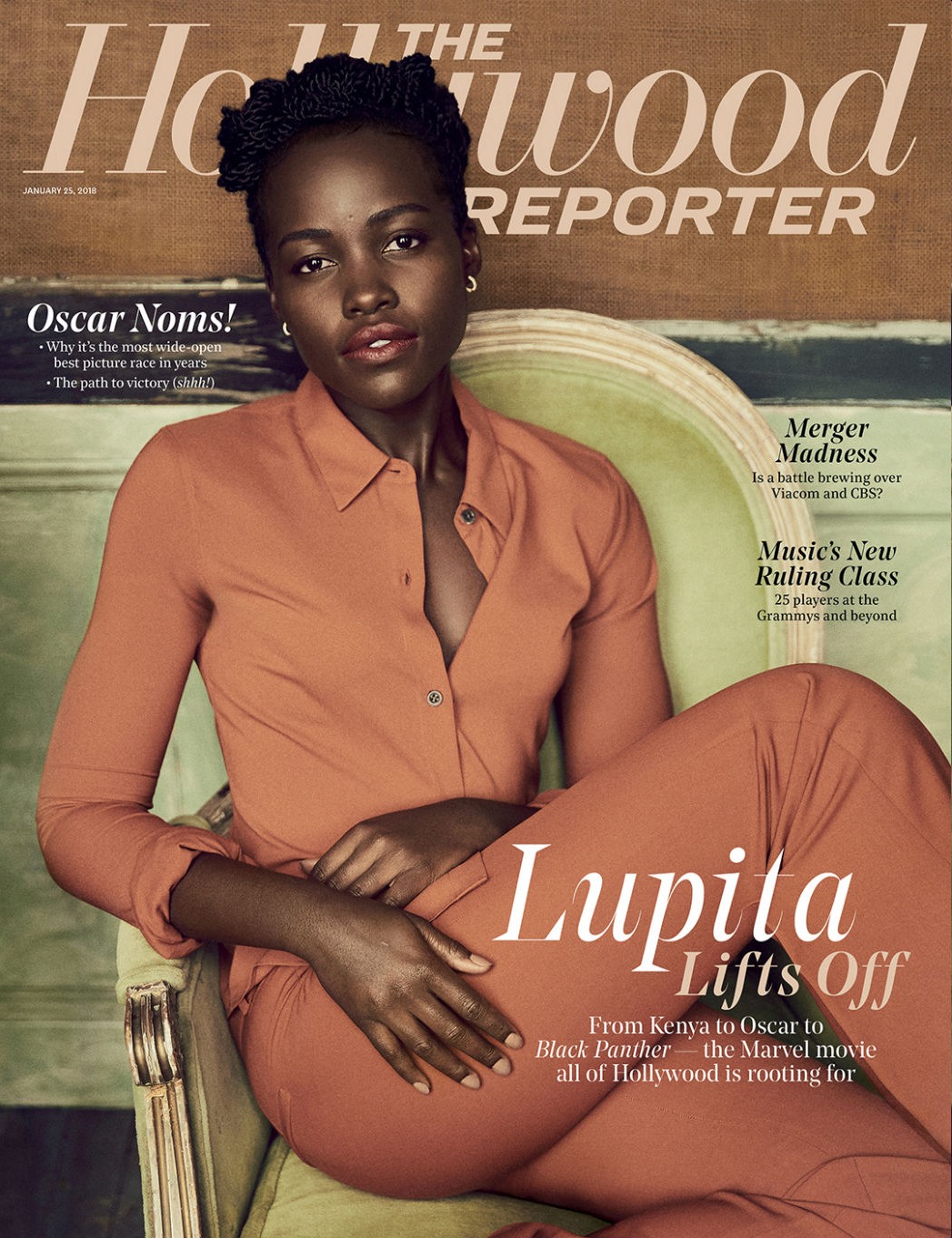 Black Panther comes out on February 15/16. I feel strongly that it is going to be a massive hit, possibly even one of the biggest hits of the year. I also feel strongly that it will be a hit movie mostly because of Ryan Coogler, Chadwick Boseman, Michael B. Jordan and the fact that Marvel is really doing this. But Lupita Nyong'o is in it too, and I'm sure she'll be front and center for the promotion too. Look, here she is on the cover of The Hollywood Reporter! I wish Black Panther was about a Wakandan princess who comes home to be a queen, but alas, that's not where we are. To be fair though, THR didn't just give her a cover because she's third-credited actor on Black Panther – they give her a lot of room to talk about Kenyan politics, Harvey Weinstein and how much her life has changed in the past five years or so. You can read the full piece here. Highlights:
The fear of the "Oscar curse": "The fear of failure was just as high as the high of success. Because I could fall, and I could fall far."

Self-image, even with a Lancome contract: "There is a part of me that will always feel unattractive. That's OK, because it will keep me grounded. I don't need to be so full of myself that I feel I am without flaw. I can feel beautiful and imperfect at the same time. I have a healthy relationship with my aesthetic insecurities."

Her op-ed about Harvey Weinstein: "I felt uncomfortable in my silence, and I wanted to liberate myself from it and contribute to the discussion. That was just what I felt I needed to do, quite viscerally. I couldn't sleep. I needed to get it out." Over several days, she wrote and wrote, alone with her computer, then showed what she had crafted to her mother. "I had to talk to her about it because it was something that we hadn't talked about. She was really moved and very supportive."

Whether she's a political person: "I am very emotional about politics, in a way that makes it hard for me to articulate things in a rational fashion. I don't know. I had to share my father with politics for so long." She laughs. "I don't ever want to be president — let's just get that out of the way."

Going to Hampshire College: "It was culturally shocking and culturally discombobulating," she admits. At the university, "I was regarded with a fascination that was weird: I had grown up watching Americans on TV, so they were not as unfamiliar to me as I was to them, and that was something I had to negotiate. Hampshire can be very casual, and I was the kind of student that ironed my clothes the night before. But it was also a very liberating place because I learned that I was self-sufficient and self-driven, that I could set goals without someone flogging me."

She plays "the warrior Nakia" in Black Panther: "[She is] a rebel but a loyalist at the same time. She wants to go her own way but also wants to serve her nation." The film centers on "what it means to be from a place and welcome others into it. T'Challa [Chadwick Boseman] is the leader of an isolated nation that has managed to keep its autonomy and be self-determining because it has shielded itself from colonization, and how does that nation now relate with the rest of the world? We were creating an aspirational world where an African people are in charge of their own destiny. And that really appealed to me and had the little girl inside me jumping for joy. To just have African people, black people, at the center of that narrative is so exciting."

She wants kids. "I feel I was born to be a mother," she says, though where she would raise her children, she doesn't know. "Somewhere where there's grass. Because I want my kids to be able to run around and discover things with their feet and their hands. I still love climbing trees. There's no trees to climb here."
"We were creating an aspirational world where an African people are in charge of their own destiny… To just have African people, black people, at the center of that narrative is so exciting." It IS exciting, and it's also depressing to realize how few films fit that criteria. Sure, there are historical films about Africans, which are usually about suffering and pain. There are a handful of fictional stories set in African countries, but think about it: Black Panther is a Marvel film, with a huge budget, and they got to build an entire fictional world/country in which African people are driving their own narratives. It's incredible.
Cover courtesy of THR, additional photo courtesy of Getty.