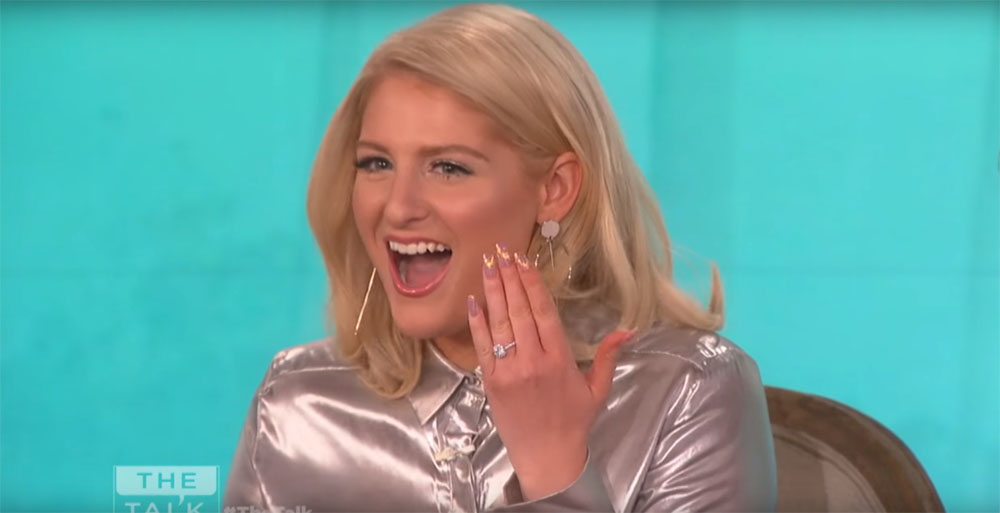 I'm so sorry for that title if you're like me and are easily grossed out. Meghan Trainor was on The Talk recently as she's promoting her role as a judge on the new reality music competition show, The Four: Battle For Stardom. It premiered on Fox in January and is hosted by Fergie. The other judges are Sean Combs (Diddy), DJ Khaled and previously Charlie Walk. I just googled Walk as I hadn't heard of him until now. He was an executive at Republic Records, was just suspended and will not appear on the finale of The Four following allegations of sexual harassment by at least two different women. (I'm sorry for reporting that as an aside to this story, I hadn't heard of this show or that abusive man until now.)
Regardless Meghan has lost weight, she didn't need to but she looks great and you can see it in her face, and she's also gone back to blonde hair. She was a blonde before but went temporarily red last year. Meghan got engaged after over the holidays to Daryl Sabara, an actor best known for being in the Spy Kids movies. She's crazy about him, she wrote the song "Marry Me" about Daryl, and also called it a dream come true to get engaged to him. She's really a romantic and a traditionalist, which shows in her lyrics. Anyway she talked about the circumstances of her engagement, he had her family there and he surprised her "at this beautiful zoo with a bunch of Christmas lights" on her 24th birthday. Then she told this really nasty story about throwing up in the car the day after she got engaged. In order to show her that he wasn't grossed out, her boyfriend/new fiance kissed her afterwards.
I haven't told this story yet because it's kind of gross but we're eating so much healthier nowadays. The day that we drove home I got food poisoning on the car ride. He's driving and I'm just in his face like *ugh* [imitates vomiting] I told him like 'I'm so sorry' and I'm like 'I would kiss you right now.' And he kissed me. He pulled over, we had like a moment. He went for the nasty.
[From video on The Talk, clip below]
This was Shemar Moore and Eve's response afterwards. Shemar asked if Meghan's fiance had mouthwash and she didn't answer yes or no (I keep mouthwash in my car, doesn't everyone?) but just said "He pulled over." Ew.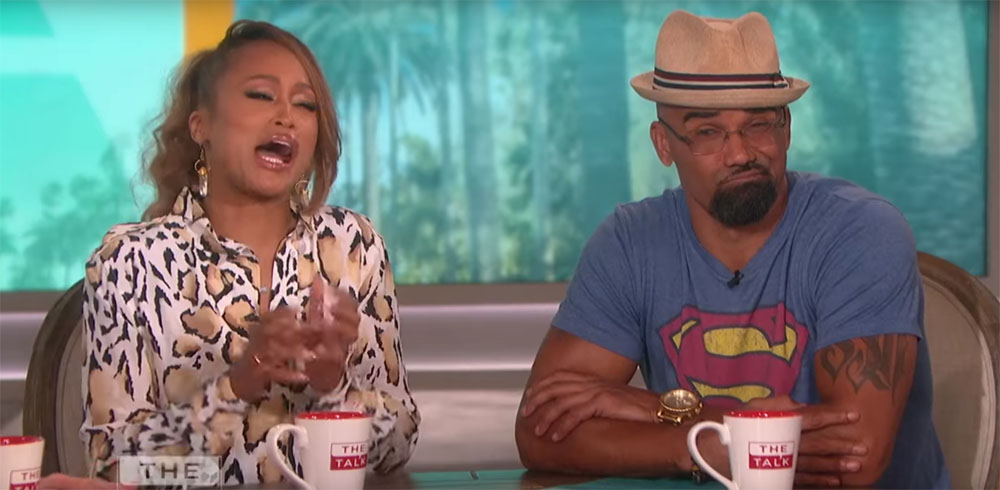 Have you ever been this stupid in love? I sort-of have although I haven't kissed someone who just threw up or let them kiss me after I threw up. That's just disgusting, but I guess there are people who don't have the same gag reflex as me. Love can be like a drug addiction and it can make people do really ridiculous things, like get married. (I jest, but kissing someone who just puked is only temporary.)
Here's Meghan telling this story. Again, useful if you're trying not to stress eat.

Here are some stills of Meghan on Fallon. She's a goofball but she owns it, you know? She just loves being engaged.