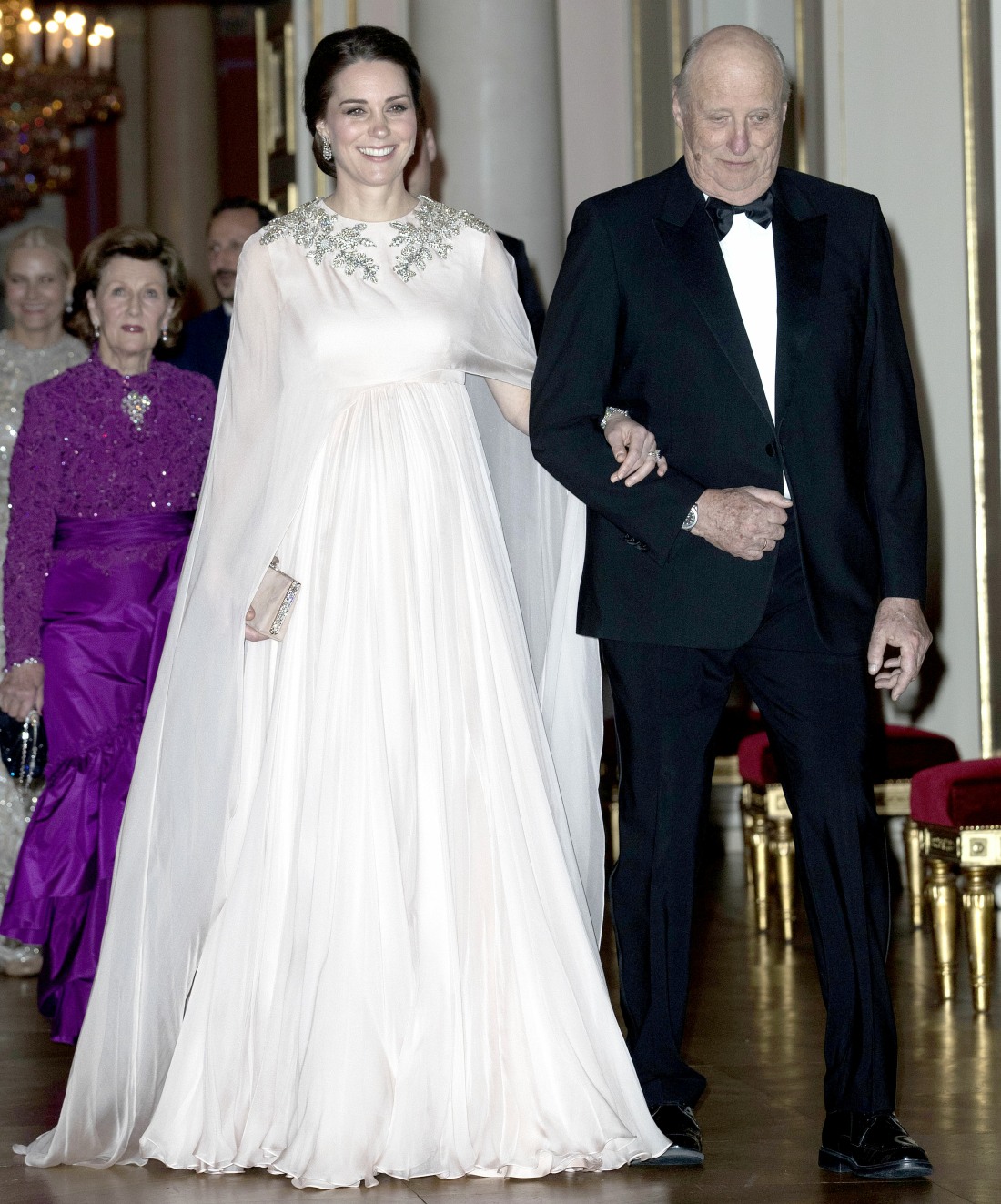 The Duke and Duchess of Cambridge arrived in Oslo, Norway late Thursday morning. They did a brief photo-op on the tarmac, then they had lunch at the Royal Palace with the king and queen, then they spent the day doing events around Oslo with Crown Prince Haakon and Crown Princess Mette-Marit. Honestly, it seemed like they had a really busy day. At some point, they got a brief break from the schedule, and it was just enough time for everyone to change into their formalwear, because William and Kate were the guests of honor at a gala dinner at the royal palace.
Kate + formalwear can be a hit-or-miss affair. Sometimes, I'll defend her choices and there are even a few gowns in her closet which I genuinely like and wish she would repeat more often. I'm thankful that she didn't wear a doily, but I'm not sure this Alexander McQueen is the best look overall? Granted, it's not a rusty chartreuse floral nightmare from Erdem, but are we perhaps setting the bar too low? Let me try to be nice… let's see… I like that Kate is experimenting with a different (ish) silhouette. I mean, this McQueen includes a friggin' CAPE. We've never seen her in a cape before, so props to her. I'll also give her credit for choosing something appropriate for the occasion – she definitely looked like she belonged at a gala dinner at a royal palace. The problem, perhaps, is that she looked like she was going to a royal gala dinner in 1962. Also: is anyone else surprised that this is McQueen? If you told me it was Elie Saab or Marchesa, I would believe you.
As William and Kate's Swedish and Norwegian tour comes to a close, I think I finally "get" the style story Kate was trying to tell, even if I don't understand why she chose that particular style story. I think the style story of this tour was "pre-Onassis Jackie Kennedy." Look back at the sillouettes she chose, the patterns, the high collars, the hemlines. This McQueen gown looks like something Jackie would have worn to a state dinner. So why did Kate choose that style story?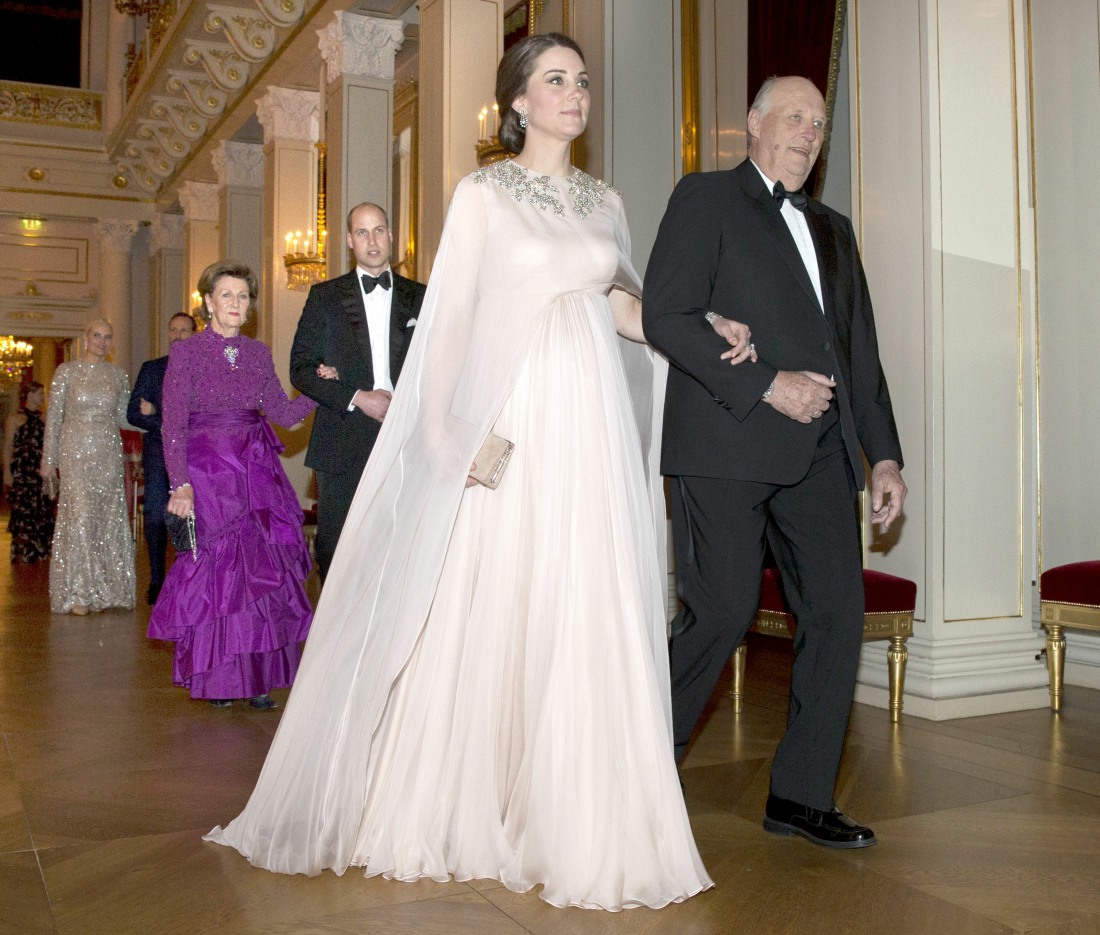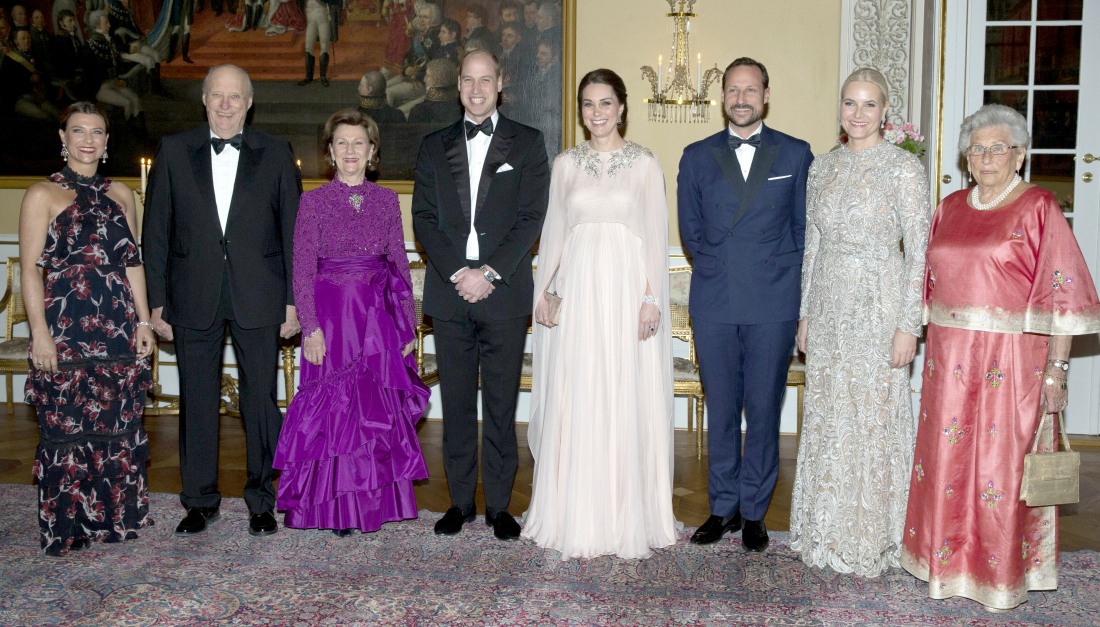 Photos courtesy of Getty, WENN.