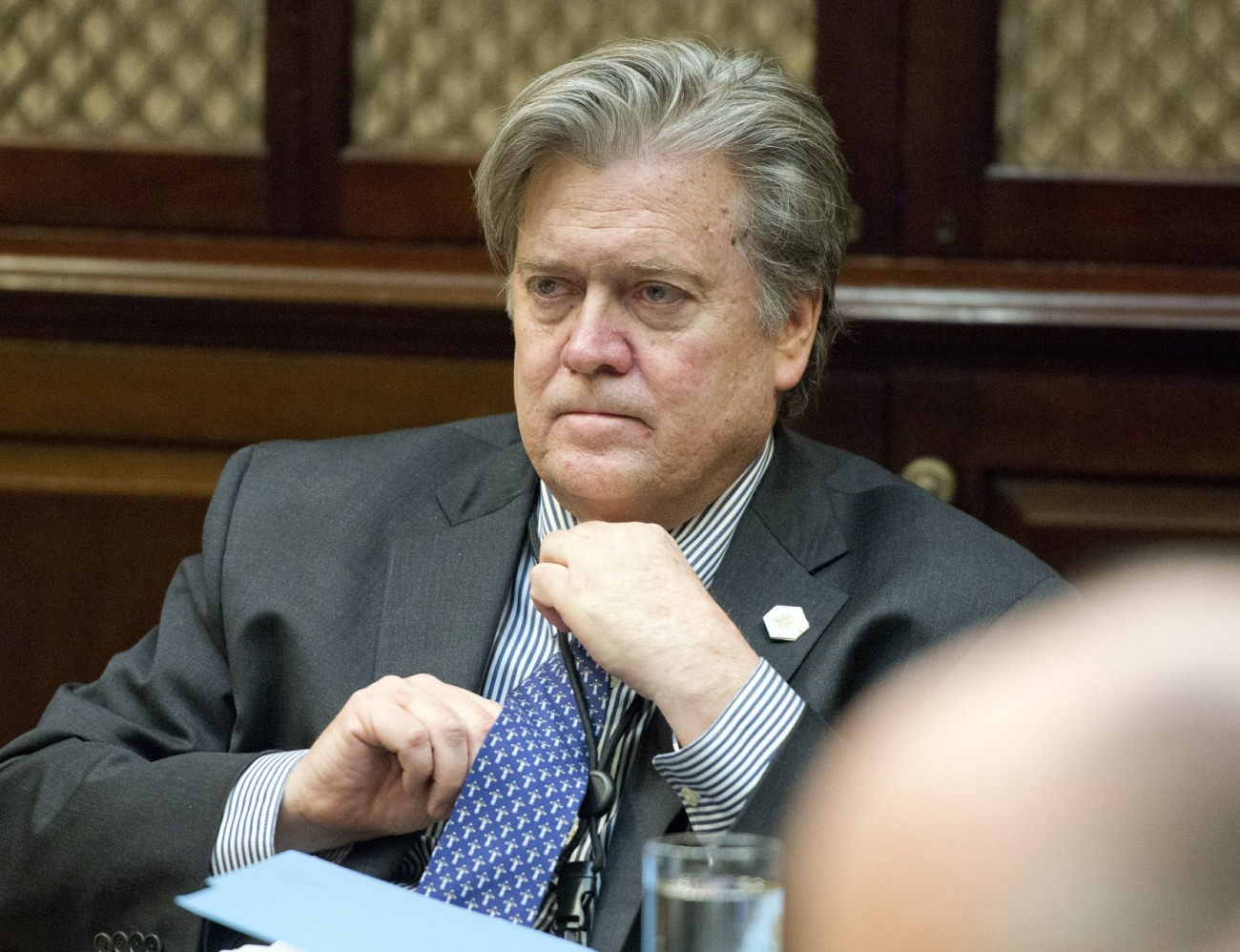 As I've said before, I'm on Team Let's Ignore Steve Bannon. I tried to ignore him when he worked at the White House, and then he got fired and I kept on trying to ignore him. The past year of Bannon's life has been shambolic, much like his face. He went from working in the WH to getting sh-tcanned and then pushed out of Breitbart. He told Michael Wolff that Trump and members of the Trump family committed treason. He ran the campaign for a pedophile hobgoblin in Alabama and LOST. The guy is a whackjob. But people still speak to him and report what he says. One of those people is journalist Josh Green, who has written a book called Devil's Bargain about – you guessed it – the Trump administration and Bannon and everyone else. Green happened to speak to Bannon immediately following the Golden Globes this year, the same awards show where everyone wore Time's Up buttons and all-black and everyone wanted Oprah to be president. These are some quotes from Bannon:
On the Golden Globes: "It's a Cromwell moment!" Bannon is quoted as nearly shouting, referring to the 17th century political leader often characterized as a fanatical dictator. "It's even more powerful than populism. It's deeper. It's primal. It's elemental. The long black dresses and all that — this is the Puritans! It's anti-patriarchy."

On The Rock watching Oprah's speech: "He's ruined his career. If you rolled out a guillotine, they'd chop off every set of balls in the room." Green, who is also a CNN political analyst, writes that Bannon believed Oprah could threaten the Trump presidency if she were to become involved in the 2018 midterm elections. He argued, Green wrote, that her activism could assist the Democrats in taking back the House, allowing Democrats to impeach Trump.

On the "anti-patriarchy" movement: "The anti-patriarchy movement is going to undo ten thousand years of recorded history. You watch. The time has come. Women are gonna take charge of society… And they couldn't juxtapose a better villain than Trump. He is the patriarch. This" — the Golden Globe Awards — "is a definitional moment in the culture. It'll never be the same going forward. I think it's going to unfold like the tea party, only bigger… It's not Me Too. It's not just sexual harassment. It's an anti-patriarchy movement. Time's up on 10,000 years of recorded history. This is coming. This is real."
Considering this is the same man who spearheaded Roy Moore's "all of those underage girls I molested are liars" strategy, I don't really think Steve Bannon has his pulse on what's happening with women today, for better or for worse. Like, if we give him this one and admit that sure, he might be right and that women have finally had ENOUGH, then that means he would be right about something. I can't live in a world where he's right about anything. As for the idea of the anti-patriarchy movement… right now, I think most women would just be happy if we had a male president who hadn't sexual assaulted a dozen women and then told the world that the women he had assaulted were too ugly to be assaulted. Let's start there.
Photos courtesy of Getty, Backgrid.