Lupita Nyong'o first became famous in 2013, during the promotional tour for 12 Years a Slave. Throughout the year, she carefully chose her clothing and her styling. Many will remember that throughout 2013 and into early 2014, Lupita also had really, really short hair. Half her head was practically buzzed. Her style story became all about her face, and the whole thing reminded me of Audrey Hepburn winning for Roman Holiday with her little pixie cut – like, with a face like Audrey or Lupita, you don't need hair. Anyway, I just took that trip down memory lane because Lupita exists in the zeitgeist with short hair, that's how we always remember her. I'm actually taken aback slightly when I see recent photos of her, and I see how long her hair is now.
Lupita is promoting Black Panther – which has been called a "showcase for natural hair" – on the March cover of Allure. Allure devoted this issue to hair, specially black women's hair and all of the conversations and lack of conversations around black hair. It's a super-long piece, which you can read here. Some highlights:
Her teen years: "I had my hair relaxed for most of my teenage years, and that was a whole other world. The upkeep of relaxed hair is a commitment. It took styling it once a week and then having it retouched once a month. I remember doing crazy things, like sleeping with my head above the headboard so that my curls wouldn't get messed up for the next day. I'd have these terrible neck aches because I was determined to keep my hair as pristine as possible. And it was super expensive. When I was about 18 or 19, I didn't have a job or anything, so it was really my parents paying for my hair. So I was once asking for some more money to get my hair done and my dad joked, "Why don't you just cut it all off?" And a few months later, I thought to myself, Why don't I? I went into the hair salon, and I said, "Let's cut it off." It was almost a dare to myself: Can I live without hair? He shaved it right off. It was so scary but so liberating because I went completely bald.

She currently growing it out: "My hair is the longest it's been in over a decade. A lot of that is because I have an amazing hairstylist in Vernon François. He's been so helpful, helping me learn how to maintain my natural hair texture. Also giving me regimens that are streamlined because part of the challenge is all the steps. You go on YouTube, and there are just so many different ways of upkeep of one's natural hair. It's honey and rosemary water and avocado-paste conditioning and whatnot. I've tried it all. Now I love my hair. I love it because I've also been able to really embrace the stuff it can do."

On dreadlocks: "Well, I think America is definitely the dominant popular culture. I remember my aunties were locking their hair when I was growing up. One of my aunties started locking her hair when I was younger than 10, and everyone was so scandalized by it.

How she takes care of her hair now: "One thing I've learned was the acronym LOC, and that's basically the rule for how to treat my hair: liquid, oil, and then cream. It's the idea that you wet your hair first, then you add oil so that it can trap the moisture in, then you put a moisturizer or a cream over it. And also shea butter, natural shea butter — no perfumes, no bleaches — which doesn't smell great at all, but it does wonders to my hair.

The terminology around black hair: "Well, I'm not an authority on this. But the term "African-American hair" is inaccurate because I'm not African-American. And I think the term "African-American" is often used as a racial term when it's a cultural group that does not encompass every single person of African descent. So there's that. So when you say "African-American," you're not actually addressing what you think you're addressing. That's a national identification, and it cannot be about the hair. I like the term "kinky." Some people don't like that term, but when I think about my hair, I think of it as African kinky hair. But I'm not really in deep with the politics of it all and the language choice. I speak just from my own experience or my own preference. Curly hair differs so much.
She also talks a lot about the years when she braided her hair, and having to go home to Kenya to have her hair properly braided and then returning to America for school, which sounds like a massive pain in the ass. She also talks about how her hair needs humidity, that if she's in a cold, dry climate, her hair completely changes textures (I didn't realize that could happen). Basically, I find this whole interview really fascinating, and I'm really happy that Allure devoted an issue to this subject and let Lupita talk about her hair in the cover interview. It's a rare thing for a mass-market, mainstream women's magazine to give that kind of space to a subject that is virtually ignored.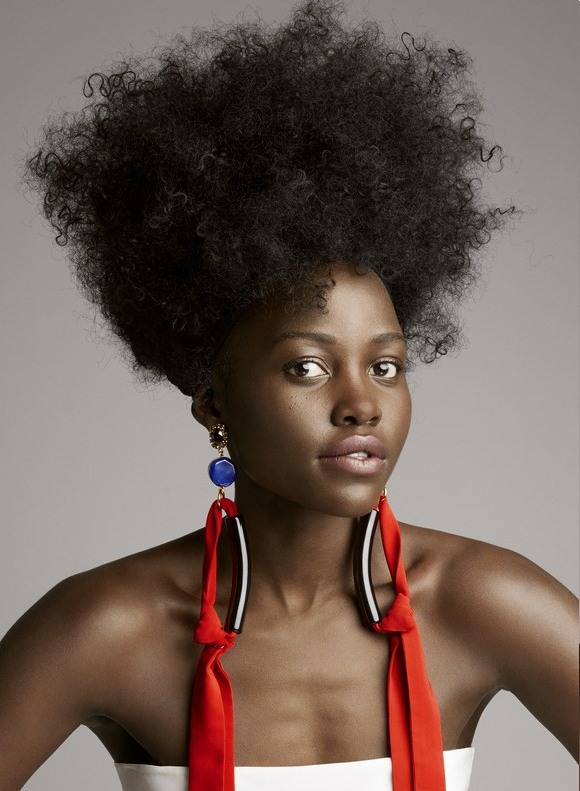 Photos courtesy of Allure.