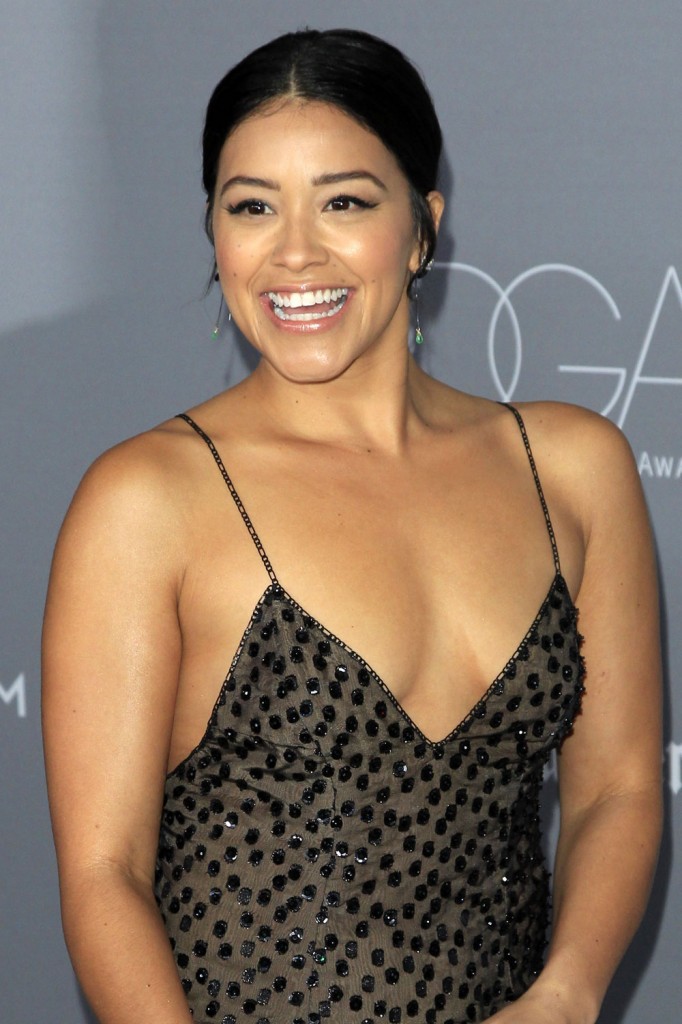 I saw Annihilation over the weekend and was disappointed. Although it was refreshing to see a women-led action/sci-fi movie, the main premise was weak, the special effects seemed comical and parts of it made no sense. I'm not going to give any spoilers but there were major plot holes. Gina Rodriguez's character, Anya, was truly the standout. She played a badass, similar to what we might see from Michelle Rodriguez (I just realized they have the same last name, no relation), with vulnerability and heart. Her acting blew me away, which was not the case for the other leads, particularly Natalie Portman, who just played it straight. They really should have cast another actress in that role, someone more true to the character.
Gina gave an interview to Self magazine in which she talked about battling Hashimoto's thyroiditis, an autoimmune disease in which the body attacks the thyroid, causing hypothyroidism. It can cause fatigue and pain and can easily lead to weight gain. She also discussed body image, knowing her worth, and getting better roles as an Hispanic woman. She's so matter-of-fact and outspoken and I always enjoy her interviews. Here's some of what she told Self, with more at the source.
On her hypothyroidism
For years after being diagnosed with hypothyroidism at 19 and Hashimoto's at 26, and putting on weight that wouldn't budge, Rodriguez preferred to deny what she was going through rather than focus her efforts on doing whatever she could to feel better. "To the core of my being, I know what it's like to feel like there is no way I can win this, so where do I even begin," she reflects.

"[Hashimoto's] affects so many aspects of your life. I've had it for so many years…that rebellion of not taking care of myself can't exist anymore."

On weighing more vs less depending on the roles she's playing
"I'm OK in both of those," she says. "I'm not less than because I'm 10, 15, 20 pounds more." On the flip side, she knows it's not inherently better—that she's not inherently better—when she happens to weigh less, and that her handling of weight doesn't say anything about her other than that she's human.

She got better when she eliminated some foods
Five months ago, Rodriguez started working with "a great new nutritionist," who identified a bunch of common foods that were getting in the way of her health. When she stays away from them, she says, "so many of my ailments are gone. It feels like freedom. This is new. I'm 33. It's taken me a while."

On knowing her worth
"I didn't know my worth [at the start of my career] because the industry had such a specific perspective on what it should be as a brown woman," Rodriguez says. "I had to start saying, 'Well, I know if I work hard, I can show my worth,' and I have been doing nothing but that."

"Especially women, and especially women of color, really have to fight for equal pay," she says. "My white sisters definitely have a higher starting point, my black sisters as well. Latinos really do live in the lower end of pay."
I like how she frames her weight and self acceptance. I can beat myself up when I gain a couple of pounds and I needed to hear that. She said that her boyfriend of a year and a half, Joe LoCicero, "has really helped me have a healthier perspective on [weight], that stupid number that can destroy us and feel like it's equivalent to our self-worth."
Gina spoke eloquently about Time's Up, saying that the movement "makes everything easier and clearer and kinder and makes room for more possibility." As for her comments on Latina women being paid less than both white women and women of color, that's true. The statistics are rather sobering.
As a next step in her career, Gina told Self that she wants to direct. She said "I'm ready to do my movie. Whether that means success or failure, I'm ready to go for it." She also wants to create more jobs for woman and particularly Hispanic women.
Gina recently signed to star and co-produce a Netflix romcom called Someone Great. (The Self article mentions that she has her own production company, called I Can And I Will Productions.) It is described as "a woman who, after a heart-wrenching breakup, decides to seek adventure in New York City with her two best friends before she moves across the country for her dream job." It doesn't start filming until April, which is too bad as I'm looking forward to it.
Here's Gina at the Costume Designers Guild Awards last week, which she hosted. I don't have a designer ID on her spaghetti strap sequin slip dress. I'm not a fan of the cut as it looks like it's hanging off her. She's also shown at the Annihilation premiere, in Cristina Ottaviano.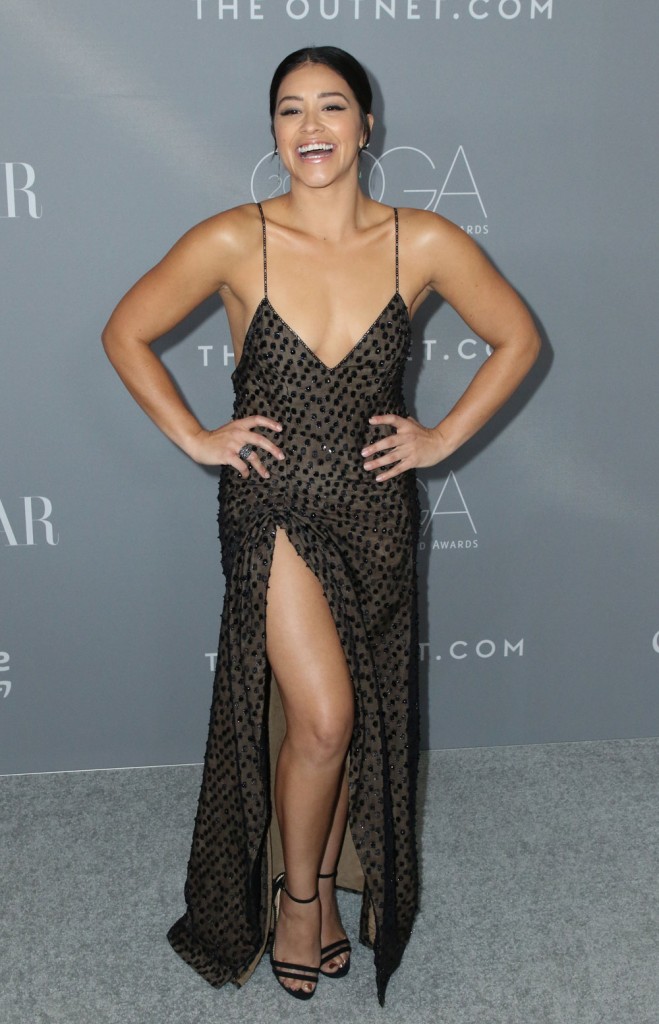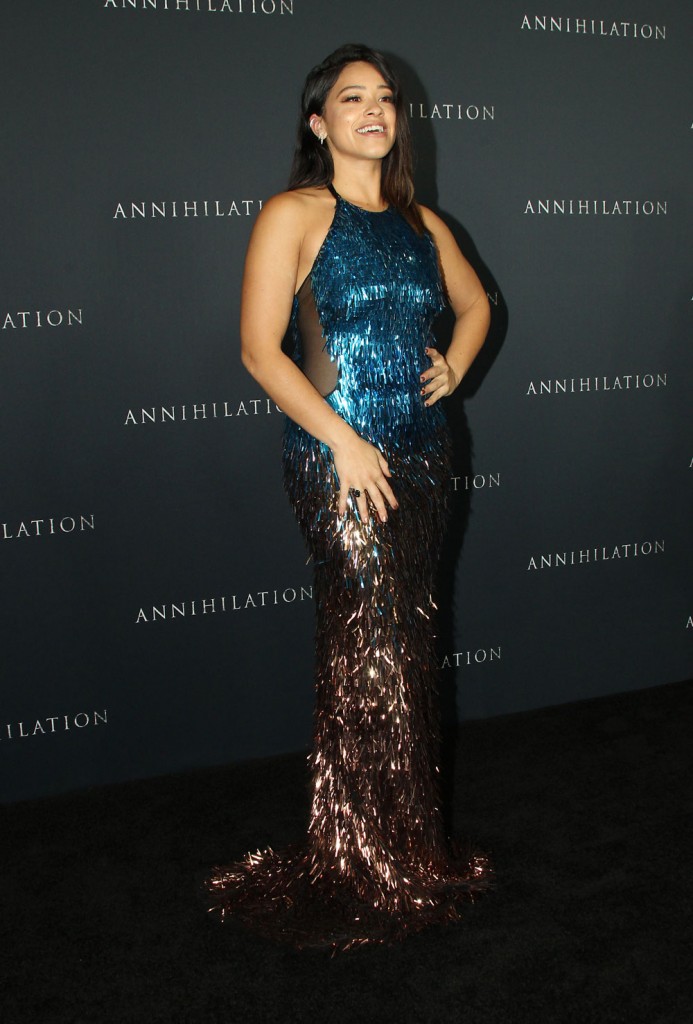 photos credit: WENN and Instagram/Self