I love when Jimmy Kimmel and Ellen DeGeneres interview each other in general but yesterday they got me all worked up. Jimmy has been allowing himself to show more emotion on stage in the last year. He doesn't shy away from subjects that get him choked up, like his monologue about the Parkland shooting victims.
Jimmy has also shared his feelings about his newborn son, Billy, who required open heart surgery right after he was born to fix a genetic heart defect. Billy had a second surgery and requires at least one more. Fortunately, Billy is doing well and is expected to live a healthy and normal life. As you also may know, Jimmy and his wife, Molly McNearney, used the situation to advocate for universal health insurance and CHIP. Many people responded to Jimmy's call to help, including his friend Ellen who, with her audience, raised over $1 million for Children's Hospital Los Angeles. Jimmy appeared on her show yesterday and wanted to thank her for her efforts, but Ellen turned the tables on him and ended up announcing that she had arranged to have a room on the surgical floor of CHLA named after little Billy Kimmel.
I felt bad about laughing at his wedding DJ story.
I always wonder if these "surprises" are planned. I think Jimmy had no idea Ellen was going to do this. If this had been planned, Molly would have been invited, which would have alerted them that something was up. But Jimmy looked skeptical when Ellen first said she had a surprise for him, probably due to her love of scaring people. Look at his face at the 3:08 mark, right after she tells him, he's genuinely taken aback. Plus his voice cracked when he said, "wow." The clincher is the piece of paper with Billy's name on it at the hospital. That was hastily put up for the segment, I'm sure they're planning a whole dedication ceremony with Jimmy, Molly and Jane there to unveil the official plaque… and I am already tearing up thinking about it. Man, I'm just an old softy like Jimmy.
Speaking of Molly, she recently gave an interview to ABC News about Billy's health battle. She said she was uncomfortable with the world knowing about her son's health crisis but understands now how important it was for Jimmy to politicize it. What really got to me was her line, "I'm looking forward to the day that I get to tell him (Billy) about all of this. I want to be the one to tell Billy what his dad did for him." And now I need another tissue.
Thank you to my ridiculously generous friend Ellen and the kind and excellent doctors & nurses @ChildrensLA for this beautiful gift in our son's name… https://t.co/uJDxhhEPOA @TheEllenShow. Billy is very happy about this, as you can see. pic.twitter.com/nrc1FZ7Fip

— Jimmy Kimmel (@jimmykimmel) February 27, 2018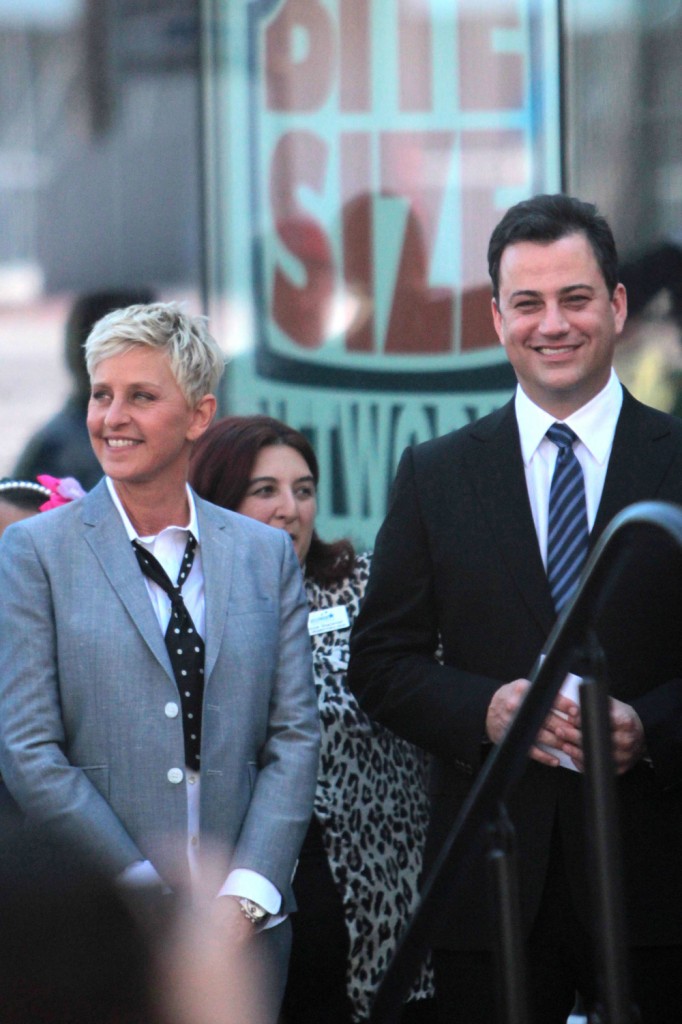 Photo credit: WENN Photos, YouTube and Instagram