Busy Philipps has a new movie coming out April 20th, I Feel Pretty. The film stars Amy Schumer and Busy plays her best friend, which is no shock as Busy has made a career out of playing the "best friend." But Busy is also invested in the film in that her husband, Marc Silverstein, directed and co-wrote it. The Cut published an interview they did with Busy, in which she promotes herself as the ultimate best friend, something Michelle Williams is quoted as confirming. In addition, Busy discusses her secondary career as a social media maven. Busy told them she recently considered quitting Instagram but decided not to because it wasn't hurting anyone.
On flying to San Francisco to be with Michelle Williams following Heath Ledger's death, and criticism that it was exploitative: Sitting outside the juice bar, Philipps said the reaction to her posts that day was "mixed."

"I think some people felt like I was being exploitative," she said. "I've never even really spoken about [Ledger's death], because I never would want to have it be misconstrued in that way, but it was the ten-year anniversary, and …"

She started to cry behind her sunglasses.

"It's just been a long ten years, you know?" she said, her voice breaking. "That anniversary just brought up a lot of … I can't believe it's been ten years. I was pregnant with Birdie. I had seen him a couple months earlier, and you know, [Williams and Ledger] were broken up. I've never talked about it. I've never shared it, because I'm hyper protective of [Williams] and her daughter. But I also think … I think it's okay. Everyone's allowed to have their own feelings about something that happens."

It's hard, Philipps explained, because Ledger was such a beloved figure, and so many people — people who didn't even know him! — feel a kind of ownership over his story, and she has to contend with all of that. "Certain people in the public feel protective of it," she sighed. "And they're like, 'You shouldn't be talking about it.'"

But Williams is "my best friend," she said. "And like, my family … And if I want to talk about it, and I never have really done it before, and this, like, the anniversary, I really felt like …" It's okay.

Williams said that she doesn't look at what Philipps posts on Instagram. "I trust her judgment implicitly," she said.

On how she considered quitting Instagram: At the beginning of the year, Philipps said, she considered quitting Instagram altogether. "It was getting to the point where … like, people are invested in my kids' lives," she said. "Like, what am I doing? Am I turning my life into a reality show? Is that what I need to be doing?"

But, you know, she got over it. Because, really, it's only about 200,000 people who watch her Stories every day. And her kids don't mind it. "It doesn't interrupt our lives," she said, taking her empty juice bottle to recycle it inside.
After reading the whole article, I don't know that the interviewer bought Busy's Everywoman persona but she doesn't dismiss her outright. The discussion surrounding Busy has changed. It used to be how real she was and that's why we love her on social media. But a large part of this interview, as well as the New Yorker article from last September, is about her success with that platform, even though she paints herself as a social media bumpkin who fell into her success. I don't believe she thought about giving up Instagram. I think she realized that would make a good soundbite. I do agree that she has every right to discuss her feelings about losing Heath Ledger. But if she's being honest, she has to see why people thought those photos of her and Michelle were exploitive, even if that wasn't her intent.
But, whatever Busy's angle is, it seems to be working as far as getting her acting career back on track, too. Not only does she have her husband's film this month, but it was just announced that she'll appear on The Unbreakable Kimmy Schmidt next season. Honestly, that sounds like a perfect fit for her.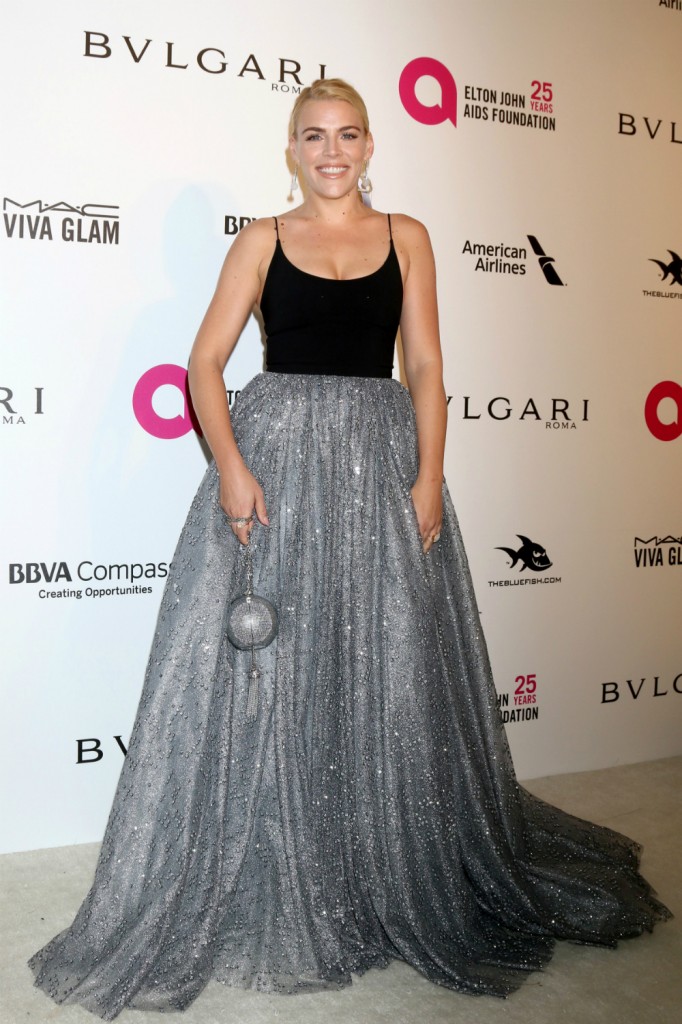 Photo credit: WENN Photos and Instagram