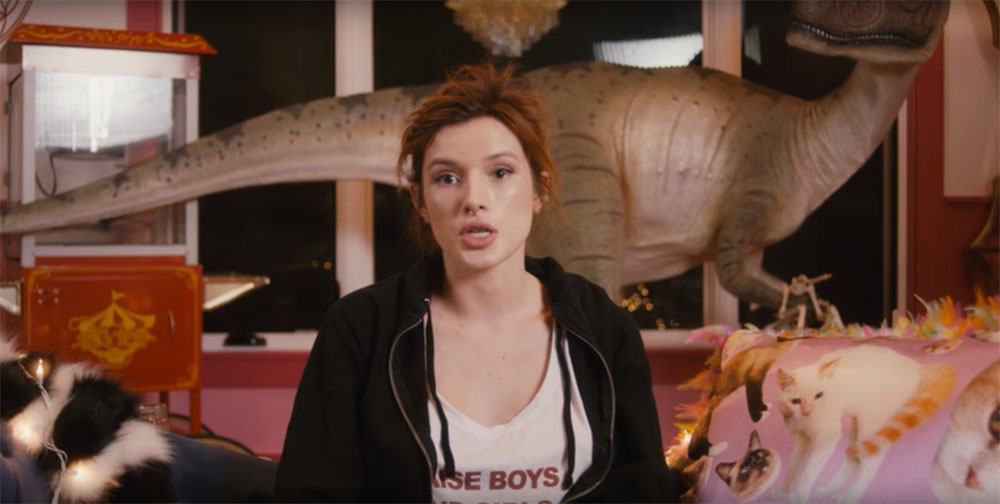 Do you know how people make fun of Bella Thorne, 20, for being so thirsty, for posting so many photos, for showing so much skin and for dressing like a deranged muppet? All of that is getting her paid and she knows exactly what she's doing. Bella has a new documentary with Vogue, it's only 18 minutes long but it feels so much longer. It features Bella talking to the camera about her career and image. There are scenes of her trying on various outfits and wigs, going to events and hanging out with her entourage. She talks at length about her goals and vision for the future. You can see the video below and here are some highlights:
Bella, to the camera, on being raised with social media
I put myself out there on social media because I want people to see who I am. I was raised to think social media is everything. When I was young my mom used to run my social media and [she] was like 'let's bake cupcakes and take a photo of it.' I was like 'well what about baking cupcakes and not taking a photo of it?' People really get lost in the world of social media… what's real what's fake.

Bella, on the phone in a scene explaining her posting rates
For grid posting it's 65 grand a post for the grid. For story posting it's anywhere from 10 to 20 K. For Snapchat it's the same as Instastory.

Bella, to the camera, on Instagram
Instagram is 100% a job to me. I started out at 18 with literally $200 in my bank account. I bought this house a year later. It's all from social media. It's from studying that sh-t. Demographics and ratios and engagement and definitely the more technical side of it. Finally hit a mill likes on a photo. [I was] in a rather body conscious dress. 'Oh, this is what you like. This is what you want to see. So I kind of try to even it out.'
[From Vogue Documentary via US Magazine]
Bella's older sister Dani tells the camera that the looks Bella uses for her social media "are not Bella day to day." We also see inside Bella's house, which is full of random bizarre items like a teepee she sleeps in decorated with fake flowers and paint spatters, a giant creepy mannequin in the entryway, a big plastic dinosaur in her living room and hand drawn art on the walls. She has 12 cats, I'm not even exaggerating.
Bella cracked me up a couple of times in this video, at about 8:30 she says "I do believe in putting things out in the universe. I notice that when I say things and then they happen. I'm like 'Bro, I just f'ing said that. What the f-k.' So then I take that and we put it into the mood board." Bella's mood board is like a vision board. At about 12:30 she's in the studio recording music with the spoken refrain "bitch I'm Bella Thorne." It's terrible and ridiculous but she knows that, saying that the song started out as a joke.
Dani said that Bella is expanding her brand and starting a record label, makeup line and production company while continuing to do shows and movies. I came away from this with a much different opinion of Bella. She seems like a train wreck but that's somewhat by design. She's not "accidentally" going out with various wigs in ridiculous outfits. She knows the paparazzi are there and she knows we're watching. She's made that her career.
Here's the video and they do swear in it.

Update: I'm sorry there weren't any cat photos in this post! Here are some, her Instagram doesn't have that many. Also she has puppy named "Tampithetampon" who has her own Instagram.
This is Bella with her latest boyfriend, a rapper named Mod Sun. He isn't featured much in the video.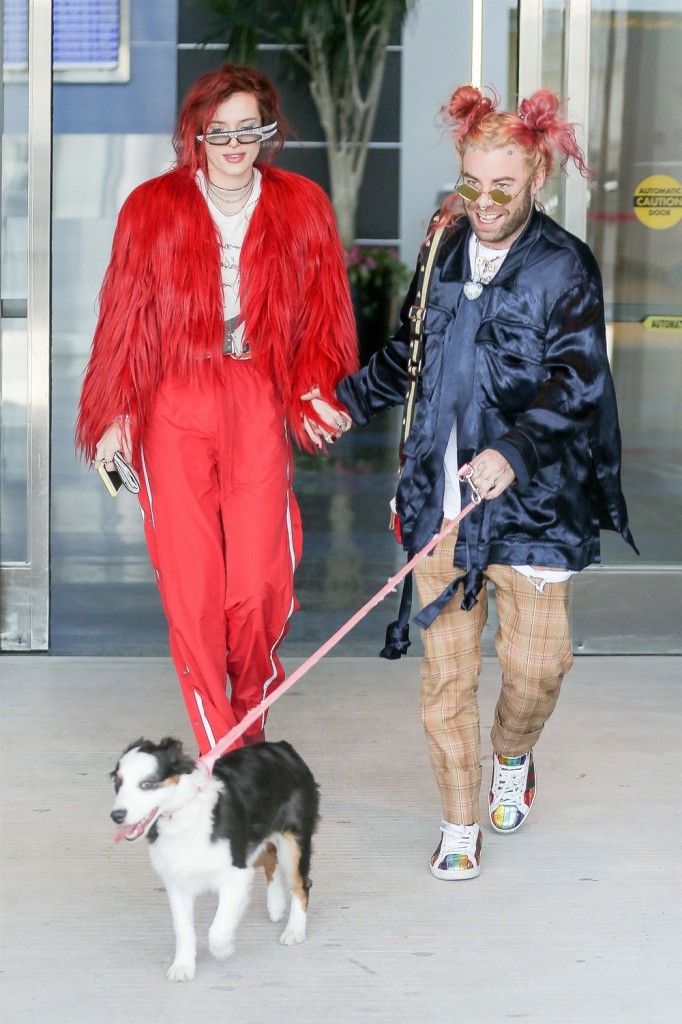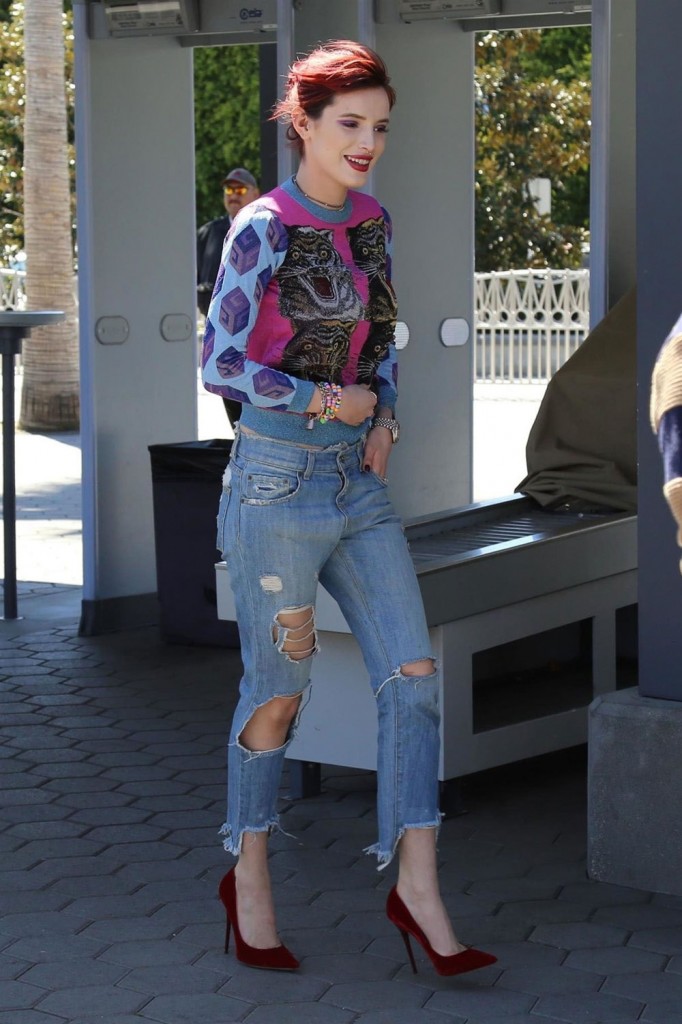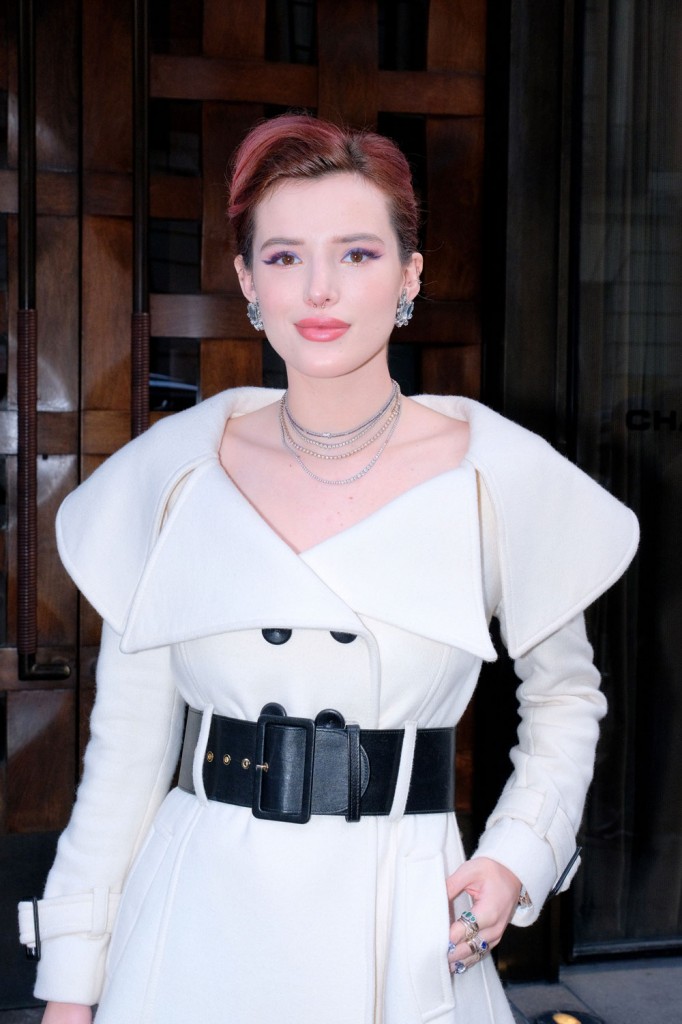 photos credit: Backgrid, WENN and Pacific Coast News. Header photo is a screenshot from YouTube