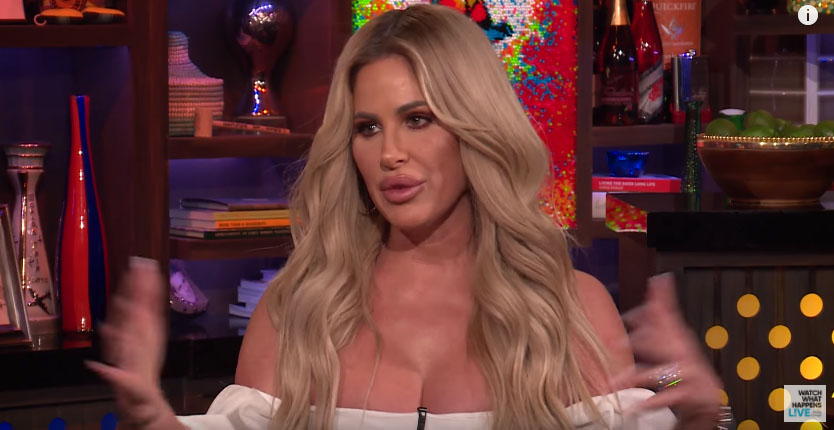 I'm sorry to our readers that none of us are still watching any of the Real Housewives series. I know a lot of you watch them and I know people in my everyday life who are fans. (Once, years ago, I was watching RHOBH on my iPad and a woman came up to me and we had a whole conversation about the show. I love when that happens, but I digress.) Everything I know about Real Housewives of Atlanta I learned from various gossip sources and our friends at Reality Tea. Kim Zolciak was on RHOA from 2008 to 2012. She left halfway through season five when she got her spinoff show, Don't Be Tardy, which is still airing. Kim returned to RHOA last year, the ninth season, and was more heavily featured into this tenth season, when she's amped up her obnoxiousness and feuds. She told both a TMZ paparazzo and Andy Cohen that she's done with RHOA though and that it was too much stress. As you may know, NeNe Leakes called Kim out for racism and fought back against her bullsh-t this season. At least I think that's what happened, having only a secondhand understanding of this show.
Never say never? Kim Zolciak-Biermann said on Saturday, April 14, that she is done for good with the Real Housewives of Atlanta and won't appear on the Bravo hit again.

Biermann and her husband, Kroy Biermann, were caught on video by TMZ at the airport on Saturday and the Don't Be Tardy star said that she will "never, never" appear on RHOA again, saying that it is "too much stress, unneeded stress."

The reality star, 39, returned to Real Housewives this season, but feuded on-camera and off with costar and rival NeNe Leakes.

Earlier this week, E! News' Jason Kennedy spoke to Watch What Happens Live host Andy Cohen and said that he'd Skyped with Biermann, who told him that she was "done with the Housewives."

"She's tired of the NeNe stuff. This is over," Kennedy added.

"I think she's done," Cohen agreed. "She walked out of that reunion and I was like, 'OK, I've seen the last of that wig at these reunions.'"

As previously reported, Biermann and Leakes went head-to-head during the season 10 reunion, which aired earlier this month. Biermann stormed off the set and broke down in tears backstage after Leakes, 50, yelled at her and called her "f—king trash."

The pair had been sparring for months after Biermann's eldest daughter, Brielle Biermann, posted a video that allegedly showed a cockroach on the floor of Leakes' bathroom. The Glee alum then went on a social media rant, slamming the mother-daughter duo and accusing them of being racist.
The last we covered Kim Zolciak she was upset with Marlon Wayans for posting a photo of her with a caption that he wasn't working on White Chicks 2. She can dish it out but she can't take it, right? I think that's why she's leaving RHOA, and that's what made her a good castmember. Cohen practically trains these women to fight with each other and bring the drama or have their parts minimized. Then, when it becomes too much for them they leave and are replaced. Kim is already well known and we're talking about the ridiculous things she says and done so she doesn't need RHOA. Don't Be Tardy has been renewed into 2019.
Check out some of Kim's sponsored Instagram posts below. She made at least 15k for each of these, right? Instagram users with a million followers can make around that for a sponsored post and Kim has 2.8 million followers.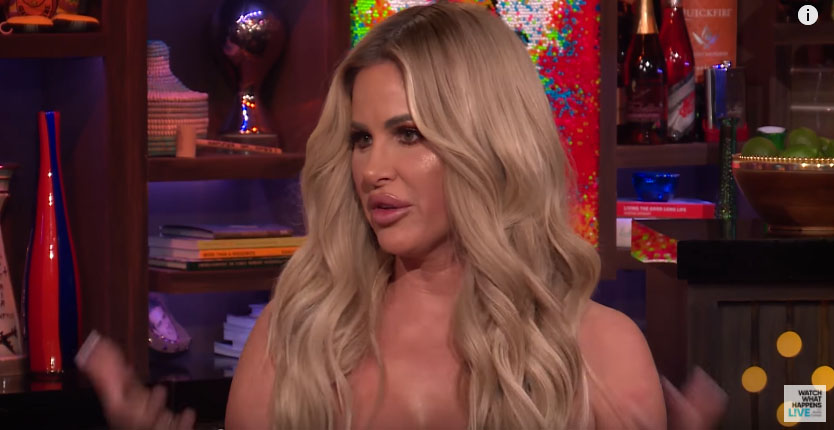 photos credit: Kim Zolciak/Instagram. Other images are screenshots from Watch What Happens Live on Youtube