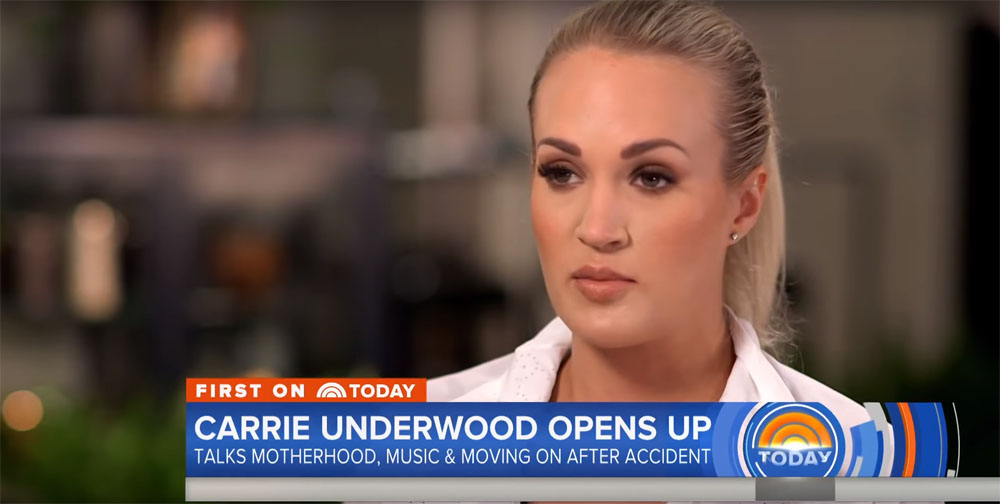 I know you guys have reached Carrie Underwood exhaustion but I'm still interested in her, probably because I understand her perspective. I almost never go out without makeup (call me insecure, I am) and if I get a zit I worry and try to hide it. Imagine gashing your lip open, not knowing how it would look afterwards, getting a scar and then having the whole world telling you "it's fine, you look the same." Meanwhile it was horrendous and looked obvious for months beforehand. Granted I would not be talking about it as much as Carrie but that's her narrative now and she's stuck with it. She's going to get asked about it for months if not years.
Carrie was on The Today Show where Hoda Kotb told her she looked the same, as she was told in her other two interviews to date, both of which were with radio hosts. It's clear that Carrie has talking points because she said almost the exact same thing to Hoda that she did in those other interviews. She talked about how the accident happened – she was taking her dogs out and fell on the steps outside her house. Carrie added the detail that she has people making her look good for appearances. I like the colorful way she described it, as if she's a home reno project.
Hoda: What did happen that day?
Carrie: Plain and simple, it was just kind of a freak accident. I just fell. I just tripped taking my dogs out to do their business. It could happen to anybody. I say if I would have fallen anywhere else, it wouldn't have been a problem. There was one little step that I went to catch myself on and I missed.

In the beginning I feel like I didn't know how things were going to end up. It just wasn't pretty.

Were you by yourself?
I was. My son was asleep upstairs.

I feel like you look the same
Thank you. have a dedicated team of professionals who can spackle and paint and paste. Every day I feel a little more back to normal.

Hoda on Carrie's performance at the ACM Awards: I watched and I felt something special.
When you're singing something that is straight from the heart, it's easy to just be in the moment and be connected to it. I never realized how much it translates until after the ACM Awards.

When I'm singing a song it's like I'm in the music and I'm right there living it. As soon as the song is finished 'oh man I'm just Carrie again.' It's like the magic ends somehow and I turn into a pumpkin. I'm not like a center of attention kind of person.

On people relating to "Cry Pretty"
I feel like people relate to it because sometimes you just have to let it out.
[From Video on Today Show via Just Jared]
Carrie is a beautiful woman who always wears a full face of makeup. She's like Katy Perry in that way. Remember the photo that Katy's then-husband, Russell Brand, tweeted after she'd just woken up? She looked like a different person. (I think that was the beginning of the end for them, but I digress.) Carrie doesn't look different to us because her makeup is the same and her scar can be hidden. Makeup is magic and it's an art. I bet Carrie's scar is much worse than she's showing but I also bet she's never going to let us see it without full coverage, and that is absolutely her right.
Here's Carrie's interview with Hoda:

Carrie worked out with her mom to promote her activewear line, Calia. They showed Carrie's mom on The Today Show too:
Embed from Getty Images
Photos credit: Getty and Youtube screenshot