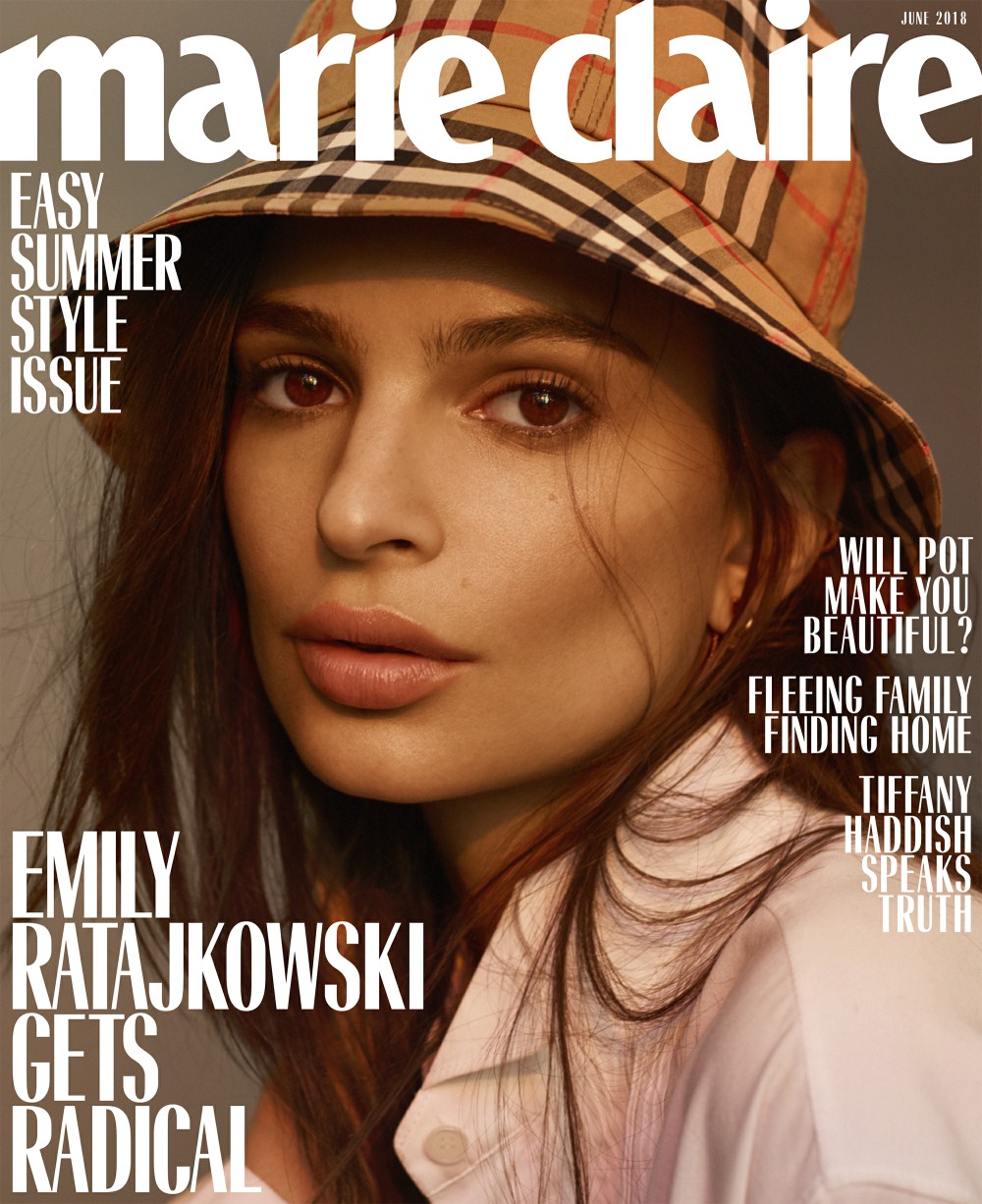 Emily Ratajkowski covers the June issue of Marie Claire, and like so much of Emily's real-life styling these days, the editorial definitely has a '70s vibe. To be fair, I could see Emily being a big deal in the 1970s. She looks good in high-waisted pants, she looks a bit like Ali McGraw, and she seems to be stuck in the '70s wave of feminism too. Emily chatted with Janet Mock for the interview, and it took place shortly after Emily suddenly married Sebastian Bear-McClard in February. You can see the full cover package here at Marie Claire. Some highlights:
On her wedding suit: "When you don't have a real wedding, it's for you. I wore what I wanted to wear. It really felt like the outfit that was most me, and that made me feel good."

On announcing her marriage on social media: "I actually thought there was a chance that no one would find out… I am still getting used to fame. I forget, you know."

On the criticism that her marriage won't last: "People came after my marriage, like, 'Wow. I give it three weeks.' I'm like, 'What?' No one can take women seriously on any choices that they make, especially if they're unique to them and they don't play into the way we think women should get married. It's a constant writing-off."

On being taken seriously in Hollywood: "It's actually something I've thought about a lot without ever saying seriousness in my head. I care a lot. I think I freak people out sometimes going into meeting with Hollywood producers…with f*cking guns blazing. I had something to prove, and it had very little to do with my acting ability or the way I looked. It was about the Take me seriously. Look me in the eye."

On body confidence: "Boobs are funny. They hurt sometimes, and sometimes they're the thing that makes me feel most powerful. They're a key to my sexuality. They're all those things."

On what feminism means to her in 2018: "We grow up in this patriarchal, misogynistic culture, and women fantasize about watching themselves through a male gaze. But if a woman decided that she likes herself in a gaze, and it makes her happy, should she feel the burden of where that comes from? I don't know the answer. That's now what feminism is about. It's freedom of choice. Do what you feel like!"

On her definition of activism: "I struggle with the label of 'activist' because I'm struggling with what activism means in 2018 in general. I want a radical left, and I don't see it…I was hopeful that with Trump coming into power there would be this drive to radicalize. I've seen lot of people, no offense, wearing pink hats and posting it on Instagram and thinking that they've done something good for the world, and I just don't think that's true."
Her answer about feminism is… not great. I'll give her this: she knows enough to know that she doesn't have the answers, and what she describes – women watching themselves through the male gaze – is one SMALL part of the conversation we have about feminism and the politicized female body. But it speaks volumes about Emily that she was asked about feminism and her first thought was to defend her choice to post nudes to her social media. As for what she says about a hope for a radical left in the era of Trump… I sort of agree, I'm surprised that there isn't a larger conversation of "burn it all down!" I think it's because Trump-Republicanism is SO far to the right that you can be a "moderate" Democrat and it feels like you're a diehard communist.
Last thing: she's sort of right about how women are taken less seriously when they do something stupid like marry a guy after only dating a month. That being said, um… her marriage isn't going to last.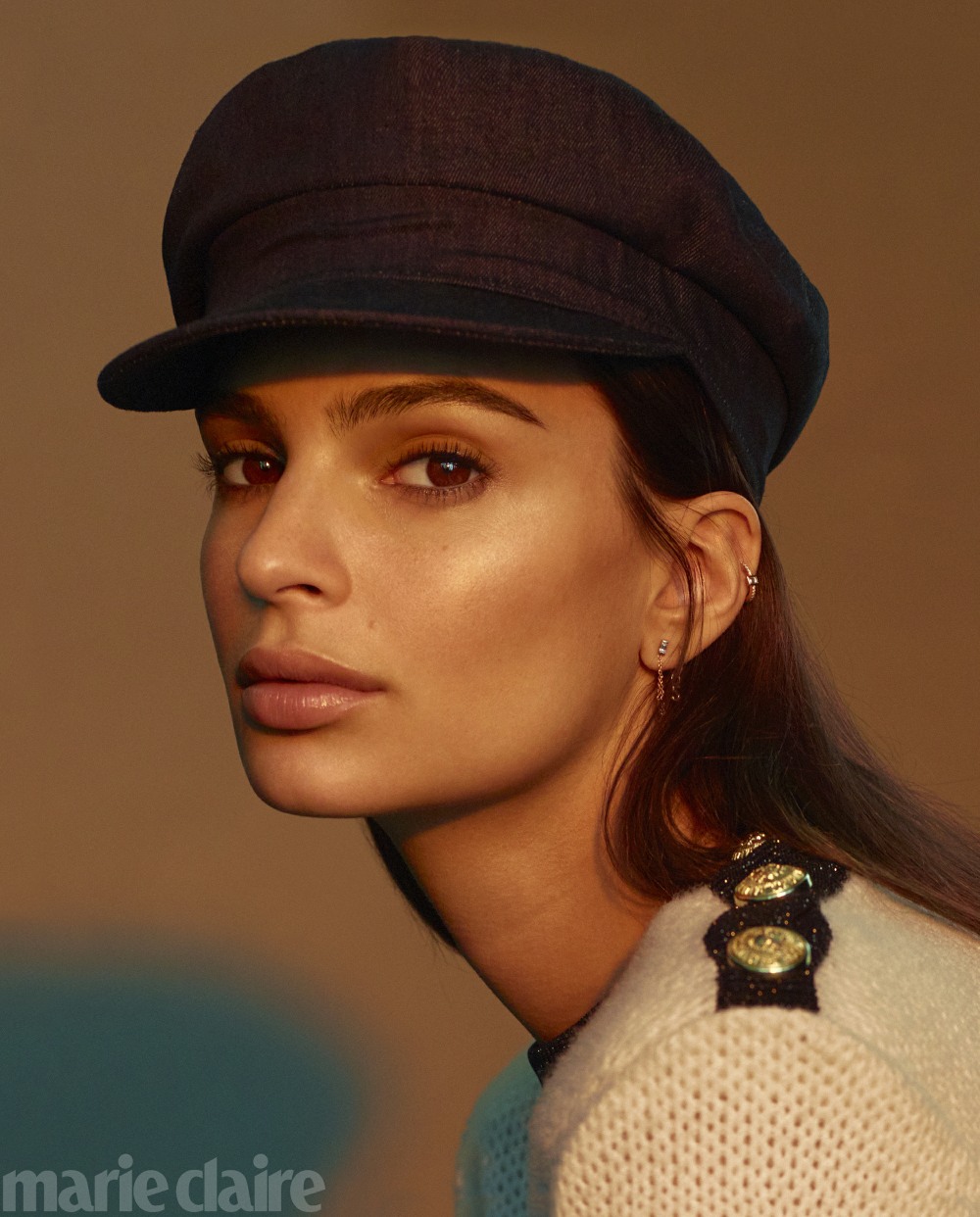 Photos courtesy of Thomas Whiteside for Marie Claire, sent from promotional Marie Claire email.