i'm screaming at hilary duff dragging the f-k out of her neighbor pic.twitter.com/EnJgPwoZ1t

— ♢ (@luvintothelight) May 16, 2018
Hilary Duff is in New York filming Younger, where she's staying in an apartment building. She has an annoying neighbor, a German guy named Dieter whose parents pay his rent, according to Hilary. Hilary posted some Instagram stories calling out Dieter for keeping her up at night. She wrote Dieter's full name over the top of her video and claimed that her apartment stinks of smoke. She also said that Dieter is a rage-a-holic who breaks furniture. Dieter got wind of Hilary's post and says he's had hate mail and that he's hiring lawyers to handle this. Here's the text of her videos, as posted on Huffington Post. Page Six has another video that Hilary posted along with the one above:
"Calling all New Yorkers with asshole neighbors. Really open to any advice you have," she [said] on her Instagram Stories. "My neighbor smokes cigarettes and weed all night long. My apartment reeks. Seriously, what do I do?"

"We know your parents pay your rent. We know you've never worked a day in your life ― must be nice," Duff said. "Have some respect for your neighbors who work hard to live in that building. Don't be a dick dude ― and put your trash down the chute."

Duff said she returned home from a 15-hour workday, but got no sleep that night because of the neighbor's antics.

She drew cat faces on his profile picture, seemingly to taunt him to respond. Before she signed off, Duff slung a few more jabs at her neighbor, who she accused of "breaking all your furniture when you fight with your girlfriend or boyfriend."

"It scares me and my kid," wrote Duff, who has a 6-year-old son. "Therapy is cheaper."

As for smoking, the former Disney Channel star advised her neighbor: "Get a vape."
Page Six talked to Dieter and got his side of the story. He claims he tried to work with Hilary on the issues and that he's turned down the music. He is getting threats from her fans. She has over 9 million followers on Instagram, she knew this would happen.
"I live with a sober companion," he told Page Six. "I've been sober for months now. I smoke a ton of cigarettes, don't get me wrong, but this is a smoking building, which is why I signed the lease here." His sober companion is Topes Calland, who has been described as a "$1,000 per hour super-mentor who rescues the children of the rich and famous."

Speaking to Page Six by phone, [Dieter] – who says he works three jobs – insisted Duff's social media onslaught is unfair, "I am getting a lot of hate mail and threats from her fans, it is so bad I'm going to have to get a bodyguard. I am from a very private German family and we are hiring lawyers."

He insisted he does not smoke pot and her claims are false. "I live with a sober companion, I've been sober for months now. I smoke a ton of cigarettes, don't get me wrong, but this is a smoking building, which is why I signed the lease here.

He said the problems started immediately when Duff moved in next door in January with her boyfriend, the singer Matthew Koma, "When they moved in I turned down the music right away. When she first complained about smoke, I did offer to send in my own contractors to fix the ventilation problems. But the building owners did not get back to me to give the okay for the work to be done, but I did try."

He added that Duff's claims he doesn't work are false, and in fact he is currently employed at his family's real estate office, and also works as an event producer and manages music artists.
God I do not miss living in an apartment building. I've lived places where I can hear people walking above me, where I was kept up by loud music late at night, and where there were roaches. (The place was decent otherwise and I kept it clean but it was in a big city and roaches are common.) I hate smoke and get dizzy from it so this would drive me crazy. However if it's true that it's a smoking building than Hilary doesn't have much recourse unfortunately. It's hard to find housing in NYC to say the least so she may not have known that it would be this bad. Hilary could have gone to management, but it's not likely that would have done much. I would try to talk to other neighbors and get a kind of coalition going against him. I've done that before at places I've lived. People talk and if you have a problem with someone it's likely that other people do too. She never should have used his last name and she's not accomplishing much with it except putting him on the defensive. Plus if he comes from wealth like that he's got the cash to come after her legally too.
Hilary may be traveling to NY to work and see her boyfriend (singer Matthew Koma is from Long Island and he posted in February on Instagram "4 months in NYC starts now") but she's not there full time. These photos of her holding plants were taken in Studio City, California last weekend.
It gets worse. After I wrote this I saw the story that Matthew, Hilary's boyfriend, barged into Dieter's apartment yesterday and punched him. Dieter called the cops. He told Page Six "I had to call the police this morning because Hilary's boyfriend, Matthew Koma, barged in and tried to punch me in the face. I tried to avoid his fist, but he hit me on the head. So I pushed him out of the apartment, but I didn't assault him." Apparently Dieter was smoking in the hall. He claimed that he knows martial arts and did a block and that "I didn't want a fight. I immediately called my lawyer who told me to call the police."
Then Hilary's people issued this statement:
Hilary and her young son have been subjected to excessive secondhand smoke, latenight noise, garbage in the hallways, and an overall hazardous living environment from this man for months now. She tried numerous times in polite ways to handle this situation including countless sessions with the landlords of the building. As every mother knows, protecting your kid has to come first and foremost and that is her primary goal. She reached a breaking point after a 15 hour work day and yet another sleepless night.
Why was this guy smoking in the hallway? Her boyfriend was way out of line for throwing a punch regardless, but it sounds like Dieter was trying to piss them off.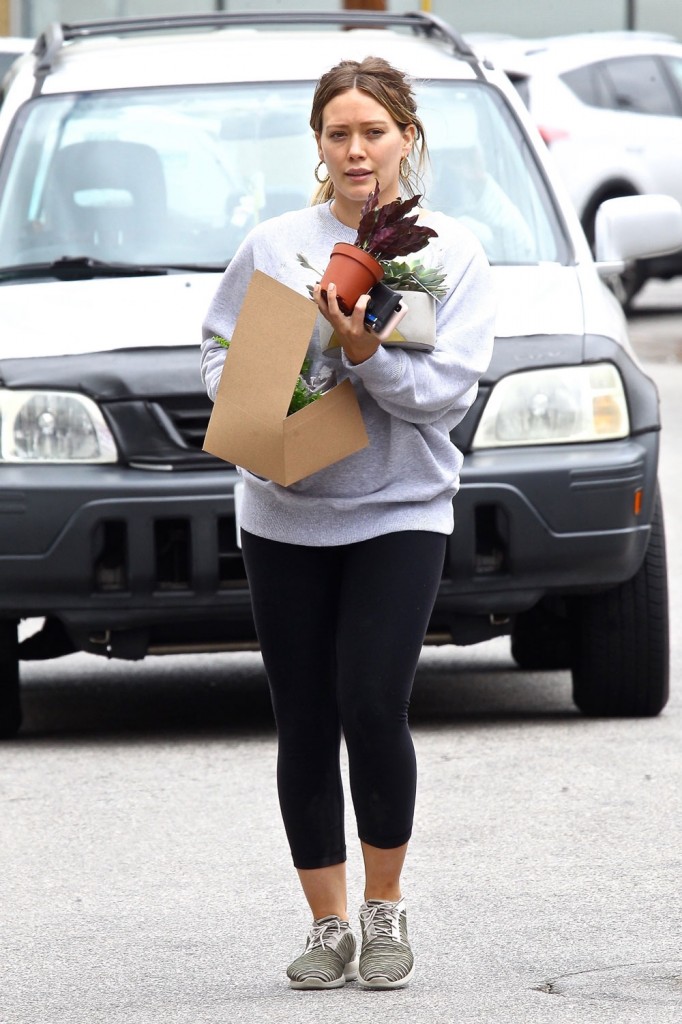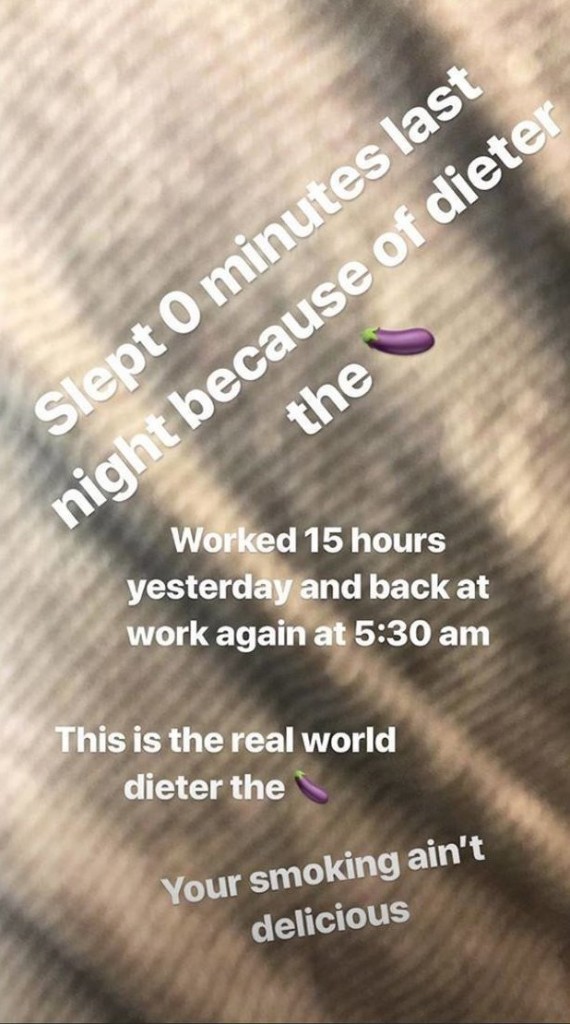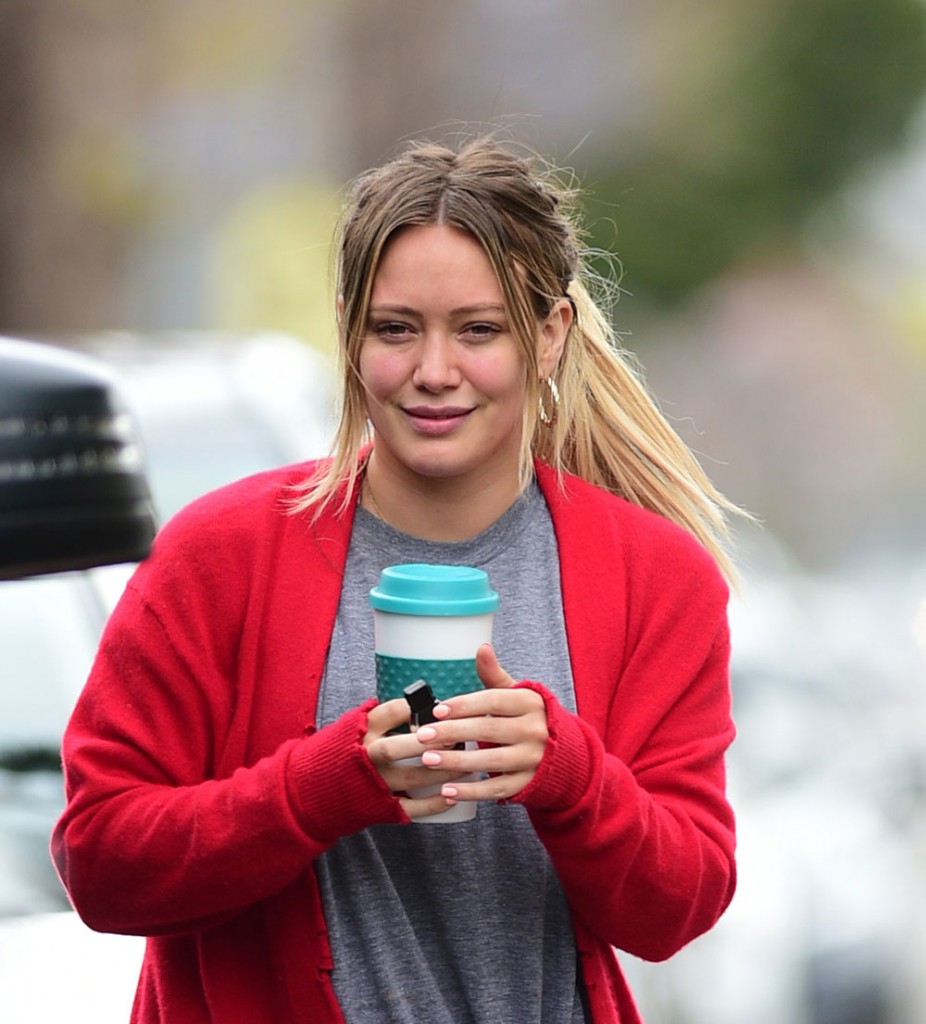 Photos credit: Instagram, Backgrid and WENN