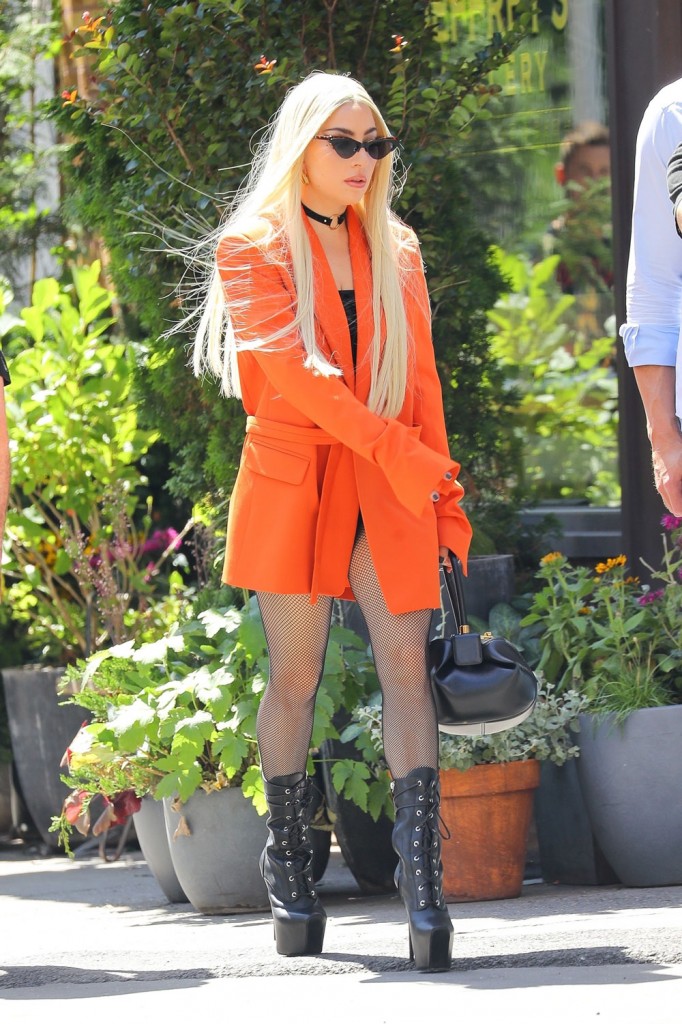 Looks like Lady Gaga is in the process of metamorphosing into "serious actress" mode, with the upcoming arrival of A Star is Born. Mind you, it's a slow change, but missing are the truly outlandish fashions, replaced by a slightly more conservative (by Gaga standards) look.
Gaga is in New York and has been spotted at the legendary Electric Lady Studios, where Jimi Hendrix recorded some of his most memorable songs. The singer is rumored to be working on material for a new album — the follow-up to 2016's Joanne. On Monday, she seen in NYC's West Village, decked out in an oversized bright orange blazer by House of Holland. With such a large blazer, who needs pants? She accessorized with a choker, cat-eye glasses, fishnets and a Gabriella Hearst bag. This shoe fanatic loves those amaze-balls Giuseppe Zanotti boots. I dig this look a lot, I've always dug oversized jackets so I may be partial, but I love the color on her and oh, those boots.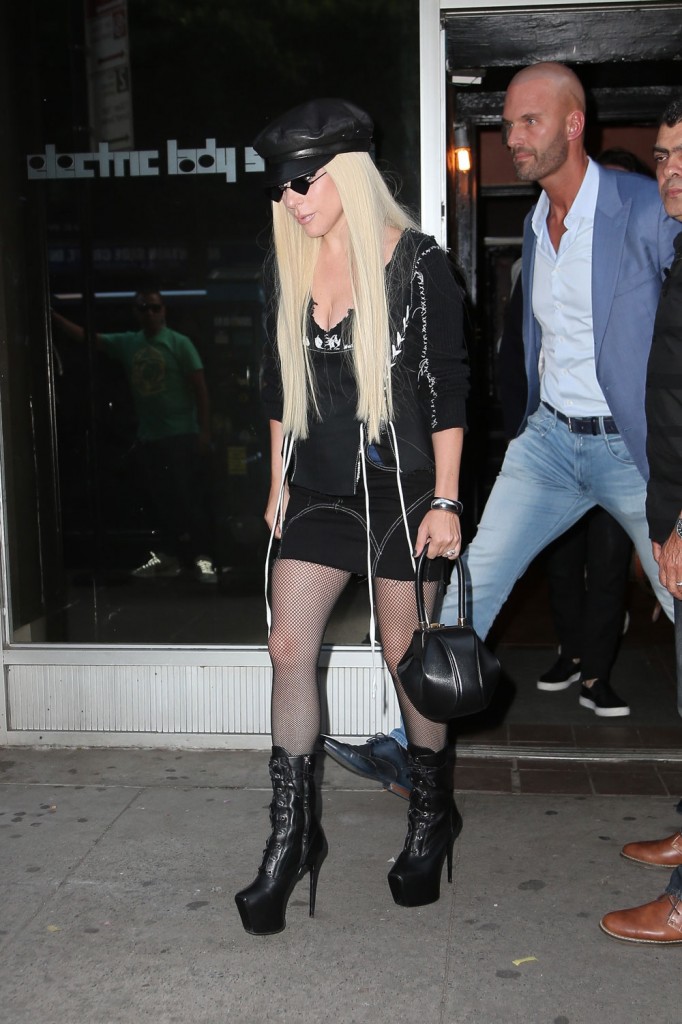 Later that day, she was spotted leaving the recording studio in an all-black ensemble. The top has lacing on the sides, and it's paired with a cute mini. She's got the same bag and is wearing the same boots, but swapped the cat-eyes for diamond-shaped shades and topped the outfit off with a leather cap. Lose the cap and the shades and I'm good with this. As someone whose unofficial work "uniform" is black (I really should have been a hairdresser), I really like this outfit. And let's take a moment to recognize Gaga's "second coming of Jason Statham" bodyguard. What a hunk. But, I digress.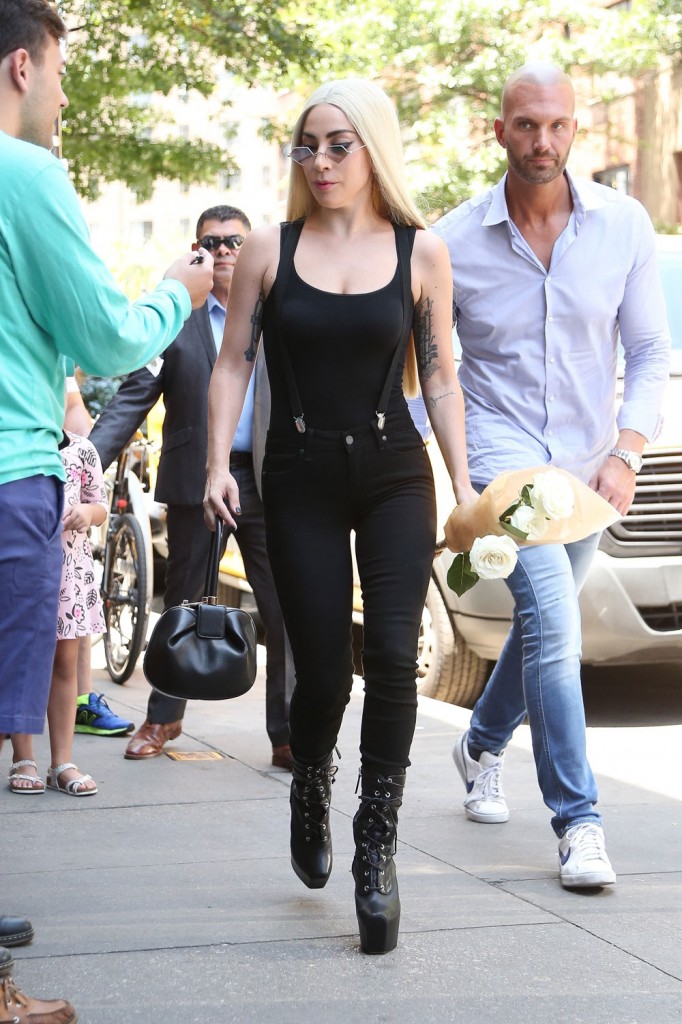 On Tuesday, she showed up at the studio in another all-black outfit. This one is simple and cute – a tank, black pants and suspenders…and, yes, the bag and those boots. I feel a slight affinity for Gaga at this point because, if I find a pair of boots I like, I will put together as many complementary outfits as I can to show them off. I feel you, girl. She left that evening in (what appears to be a) knit black and white checkerboard skirt and crop top sweater set. Cute, right? Need I mention what shoes and bag she's sporting? At this point, I haven't seen anything I couldn't find at H&M, so it's kind of blowing my mind how attainable Gaga's look is for me right now. Gaga's beau, Christian Carino is in the background, clad in a black t-shirt and jeans.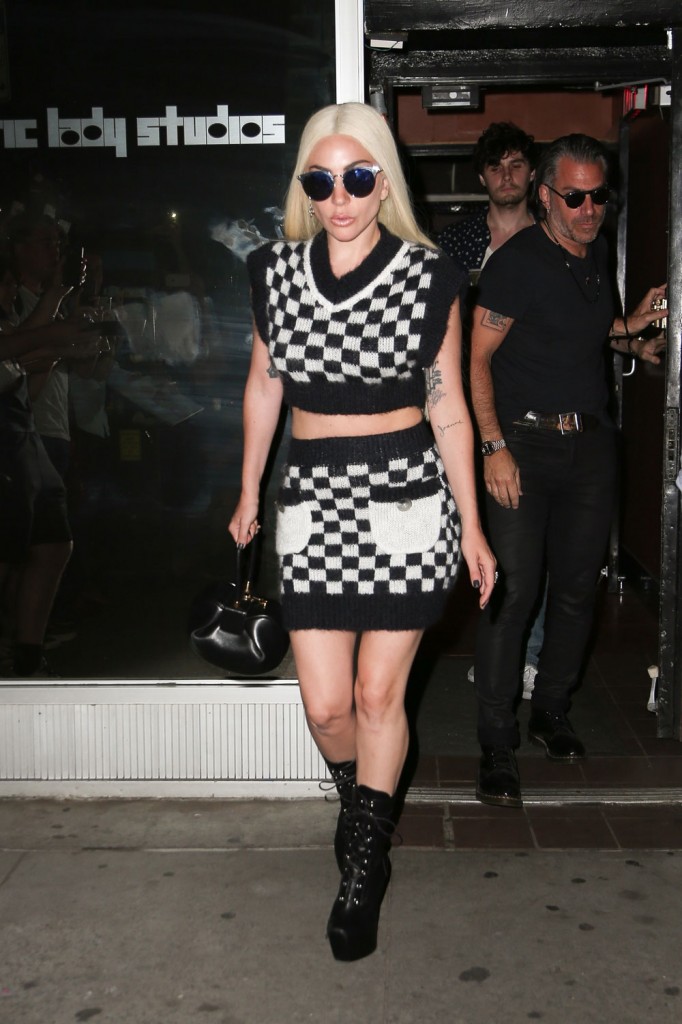 Then, on Wednesday, we got a taste of vintage Gaga, as she donned a red lace bodycon mini dress and some impressive 10″ patent leather heels. Oh. My. Gaga. If it was anyone else, I'd give this look a boot, but it's Lady Gaga. I bow to her for her ability to make walking in those shoes look so easy.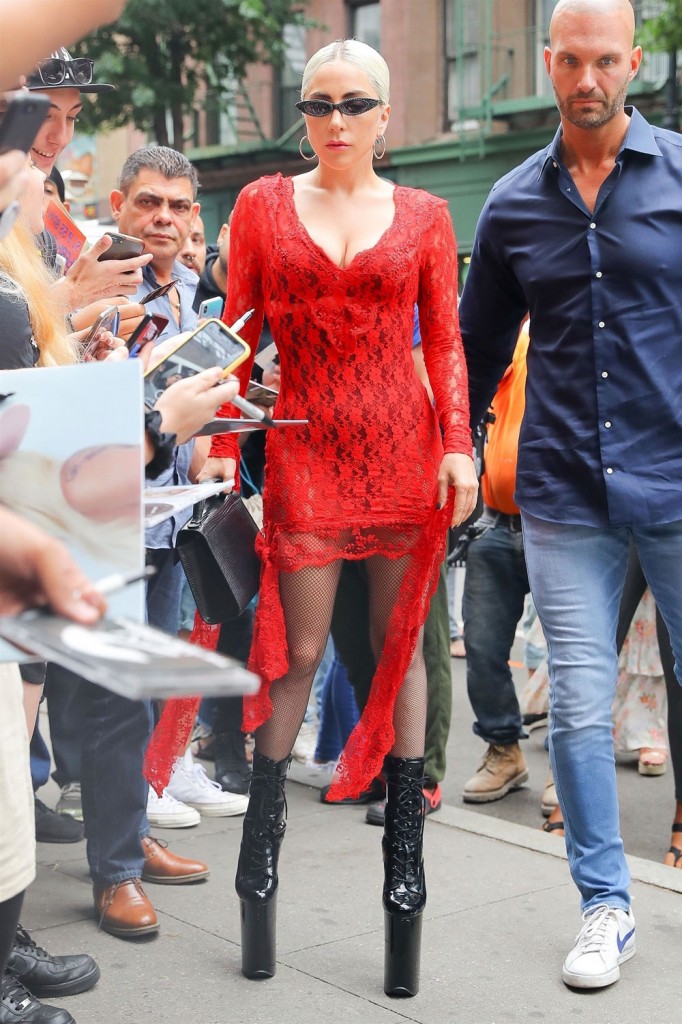 Gaga left the studio that night in much more sensible shoes, but rocking a sweet Jimi Hendrix shirt and black jeans. Now, let's talk about the wig. When Gaga's hair wasn't pulled back into a bun, she was wearing a Donatella-esque, bleached blonde wig. Buzzfeed is obsessed with it. I get it, my Mom wears wigs. You put it on and can zip out the door. It also spares your real hair from the damage caused by blow dryers and flat irons, so it's a sage choice for Gaga, who I'm sure puts her hair THROUGH IT on a regular basis. It's definitely not Drag Race-worthy, but, don't forget, we are talking about Lady Gaga here. For the whole week, I'm going to have to give her tens across the board. Well played, Gaga.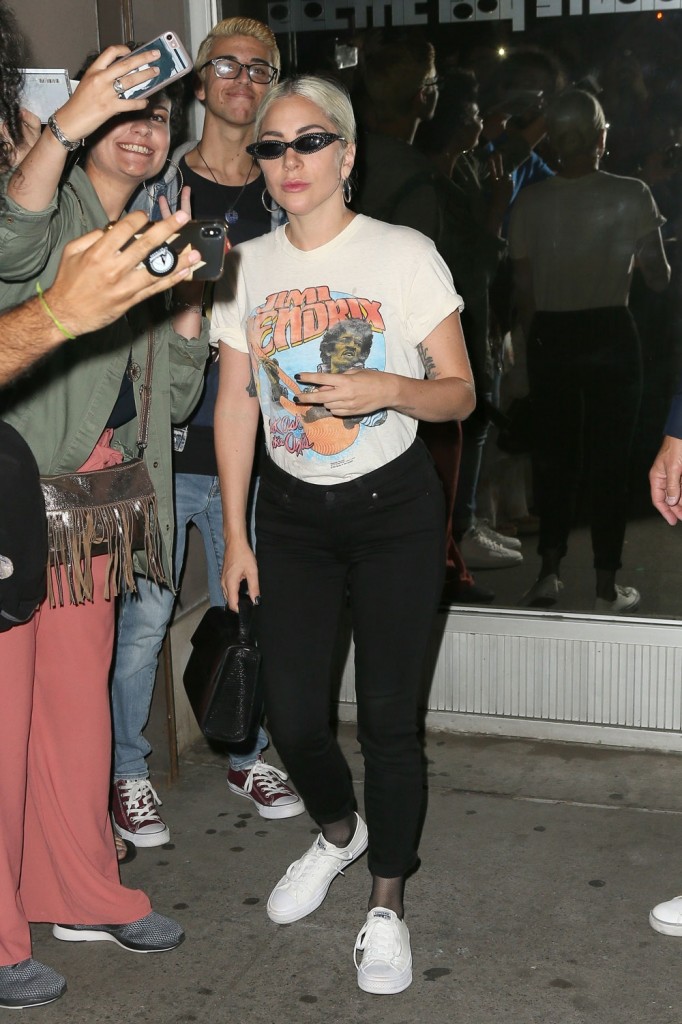 Photos: Backgrid