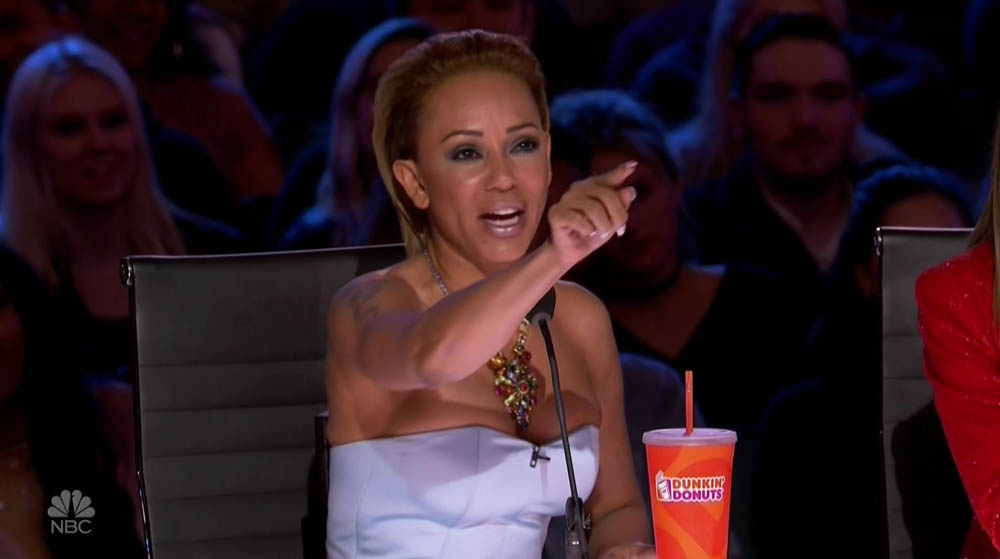 We've seen old videos come out of men sexually harassing women on television, when they know they're being recorded. Such was the case last fall when footage of Ben Affleck groping Hilarie Burton in the early 2000s resurfaced. After that clip went viral, Affleck mildly apologized, completely mischaracterized the incident during an interview on late night television, and essentially got a pass.
That's what came to mind when I saw this footage of X-Factor judge Mel B having her butt grabbed by fellow X-Factor judge Louis Walsh. It happened on The Xtra Factor, a companion live show that aired after the X-Factor. The clip, which was recently posted to Twitter, is below. Mel, Louis, Simon Cowell and Sheryl were being interviewed while sitting on a bench around a round table.
In the video, you can see Louis's hand near Mel's bum, and then he puts it on her butt and pats her repeatedly. She rolls her eyes, stops the interview and says "Why are you grabbing my butt?"
Louis says "I'm looking after you, I'm looking after you." Mel moves away from him and he then moves closer to her and puts his arm on the top of the seat behind her!
At that point Simon Cowell interjects "Honestly, you're safe" and it's just as dismissive as you would expect from him while Louis laughs uproariously. [Transcript via Daily Edge] Here's the video with sound:
On the thread on Twitter where this was originally posted, there are people (trolls) making excuses for Louis and claiming that Mel responded poorly, which is ridiculous. I'm just including a couple below and of course there are some excellent responses outlining the ways that this is absolutely sexual harassment and that these are textbook examples of dismissing the victim.
The tweet below is not a joke because this user goes on about how people are easily offended and how Louis wasn't charged with anything.
terrible reaction from mel b embarrassing the man

— Elliott Panyi (@elliott_panyi) July 8, 2018
This tweet isn't a joke either. Notice the username.
But she was seated so close to the guy and just a back hug, what's there ,these are grown ups ,stop being too feminine ,if there wasn't touch how would we fall in love

— Bakiga4Trump (@MbabaziHorace) July 9, 2018
Some people are bringing up the fact that Walsh is an openly presumed gay man (update: apparently it's just assumed Walsh is gay and I'm sorry for getting that wrong on publication). Some people are questioning what that means. That doesn't mean he gets a pass or that this is somehow ok. Sexual harassment is about power and control. I guess this just brings it home that people will bend over backwards to defend assault and harassment and to blame the victim. However the fact that this has come out, and that more people are condemning Walsh than excusing him, is reassuring. We need those people making the decisions in courtrooms and on a national scale.
He knew exactly what he was doing because he yanked his hand away so damn fast. It's physically sickening how anyone could defend this and somehow blame it on Mel.

— Tara Stocks (@StocksTara) July 9, 2018
How can they just shake that off like nothing happened 😒

— Bri💋 (@nicoleomo_) July 9, 2018
This is not okay and anyone saying "he didn't consciously do it" or making an excuse for his behavior should be ashamed.

— Josh Brown (@Josh_L_Brown_) July 10, 2018
He shouldn't of even put his arm around her to begin with bruh 🤦🏾‍♂️

— Thomas Harris (@thomasm_harris) July 9, 2018
This is of course sarcastic:
I'm with him, there's no way that the guy CLEARLY AND CONTINUALLY GROPING HER ON LIVE TV did it on purpose. There must be another explanation, because that video is soooo inconclusive. 🤔
But in the mean time, let's talk about the real issue, the man was embarrassed 😱

— Darren Jakeman (@DarrenAFCTU) July 9, 2018