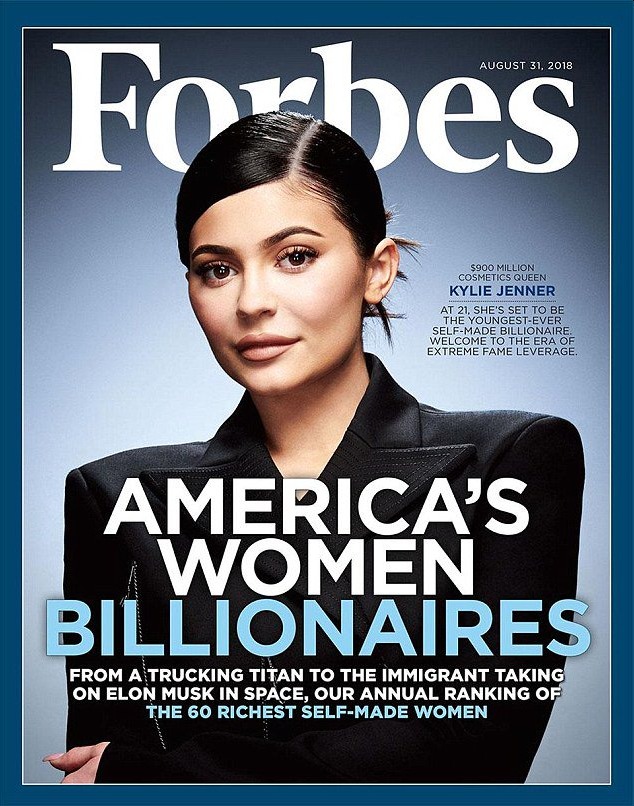 Welp, can't say I'm surprised by this. Kylie Jenner covers the latest issue of Forbes to celebrate the fact that she's built a billion-dollar cosmetics empire out of her mom's kitchen. Kris Jenner must be so proud of what her youngest baby has done. I mean, we can roll our eyes at Kylie all day long, but she's laughing all the way to the bank. What started out as an iffy pet project to make and sell her own private collection of lipstick has grown into a company that's worth, on paper, about $900 million. You can read the Forbes cover story here.
Just 20 when this story publishes (she'll turn 21 in August) and an extremely young mother (she had baby daughter Stormi in February), Kylie Jenner runs one of the hottest makeup companies ever. Kylie Cosmetics launched two years ago with a $29 "lip kit" consisting of a matching set of lipstick and lip liner, and has sold more than $630 million worth of makeup since, including an estimated $330 million in 2017. Even using a conservative multiple, and applying our standard 20% discount, Forbes values her company, which has since added other cosmetics like eye shadow and concealer, at nearly $800 million. Jenner owns 100% of it.

Add to that the millions she's earned from TV programs and endorsing products like Puma shoes and PacSun clothing, and $60 million in estimated after-tax dividends she's taken from her company, and she's conservatively worth $900 million, which along with her age makes her the youngest person on the fourth annual ranking of America's Richest Self-Made Women. (We estimate that 37-year-old Kardashian West, for comparison, is worth $350 million.) But she's not just making history as a woman. Another year of growth will make her the youngest self-made billionaire ever, male or female, trumping Mark Zuckerberg, who became a billionaire at age 23.

Ultimately their fortunes all derive from the same place. "Social media is an amazing platform," Jenner says. "I have such easy access to my fans and my customers."

That and a large dose of tastemaking are pretty much her entire business, an invention of the Instagram age. Hewlett and Packard immortalized the garage–Jenner has her (or her mom's) kitchen table. Her near-billion-dollar empire consists of just seven full-time and five part-time employees. Manufacturing and packaging? Outsourced to Seed Beauty, a private-label producer in nearby Oxnard, California. Sales and fulfillment? Outsourced to the online outlet Shopify. Finance and PR? Her shrewd mother, Kris, handles the actual business stuff, in exchange for the 10% management cut she takes from all her children. As ultralight startups go, Jenner's operation is essentially air. And because of those minuscule overhead and marketing costs, the profits are outsize and go right into Jenner's pocket.
Forbes goes on to point out the craziest part of Kylie Cosmetics' success: she has zero advertising budget. She takes selfies and she has a glam squad, of course, but it's really just Kylie posting photos and updates about cosmetics on her own social media platforms. That's it. Girl has never done a print ad. She's not shooting commercials. She posting selfies of the new lipsticks and eye shadows on her Instagram and that's it. And here's the kicker: I remember there was some conversation about how Kris Jenner worried that Kylie's pregnancy would end up derailing the cosmetics company. It did not. At all. If anything, Kylie is an even bigger name now and she gets even more free publicity because of the pregnancy and baby.
SUMMER COLLECTION 7/13 pic.twitter.com/ezR2pZmLrR

— Kylie Jenner (@KylieJenner) July 9, 2018
Photos courtesy of Instagram, Twitter, cover courtesy of Forbes.