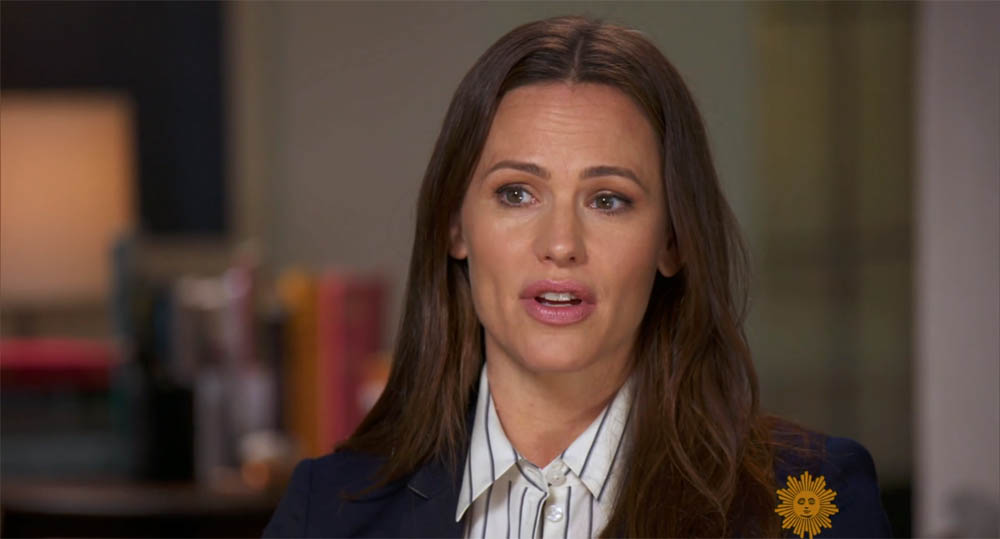 Jennifer Garner was interviewed on CBS Sunday Morning by anchor Conor Knighton, who grew up in the city as Garner, Charleston, West Virginia, and went to the same church. (Incidentally the opioid epidemic is rampant there, as it is in Appalachia in general.) They had a quick rapport due to their common background and the fact that Knighton had followed Garner's entire career. They talked about how she got her break on TV in Alias, how that made her famous suddenly and how hard it's been to deal with fame, the paparazzi and the scrutiny over her private life. It was a short interview so these subjects weren't covered in much depth.
On how becoming famous during Alias changed her life
It changes it in an instant. It's startling to become recognizable… startling and shocking.

On the paparazzi
There was a solid decade where there were five or six cars minimum and easily up to 15-20 on the weekends, outside my house at all times. Looking back on that, I really feel the stress of it. . I really, I could cry talking about it.

Question: "The public was and still is obsessed with your private life. What has that been like for you going through a divorce and having every moment of that played out on the cover of these magazines?"
What I think that I've learned is that scrutiny in your private life puts a pressure to make something happen. You feel a pressure to hurry up

You feel a pressure to hurry up and get married, 'cause you think that'll end the 'Are they engaged? Are they not?' [speculation].

And that's true in the reverse, as well. If there is any inkling of trouble, or if the tabloids decide there's trouble, it can create trouble.

But to be honest, public scrutiny, everyone says, 'Oh, you've had to go through this in public.' The public isn't what's hard. What's hard is going through it.

Are you able to tune out from all that?
I don't look at it. I've had to really get serious with myself and say 'This is not healthy, nobody should see pictures of themselves that paparazzi have taken.' You can in the morning either be making breakfast for you kids or you can be getting paparazzi ready. I know which way I'm going to go.
[From video of CBS this morning and via CBSNews.com]
After that they toured the farm in Oklahoma where Garner's mom grew up and where her uncle is planning to grow produce for her baby food company, Once Upon a Farm. I was surprised that there isn't a working farm there already. The interview was meant to promote the company and her acting projects, the HBO show Camping and the upcoming action film Peppermint. Once Upon a Farm is a smart venture for her. It's in keeping with her natural down home mom branding, which does seem genuine. She's leaning into it lately and you can see how she's coming onto her own, especially after losing 200 pounds* of dead weight. As for her thoughts on the paparazzi, she does look at her photos occasionally because she has instagrammed them. She's also spoken out against the paparazzi's intrusion into her family life, while sometimes using them to further her image (especially when Affleck needs the good press) and has explained away her role in that. It's hard to tease out how much she's encouraged that vs. how she's just tried to make the best out of a bad situation. She likely doesn't know, either.
One thing the interview didn't mention was that her divorce isn't finalized yet. She made an allusion to that in the "pressure to hurry up" part. I wonder if the divorce is just so complicated given their rich people assets issues and/or if one or both of them is reluctant to make it official.
*Yes I know Affleck probably weighs more than this.
Here's the video! (It plays automatically but I'm pretty sure it doesn't have sound until you click it. We hate that.)

Here's Garner with her kids on a fire truck for a 4th of July parade. Credit: WENN