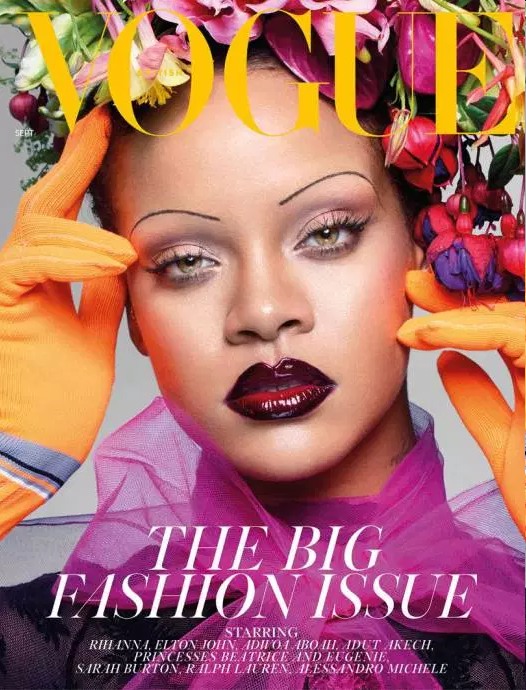 Remember when Rihanna invented the skinny brow?!? My God, I'm still not over Rihanna's magnificent British Vogue cover for the September issue. She's amazing and this just proves, yet again, that Rihanna can pull off any look. Anyway, some quotes were released for Rihanna's cover interview, and they're worth discussing. Rihanna keeps killing it when she talks about body image, have you noticed that? Her weight has been fluctuating for the past year and a half, but she's not worried about it. She owns her thiccness. Some highlights:
Why she thinks women love her: "Ok, you're asking the wrong person. I don't know, maybe it's because I'm 'thicc' now. I don't know."

She's actually ready to get back in the gym: "I'm about to get back into the gym and stuff, and I hope I don't lose my butt or my hips or all of my thighs. I'll lose some but not all. And I think of my boobs, like, 'Imma lose everything, everything goes!' But, you know, it comes with a price. You want to have a butt, then you have a gut."

Why she's going back to the gym: "I just need to get healthy and stay healthy because I'm 30 now, you know, I can't play them games no more. Can't play the mac'n'cheese-in-the-middle-of-the-night games."

People always ask her for advice: "I get a lot of boy-advice questions. I think a lot of people meet people and then they're dating the idea of what the person could become, and that person never shows up and then they're just mad disappointed. A person can always get better, they can always get worse, but you've got to be fine with what you met them as."

Loyalty is important: "I'm very picky about friends. I don't like to open myself up to everyone and so when you find people who are great and loyal, you don't want to let go of that. I've been out here on my own since I was a teenager, so these people become like your family."
Do you think Rihanna is more popular now because she's thicc? I think that's PART of it, but not the whole picture. Yes, we like it when a huge celebrity is truly "just like us" and gains a little weight and doesn't seem to care about it. But to be clear, Rihanna was already wildly popular with women before she got thicc. And I remember her butt before the thiccness… it was a butt of dreams. Even if she loses weight, she's still going to have a great butt (but yeah, the boobs will probably go).
September issue @britishvogue .
I finally got to work with Nick Knight for the first time! Legend. @edward_enninful get yours on Aug. 3 pic.twitter.com/aW2dACru93

— Rihanna (@rihanna) July 31, 2018
cover and photos courtesy of British Vogue.