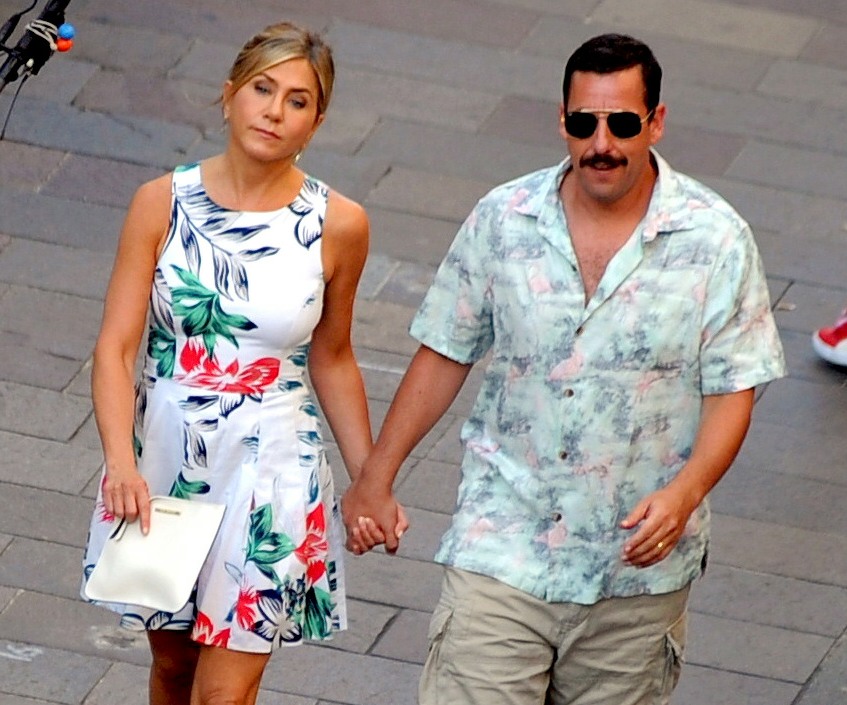 Here are more photos from Jennifer Aniston and Adam Sandler's Italian film shoot for Murder Mystery. Jennifer has had a relatively quiet summer, especially when you consider the fact that she and Justin Theroux announced their split just after her birthday in February. You would think, given her tabloid history, that Jennifer would have been mysteriously pap'd while doing body shots off some lithe, buff young man in Cabo, just for the hell of it. But no – Jennifer spent the summer working in Italy, hanging out with friends like George Clooney, and being somewhat quiet. There was her big InStyle interview, but she really didn't say anything or drive any particular narrative about her next step. WHO ARE YOU, JEN? As it turns out, 2018 Aniston is just… low-key and not-bothered.
Jennifer Aniston wrapped up her summer in Europe in good company. The actress, 49, spent the last few months surrounded by friends as she finished filming her upcoming Murder Mystery alongside Adam Sandler in Toronto and Italy, a source tells PEOPLE.

"She has been working long days but loves being in Europe. She has had friends with her including Chris [McMillan]," the insider continues, referring to the celebrity hairstylist who has worked with Aniston since she starred on Friends. Among some of her adventures in Europe, Aniston was photographed last month taking a quick break from work by staying at George and Amal Clooney's Lake Como residence with Sandler and his wife Jackie. Of her time abroad, the source says Aniston "is having a great summer."

"She isn't concerned about dating. She is happy to focus on work," the insider says. "She loves filming with Adam."

Aniston previously split from actor Justin Theroux in February after more than two years of marriage and seven years together.

"She doesn't even talk about him anymore," the source says of Aniston and Theroux. "She doesn't keep up with what he does. She is focusing on her own life."
If this is the Brand New Aniston, then I'm all for it. She's 49 – there's no need to play a game of "keeping up with the Joneses" with the younger celebrities. Aniston doesn't need the tabloid drama to keep her relevant – she's still working consistently and making smart business deals, and she's rich as hell. Not to mention, she's still pretty popular with the public at large.
…Now all that being said, I STILL FIND THIS SO SHADY. I can't believe that no one has even bothered to press Jennifer's team on the issue of her fake-ass marriage to Justin. Why hasn't *ANYONE* asked her about it? "So, you and Justin just pretended to be married, right? You just did that huge backyard ceremony and said vows to each other and none of it was legally binding? Why did you do that?"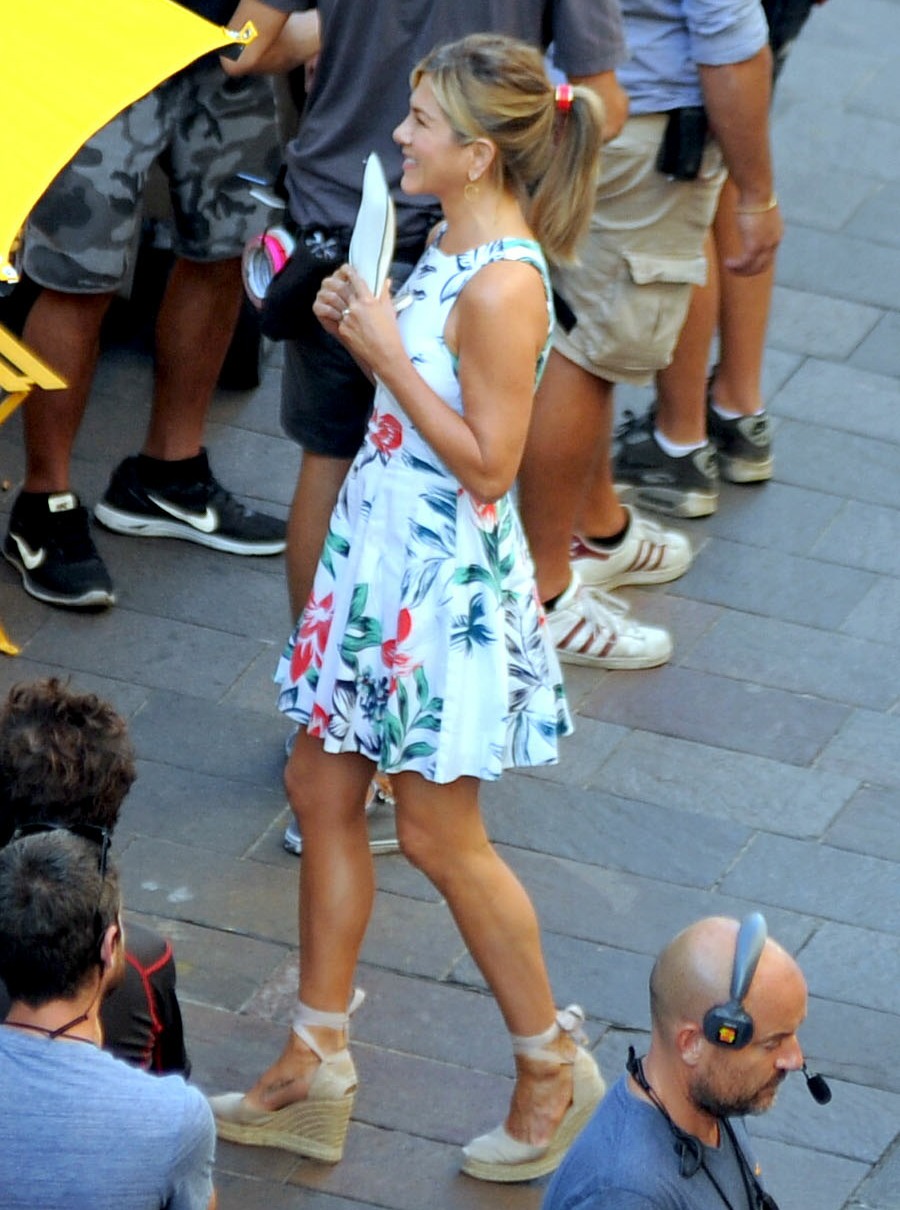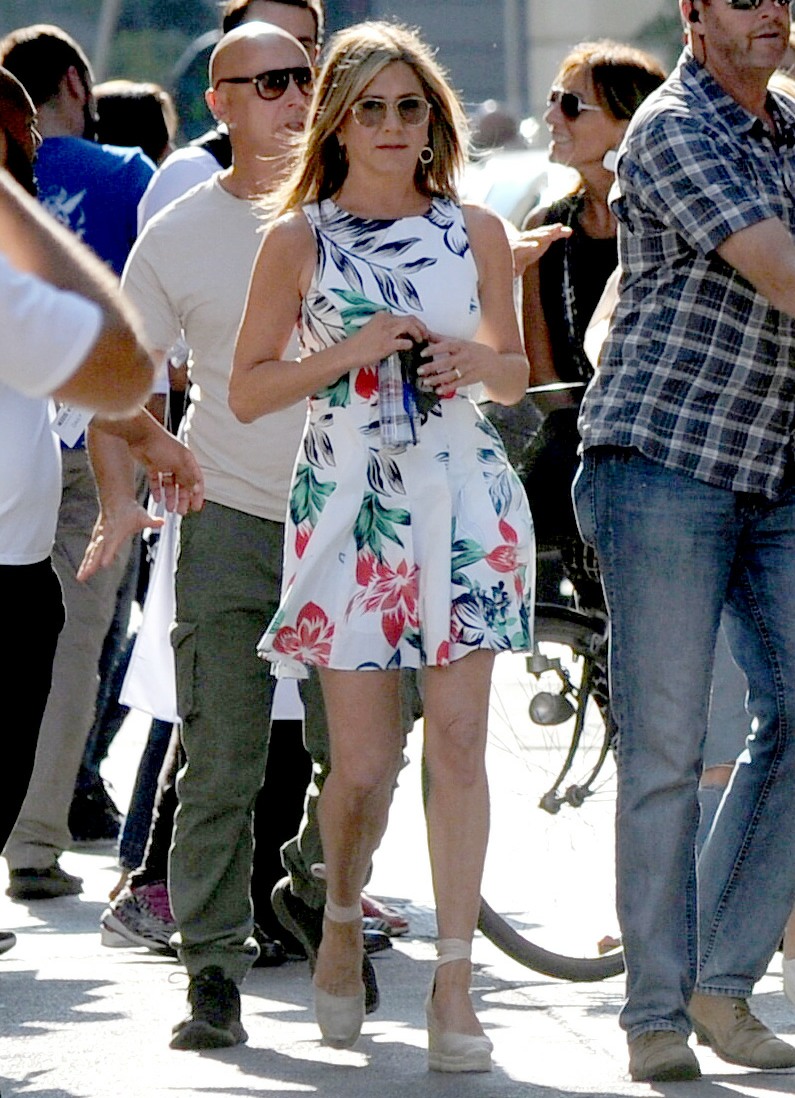 Photos courtesy of WENN.