Say what you want about Denise Richards, but she definitely scored an upgrade with Aaron Phyphers, and now the two have made it legal, getting married in a small ceremony in Malibu on Saturday.
The 47-year-old actress, who joins the cast of the Real Housewives of Beverly Hills this season, shared a quick video with Bravo, stating, "Yep, the rumors are true This is my husband Aaron, and we just got married." She told the network's The Daily Dish that, "I am so happy to officially be married to the love of my life. I can't wait for everyone to go on this incredible journey with me this season on The Real Housewives of Beverly Hills. It has been a wild ride so far!"
Denise wore a strapless mini-dress with a sheer train. The dress was created by designer Mark Zunino, who revealed on an Instagram post that he had a mere 24 hours to complete the look. He posted a photo with the bride, adding the caption, "24 hours to make a wedding dress? NO PROBLEM!!" He also shared his best wishes for the couple, adding, "Congratulations to Denise Richards and Aaron Phypers! Thank you for letting us be a part of your special day!"
Apparently, and not surprisingly, the trolls came out and went for Denise's bridal fashion choice, prompting Mark to post a follow-up. In the second photo of Denise in the dress, which, if you ask me is a fine choice for a second, casual wedding, the designer said, "I don't think we've ever had a wedding dress create more split opinions than the dress we just did for Denise Richards!" He went on to add, "Here's our thought: we work for the bride/client. As long as they're in love with the design, we feel we've done our job. Unless you've paid for it or are the one wearing it you don't have to worry about it!"
As for the decision to have a small ceremony (which you KNOW was filmed for RHOBH) and post-ceremony brunch, a source told People that "Denise and Aaron just want a small group of people to be at the wedding, really just their inner circle. They've both done this before and this time just want to exchange vows in front of the people who are most important." The source went on to say that he two were a "good team", stating,
"She and Aaron are extremely happy, and he's definitely game with her on-camera persona. He's on board with the drama that the show might bring, and Denise is a total pro with this. She's done it before and knows how to navigate life on and off camera even when the show gets blurred with reality. He seems to care for her in a real way and is up for whatever she throws at him and vice versa."
[Via People]
On Sunday, Denise posted a photo of the couples' wedding bands in the sand, surrounded by a heart, with the caption, "So this happened."
If you didn't get your invite for Denise's big day, don't fear, as I'm sure every last detail of her relationship and nuptials will be a major part of the new season of RHOBH. I hope that these two didn't just get together for the show (which I honestly don't think they did) and have a happy life together.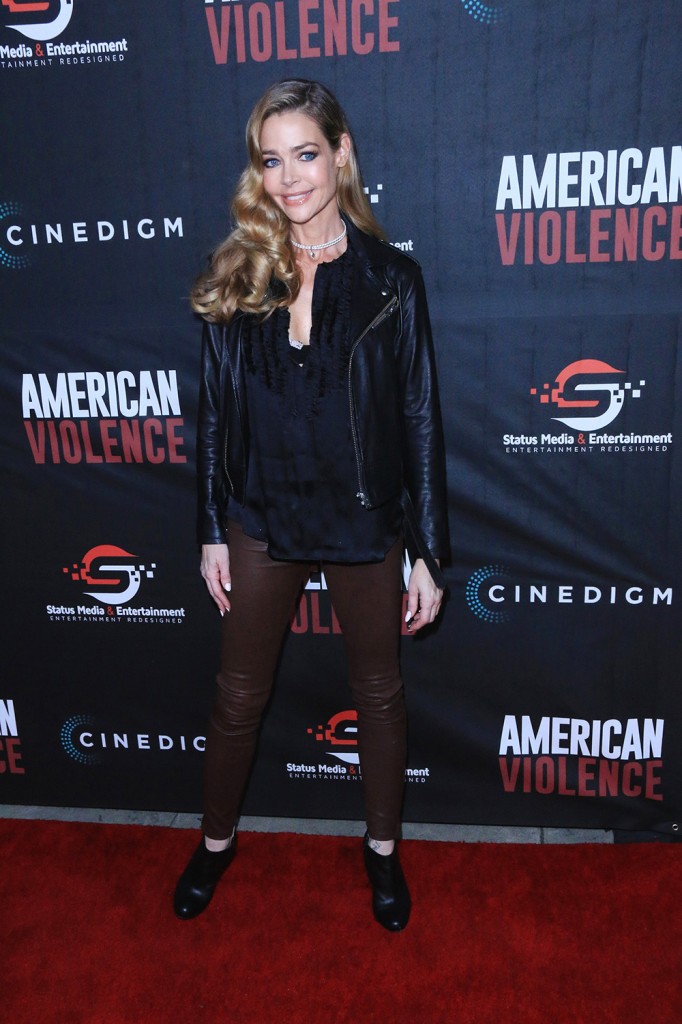 Photos: Getty, WENN, Instagram