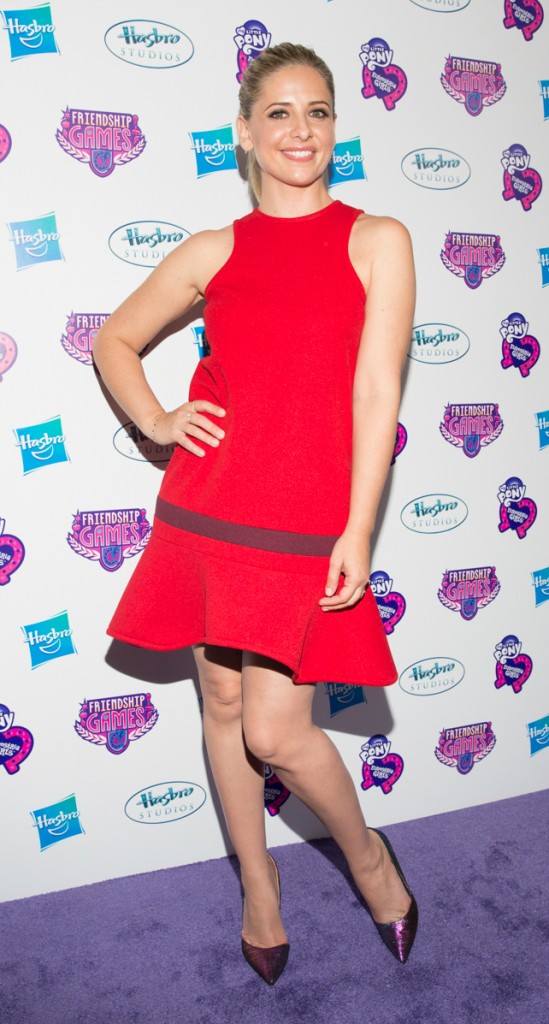 Earlier this week, as many of us debated whether we should sacrifice three hours of our life to the Emmy broadcast, Sarah Michelle Gellar found a way to have fun with it. Foregoing the traditional bathrobe over yoga pants look ideal for award show watching, Sarah recreated her 1999 red carpet look and posted it to Instagram:
In the video of Sarah in the dress, that's the 1995 Daytime Emmy she won for All My Children, which, let's face it, is the perfect accessory for an Emmy party. If anyone wants to see the dress she wore in to the 1995 Emmys when she won, Sarah posted this throwback photo replete with AIDS ribbon (brava) and curler burn on her forehead (you can see a full shot of the dress here).
I can see why the blue dress is her favorite, it's a great dress, minus the oversized slit in the front. The color is gorgeous on her. Honestly, if I owned it, I'd break it out a couple times a year. Parent Teacher conferences? Let me get the blue Wang! Kids Soccer Awards? Yup, I've got something to wear. However, if you're like me, you notice the dress first and the fact that she can still zip it up a quick second. I know I should be more evolved than that but I'm not. 19 years on and the dress still looks that good – more power to her. I'm a little surprised only in that she wore this gown pre-kids. I lost the weight plus some after I had my kids but my rib cage was permanently altered so there are items in my closet I will never get back into, even corseted (I can't bear to give them away, though). Given how dismal the actual Emmys show turned out to be, I hope she grabbed Freddie and the kids and went out for pizza in the dress instead.
Sarah's organic baking company, Foodstirs, is doing really well. She promotes it a lot on her Instagram. I love Sarah's Insta because her brand of humor appeals to me, like this pic she posted in honor of her 16th wedding anniversary to Freddie Prinze, Jr. I'm terrible with romantic sentiments so I'd probably post something similar. And her versions of "inspirational quotes" are right up my alley: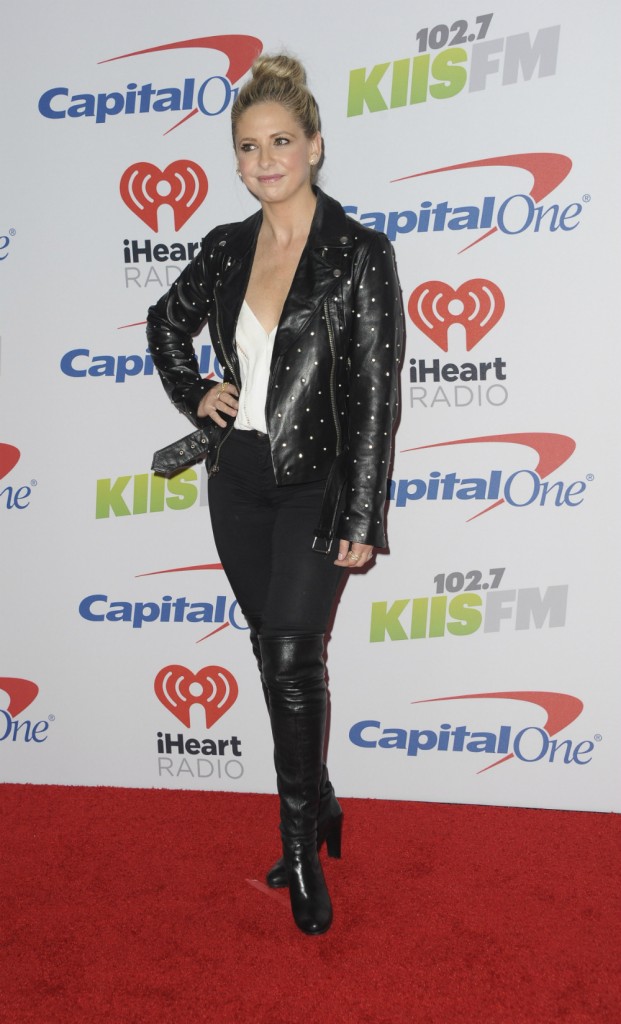 Photo credit: Instagram and WENN Photos