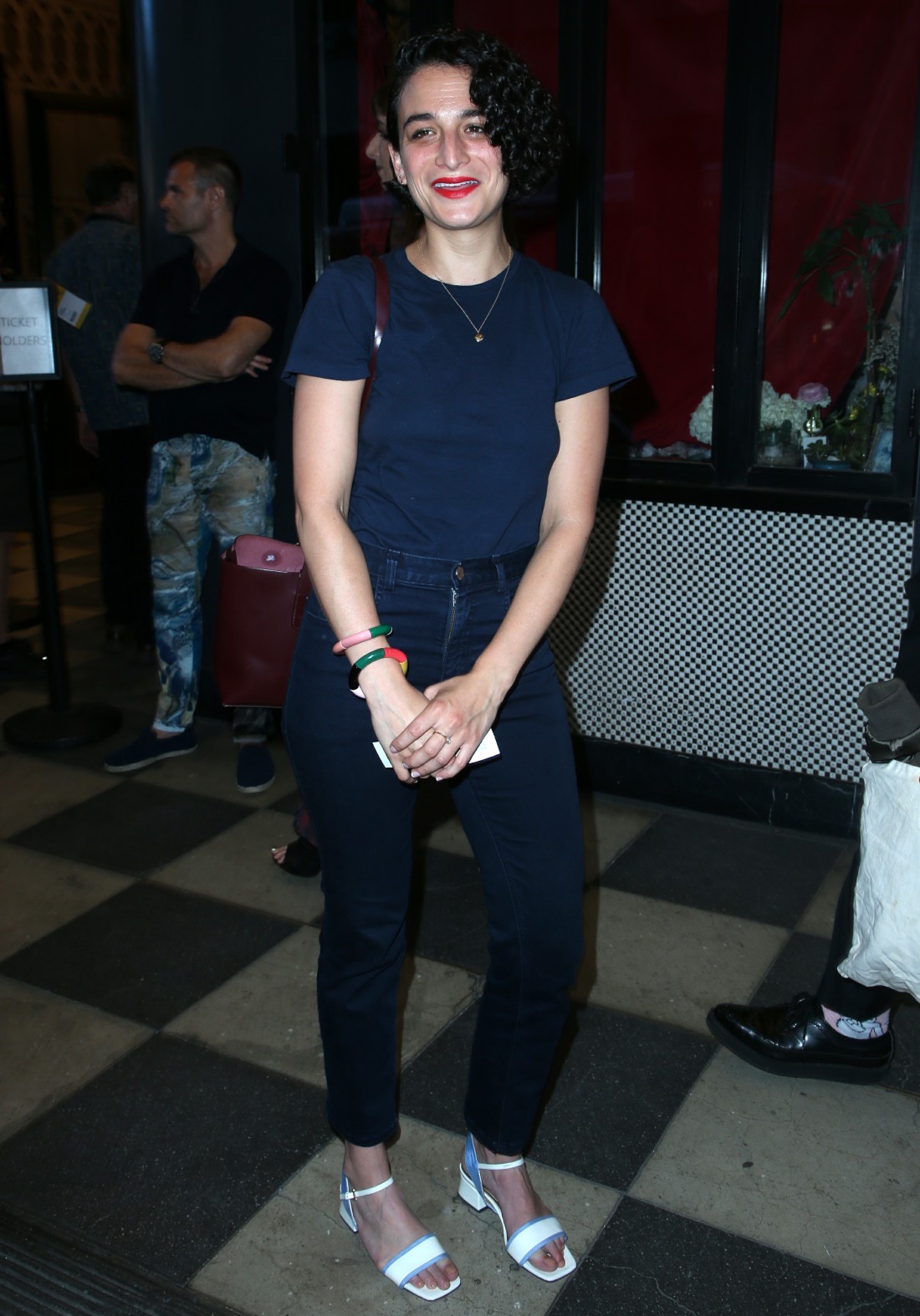 I keep forgetting that Jenny Slate is "the girl" in Venom. Venom is about Tom Hardy's normal-person character who gets infected with the evil whatever and he becomes Venom, best known as the villain in the Spider-Man canon. Well, Jenny Slate plays… one of the two "girls" (Michelle Williams plays the other one). Like, I think Slate's character is some kind of informant within Riz Ahmed's evil company and I trust that Slate's character has more to do than be the mere first-act plot device. Even if her character is just Plot Device With Boobs, is that so wrong? Is it so wrong for a little indie-spirit actress to want to know what it's like to work on a big villain-origin-story movie? Whatever. Anyway, to promote Venom, Jenny chatted with Elle Magazine, and I just remembered that she and Chris Evans broke up for a second time in March of this year. Okay, that's why she's talking about love and stuff. Some highlights:
On how she wants to meet Mr. Right: "You get to a point where after a while, you're like, it would be nice to be in love again. That's a major thing… I feel like an old lady, but I don't want to meet someone on a computer or phone." A single male friend told her recently that he wanted to meet his future wife at a friend's birthday party during the day. "It was one of the most romantic things I've heard. And that's kind of how I feel about it, too. I like the idea of meeting somebody at a dinner party filled with people you already like. [A more aspirational version is] I get invited to some weird eco-tech summit to do stand-up, and I meet a really warmhearted scientist who loves the earth."

On feeling comfortable being by herself: "I'm pretty open and flexible, and I like the idea of getting into someone else's world. But it's taken me a while to understand why it's nice to be alone. I mean, if somebody swept me off my feet today, that would be great. I'd be ready for it, because in a lot of ways I feel the nicest about myself that I've ever felt. At first, being alone, I felt scared and maybe ashamed or cast off or something…but I live in a beautiful old house that's just big enough for me and my dog and maybe one other person…I like myself and I'm peaceful, so this is it [her dream life]."

On her drastic move to chop off her hair: A rat died a horrible death in her CA home, and Slate confronted a frustrating reality…her knee-jerk reaction was to wish she had a dude to fix her problem. "I kind of gendered it, and that really bummed me out. I was looking at myself in the mirror, and this is really odd, but I was like, 'Why do you have long hair? You don't even want it.' And then I was like, 'I have long hair because there's a part of me that thinks that's what men prefer. And I think it's better for auditions.' And so I called my friend Lang, and she came over and got rid of the rat. And then I called my friend Nikki, who cuts my hair, and I told her, 'I only look like this because I am deeply trained to please an industry and cis-hetero dudes. Can you cut my hair into a triangle the way that I want it?' "
When I hear women talk about being scared to be alone, I always feel like "WHY?!?" Being alone is awesome, and I'm not trying to sound like a sad sack. You can eat dinner at whatever time you want. You make your own schedule completely. You don't have to share anything. You get to hang out with friends or strangers or no one at all, completely according to your own whims. There's less drama in general. But I get it, in Jenny's case: she's a romantic, and she really thought she was going all-in with Captain America. But he had issues (commitment issues and more). And she's right about the other thing too – sometimes I do wish I could dump some problems on a dude. Like, just basic stuff like changing a light bulb outside that I really don't want to do.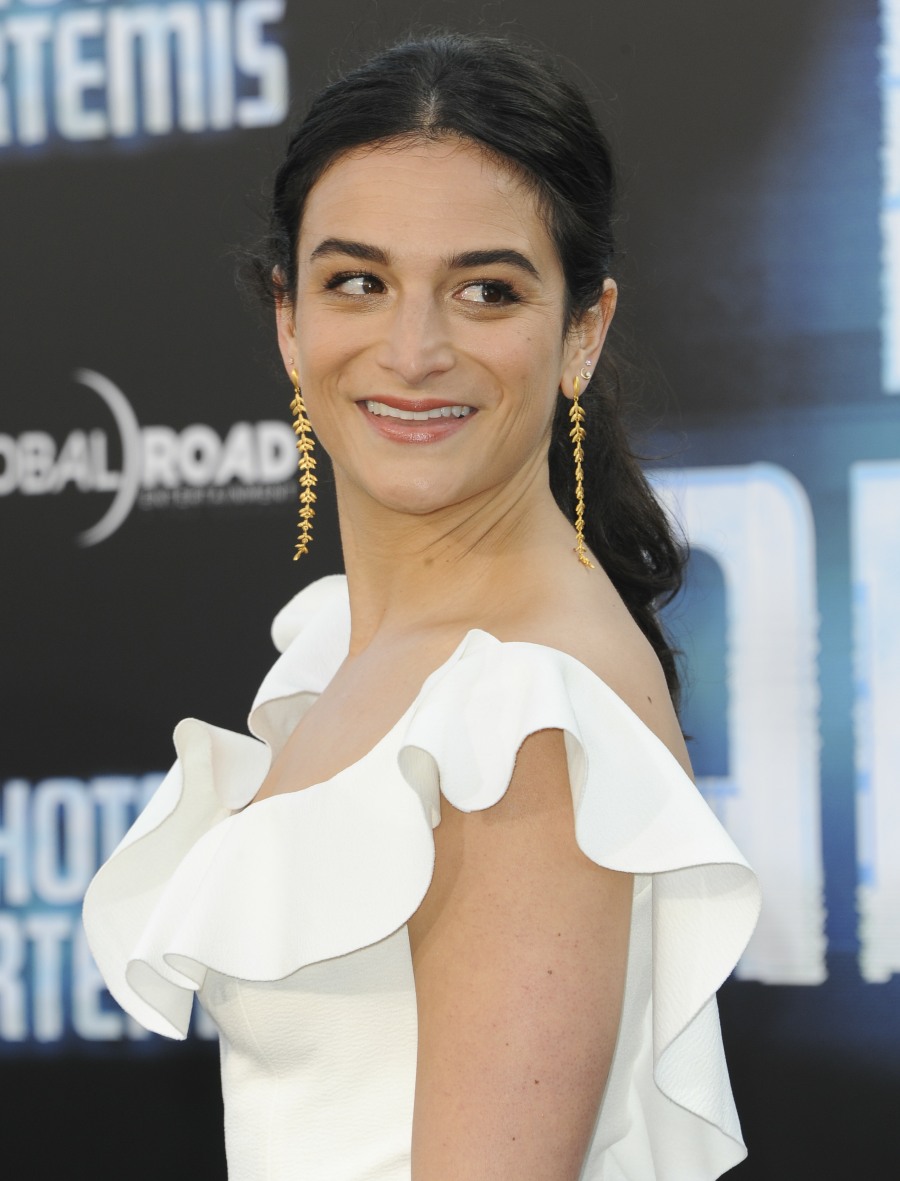 Photos courtesy of WENN.