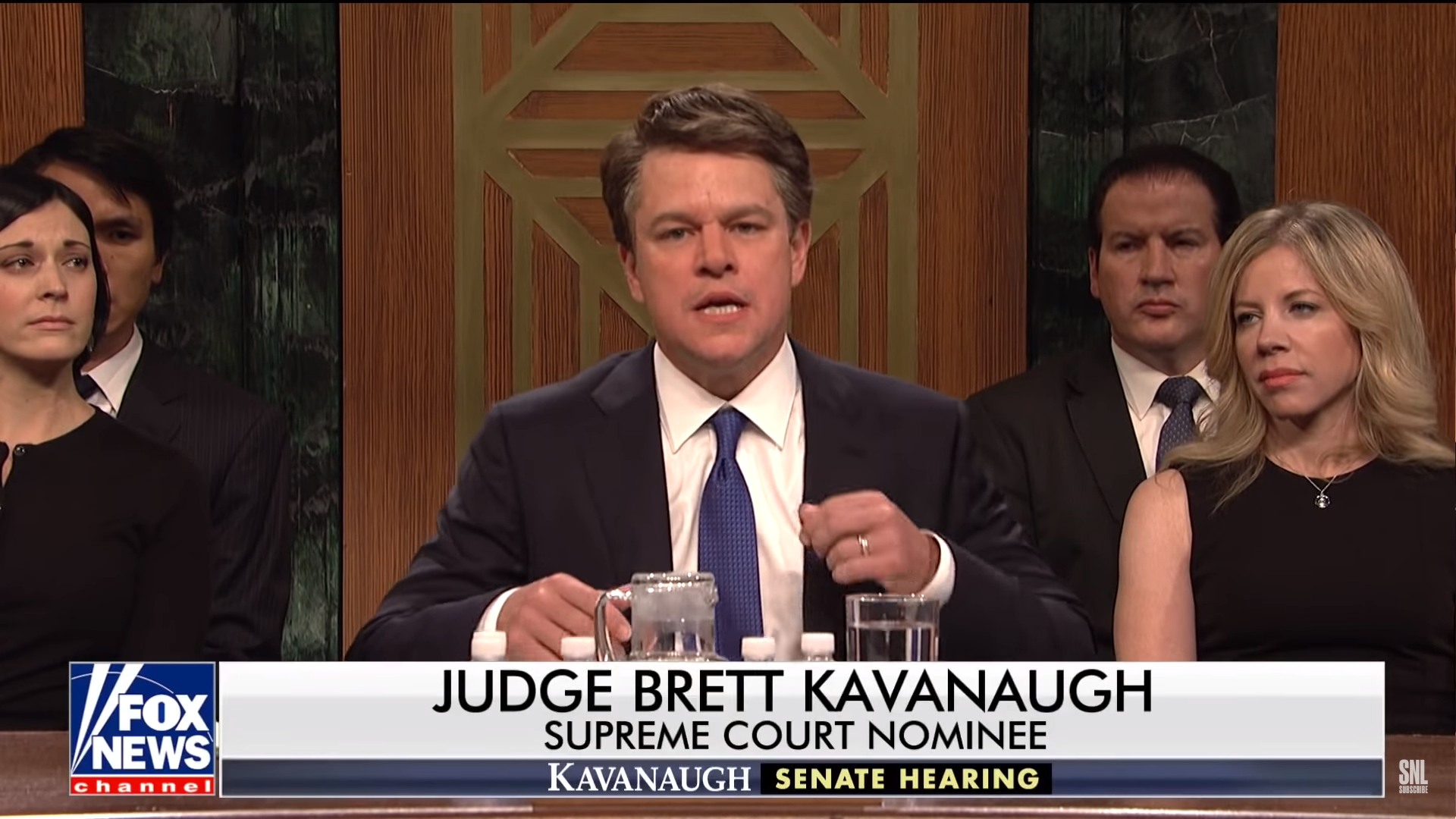 I honestly forgot that Saturday Night Live came back this weekend. Adam Driver was the host, and they had a lot of material to cover from the summer. My guess is that a lot of that material got thrown out of the window at the last minute as the Kavanaugh-Ford hearing took precedence, and Brett Kavanaugh made such a spectacular ass out of himself. I can't even imagine how quickly they had to put together their cold open, which featured everyone's favorite #MeToo Denialist Matt Damon as Kavanaugh:
A few things… you can tell that the SNL writers were worried that they were being too one-sided because of the joke they made about Cory Booker, who did a lot more than just make a face. But the portrait of Kavanaugh as a drunk a–hole and predator… I mean, it's not satire. This barely qualifies as satire.
Also, Alyssa Milano loved her cardboard cutout:
#SNL pic.twitter.com/Md0lqlcbfV

— Alyssa Milano (@Alyssa_Milano) September 30, 2018
The Kavanaugh situation was also dealt with on Weekend Update:
Vanity Fair had some interesting analysis on "the SNL factor" within the White House. While Trump has always loathed Alec Baldwin's portrayal, it's clear that Trump does care when other people in his orbit are satirized to great effect on SNL. It was said that Trump absolutely hated it when Melissa McCarthy played Sean Spicer, and McCarthy's portrait was one of the reasons why Spicer is gone now. Trump will probably hate Matt Damon's Kavanaugh impression, I guess?
"Do you really think you have the right demeanor to be a Supreme Court Justice?"

Matt Damon "I lifted weights every day . . . am I angry? You're damn right! But if you think I'm angry now you just wait until I get on that Supreme Court and then you're all going to pay!" #SNL pic.twitter.com/AsVW6IcQWE

— Natasha Rinehart (@TashRinehart) September 30, 2018
Screencap courtesy of SNL.