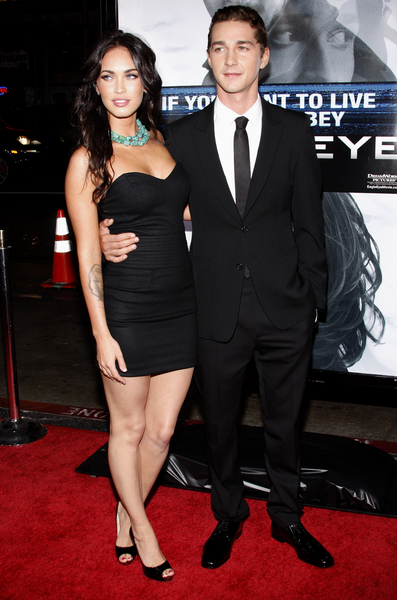 Megan Fox and Shia LaBeouf are potheads. They are joined at the gravity bong. Their romance is enhanced by the Chronic. They don't fear the reefer. So says the National Enquirer, where the editor pulled together some old quotes from Megan and Shia talking about how they (separately) love the marijuana, and threw in some new quotes from an "insider" saying that Shia and Megan "joke about growing old together as an eccentric hippie couple." I've actually never read too much about Shia being a current pothead, but he's given recent interviews about his own naked, reefer-smoking hippie parents.
Megan Fox and Shia LaBeouf are in love – with smoking reefer!

The co-stars of the summer blockbuster Transformers: Revenge of the Fallen play coy about whether they're lovers in real life, but both admit they love the "high" life!

"Megan and Shia are very vocal about their pro-marijuana stance," divulged an insider. "They've both indulged, and they've had many lively late-night conversations about how marijuana should be legalized.

"They also support hemp as an alternative energy source, and they joke about growing old together as an eccentric hippie couple."

Foxy Megan confessed, "I can't tell you how much I've been through because I will openly say that I smoke weed. People look at it like it's this crazy, hippie thing to do. And it's not. I hope they legalize it. And when they do, I'll be the first person in line to buy my pack of joints."

Shia has often talked about his unconventional upbringing, including father-son toke fests and a hemp-centric head shop owned by his mom.

"I grew up with a bunch of hippies, and marijuana was always around," the stoner thesp revealed. "Pot was never looked at as a negative thing. I could smoke it on holidays with my parents, and we were all good. I like pot. I can put limits on it."

Just don't drive when tokin' Shia – might cost you another finger!
[From National Enquirer]
See, I think Megan Fox talks about smoking pot because she thinks talking about it (or doing it) makes her edgy or cool. Shia actually strikes me as the genuine stoner. He reminds me of a bunch of guys I went to college with – the funny, cute guys who thought it would be hilarious to try to give the dog a contact high. Those guys. That must be why I like Shia – he seems so familiar to me. And perhaps I don't care for Megan because she seems like a total pot poseur. Or is she a genuine stoner? It would certainly explain all the dumb stuff she says.
Shia LaBeouf and Megan Fox are shown at the "Eagle Eye" premiere on 9/16/08. Credit: PRPhotos