The countdown is on to the release of the eagerly awaited sequel to Halloween, which means that we're hearing a lot from the film's star, Jamie Lee Curtis. This is definitely not a bad thing. The 59-year-old actress spoke with New York Magazine about the film and shared some unique insights about herself and her career.
In the interview, Jamie admits that while she holds a fascination with The Exorcist, she's not a fan of being scared. However she is happy with her status as Hollywood's legendary scream queen, stating, "If Halloween was my dish that I brought, I'm very proud of my dish. I make a great Halloween." Here are some highlights from the interview:
On feeling "illegitimate":
"I always felt illegitimate because my first success was in Halloween [and Prom Night and Terror Train and Halloween II] and I'm an untrained actor. I did not go to acting class. I did not go to film school. I did not study with great teachers. The illegitimacy that I felt as a young performer carried for a long time, and it probably has informed my whole life."

On learning not to mess with nature:
"I tried to shift the natural course of my life through plastic surgery, and when it didn't work, I felt ashamed and secretive."

On posing without makeup and in her underwear for her photo shoot for More magazine:
"I didn't know it would go viral," she says, "but I knew there would be women who had looked at pictures of me in Perfect with my leotard, jumping around, and they would appreciate that I was struggling with the fact that I had gained some weight and that I was a kind of … I looked like I looked, which was fine, but I was not this hard-bodied person that they thought I was."

On the emotional Halloween shoot:
"Every single scene I did, I had to hold back crying, every single scene. I was sitting on it all day, every day, alone, away from my family, away from my life, in Charleston, driving around. I didn't know where the fuck I was, I was isolated like Laurie. I was a bit of a freak."

What she'd say to Laurie, her Halloween character:
"It's going to be okay, you're going to be okay…because we're here, and we're going to take care of you."

On what really frightens her:
I believe that there are some very damaged people, some very scary people, but I am much more frightened by people who lie, who obfuscate, who shape-shift, who make you think they're one thing when they're another."

On legitimacy, part two:
"It breaks your heart. The irony is that in those movies I am smart, intellectual, brave, romantic, and chaste. But in order to become 'legitimate,' I'm a Playboy centerfold who's murdered by her husband [in the 1981 TV movie Death of a Centerfold: The Dorothy Stratten Story], or I'm topless in a big studio comedy [1983's Trading Places, in which she plays a prostitute]."
[From New York Magazine/Vulture]
Jamie did try messing with nature and previously admitted, "I've done it all. I've had a little plastic surgery. I've had a little lipo. I've had a little Botox. And you know what? None of it works. None of it." She had her eyes done at 35, because, as she recalled, "I always look like I haven't slept, and that was my whole life." After a cameraman said he couldn't shoot her for a scene in the movie Perfect, she got surgery. After her surgery, she became addicted to Vicodin and has spoken openly about her struggles. She's been sober since 1999 and wrote about her experiences in an essay for the Huffington Post in 2009.
After every story I write about Jamie, I am delighted to see so many positive comments. She is an awesome lady and I appreciate her honesty and candor. I think she's as legitimate as they come, and I still can't wait to see Halloween.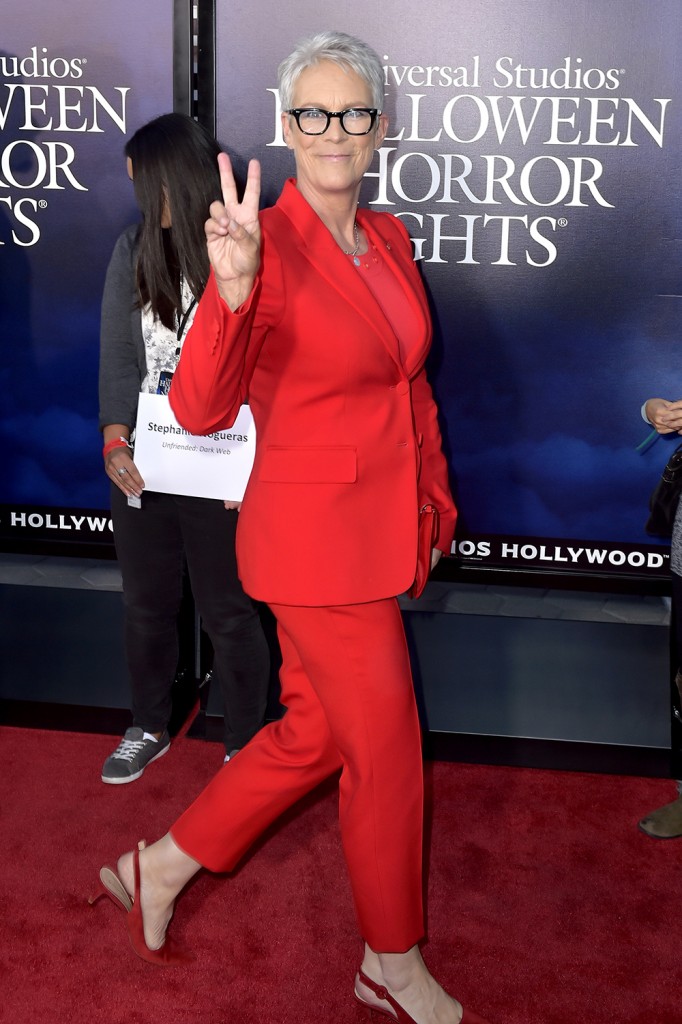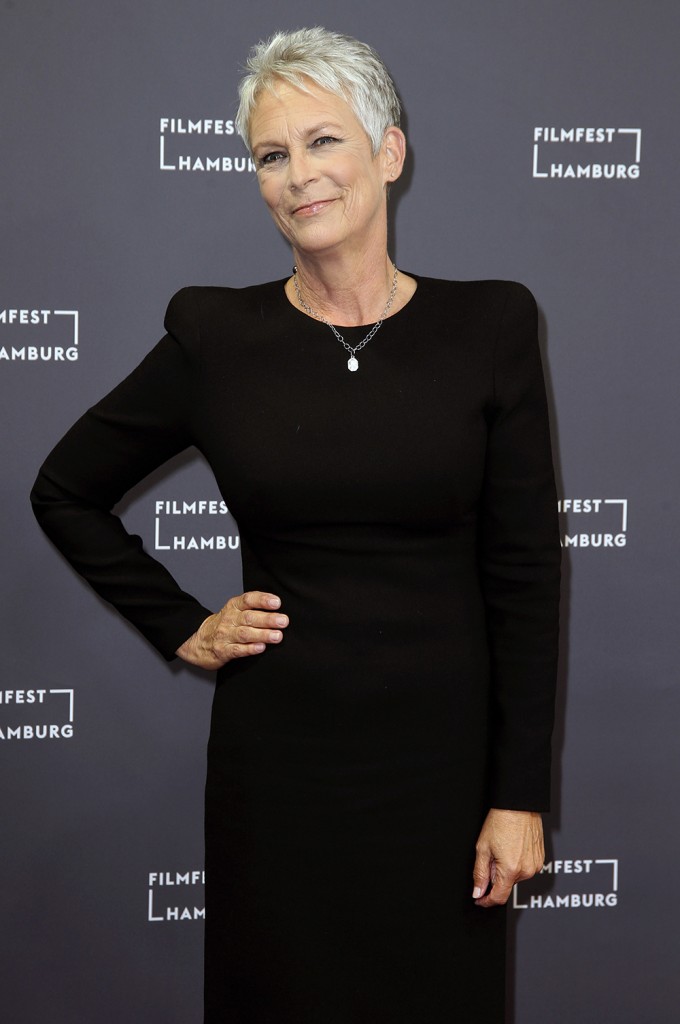 Photos: Getty, WENN