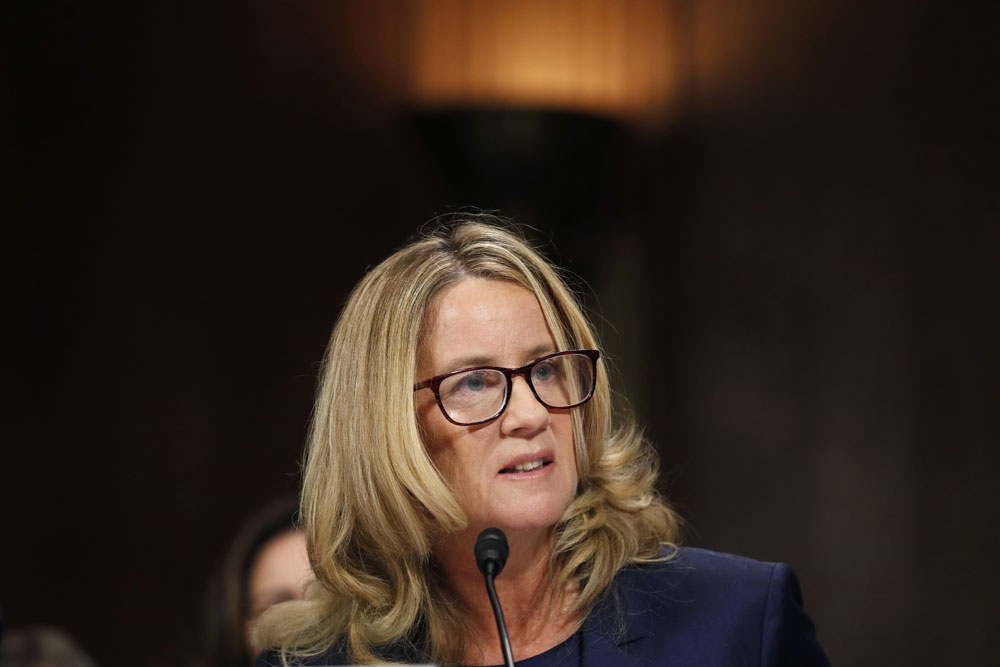 Dr. Christine Blasey Ford, the Palo Alto University psychology professor who testified in front of the Senate about being assaulted by Brett Kavanaugh as a teen, is still in hiding. However her lawyers have been speaking to the press. As you know, Kavanaugh was confirmed to the Supreme Court this weekend despite Dr. Ford's testimony and multiple credible assault allegations against him. He also perjured himself and showed an angry, defensive temperament not suited to the SCOTUS. The FBI investigation was largely a sham, with the FBI failing to interview Kavanaugh, Ford or many other witnesses who have come forward to offer sworn statements. What's more is that Ford paid a great personal cost for coming forward. Her lawyers have said that she's unable to return to her home after receiving constant death threats. They've also revealed that she is not calling for Kavanaugh to be impeached. (Here's more on that process.) I'm going to excerpt from two interviews they did, with MSNBC and CNN.
A lawyer representing Christine Blasey Ford says she absolutely does not want [Kavanaugh] impeached if Democrats take control of Congress.

Ford's attorney Debra Katz tells CNN's Dana Bash in an interview that Ford only wanted to tell her story to Senate Judiciary Committee members. She doesn't want the process to drag on into the next Congress should Democrats end up winning control on Capitol Hill.

"Professor Ford has not asked for anything of the sort. What she did was to come forward and testify before the Senate Judiciary Committee and agree to cooperate with any investigation by the FBI and that's what she sought to do here," Katz said.

Her attorney Lisa Banks said Ford doesn't have any regrets about coming forward.

"I don't think she has any regrets. I think she feels like she did the right thing," Banks said.

"And this was what she wanted to do, which was provide this information to the committee so they could make the best decision possible. And I think she still feels that was the right thing to do, so I don't think she has any regrets…"

Ford's lawyer responded to President Donald Trump's comments at a campaign rally earlier this week where he had appeared to mock her testimony before the Senate Judiciary Committee.
Banks said Ford was "upset by it."

"It was very hurtful, as it would be to any woman. Any survivor who had the courage to come forward only to be mocked and belittled by anyone really, but certainly by the President of the United States, it was very upsetting. It was very hurtful," she said. – From CNN

---

One of Ford's attorneys, Debra Katz, told NBC's Kasie Hunt that it's going to be "quite some time" before Ford and her family can return home.

"Her family has been through a lot," Katz said. "They are not living at home. It's going to be quite some time before they're able to live at home. The threats have been unending. It's deplorable."

"It's been very frightening," Katz added. – From MSNBC via The Hill
Attorney Banks also said that Senator Feinstein respected Dr. Ford's confidentiality, but that "many things" went wrong during the process after Ford sent the letter to Feinstein. This scenario is all too common for sexual assault survivors, who often face more long term consequences than their assailants. The President of the United States mocked Ford's very compelling, credible testimony. No wonder she's not safe at home and is getting death threats. Dr. Ford does have a lot of support worldwide and particularly in her community. The San Jose Mercury News has a nice piece with quotes from people who know her and includes details of a rally that was held in Palo Alto in her honor. The Mayor of Palo Alto, Liz Kniss, plans to give Dr. Ford a proclamation of bravery once she's ready to return. Her neighbors and friends surely have her back.
Dr. Christine Blasey Ford's attorneys tell @kasie that Ford is still not living at home and can't for "quite some time."

She is still receiving "unending" death threats. pic.twitter.com/u6W5CmW0v8

— Kasie DC (@KasieDC) October 7, 2018
Dr. Ford's counsel has provided a statement from Keith Koegler, Ford's friend and corroborating witness who was not permitted to testify or be interviewed by the FBI. He also signed a sworn declaration, which was provided to the Judiciary Committee before Ford's testimony. pic.twitter.com/UUiY65rvlU

— Kyle Griffin (@kylegriffin1) October 6, 2018