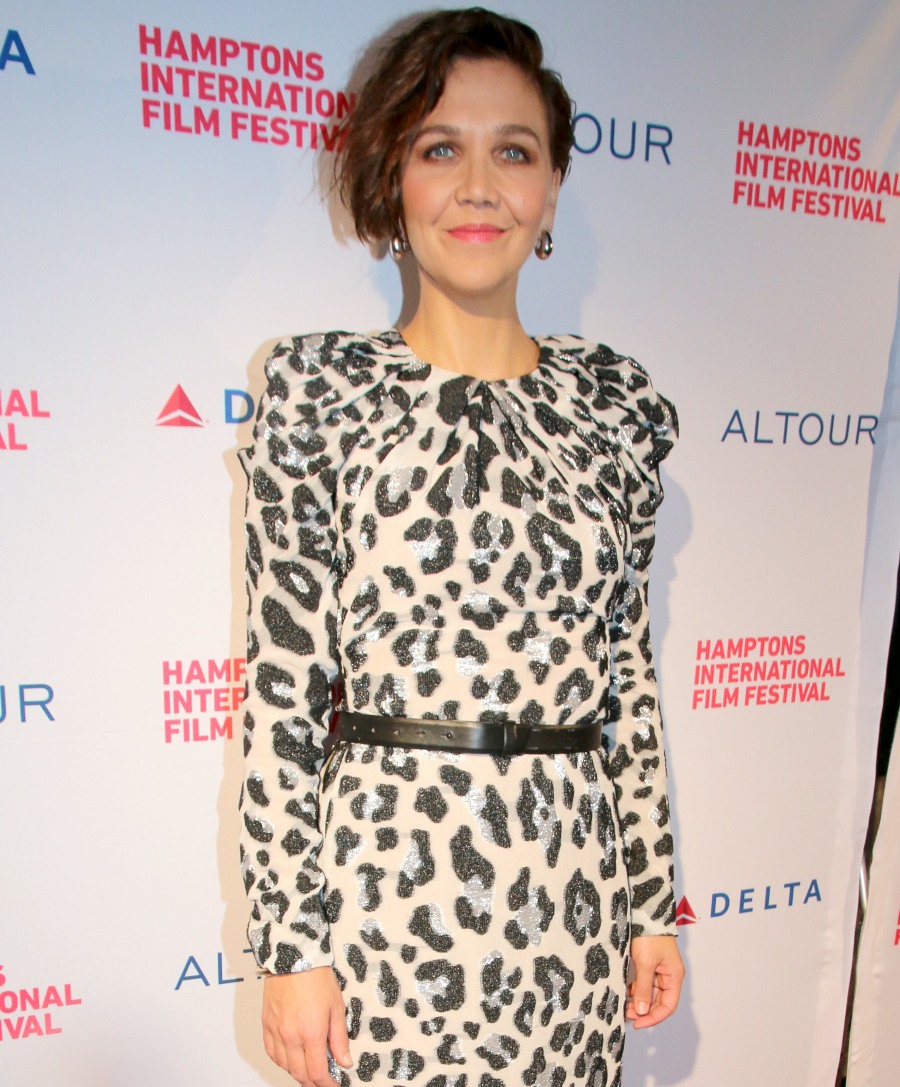 I don't watch The Deuce and I'm not really interested in its premise, which is about the early days of the p0rn industry in New York. Maggie Gyllenhaal has a big role as a hooker-turned-director, and James Franco plays two characters, twin mobsters. Maggie was out this week promoting the second season of the series, and she obviously got some questions about James Franco and how he's been accused of abuse, harassment and assaulting several different women in many different situations. The claims and stories go back years, and just this week, Busy Phillips spoke again about how Franco is a "bully" who violenting threw her to the ground and knocked the wind out of her (she says it's all fine now, but still). The issue should not be "let's see what James Franco's costar has to say," but here we are. Maggie is basically having to answer for Franco's behavior more than he's ever had to answer for it.
"You know, we at the time that the accusations against James came out in the L.A. Times we read them all, we took them very seriously," Maggie Gyllenhaal said Tuesday on the SiriusXM show Sway in the Morning. "We spoke to every woman on the crew and in the cast to find out if they felt respected and what their experience of working with James was and everyone said that they had been totally respected by him. I feel like it would've been the wrong consequence to those accusations to shut our show down. It would've been like actually the opposite of the right thing to do… And yet, you know, look, I believe that there should be consequences for disrespecting or assaulting women. Of course, I do."

Gyllenhaal also addressed the allegations against Franco in an interview with Vulture. "I'm so not objective," she said. "I'm not the right person to talk about that except to say that neither of James's characters on the show are heroes. I would say he's walking right into the eye of the storm — he's continuing the conversation with the work that he's doing….I think about our show in particular: It's about misogyny, it's about inequality in terms of gender in the entertainment business. It's about the subtleties of transactional sex. And I felt that it would have been a terrible shame to stop telling that story."
Is Gyllenhaal's answer the best? No, it's not. I expected more from her, especially since she's ordinarily such a fearless feminist and advocate for gender equality. What I'm feeling from her is that she doesn't want to be the one to rock the boat on a steady job, plus she actually believes in the show and believes in what they're doing. How many times are women put in the position of professional peacemakers and the ones who are expected to turn a blind eye to their male coworker's issues? So while I think Maggie's answers are not-great, I also think she's doing more to talk in-depth about this than James Franco. Franco is using Maggie as a shield AND she's the only one out there, promoting the show. It sucks. HE sucks.
Photos courtesy of WENN, Getty.