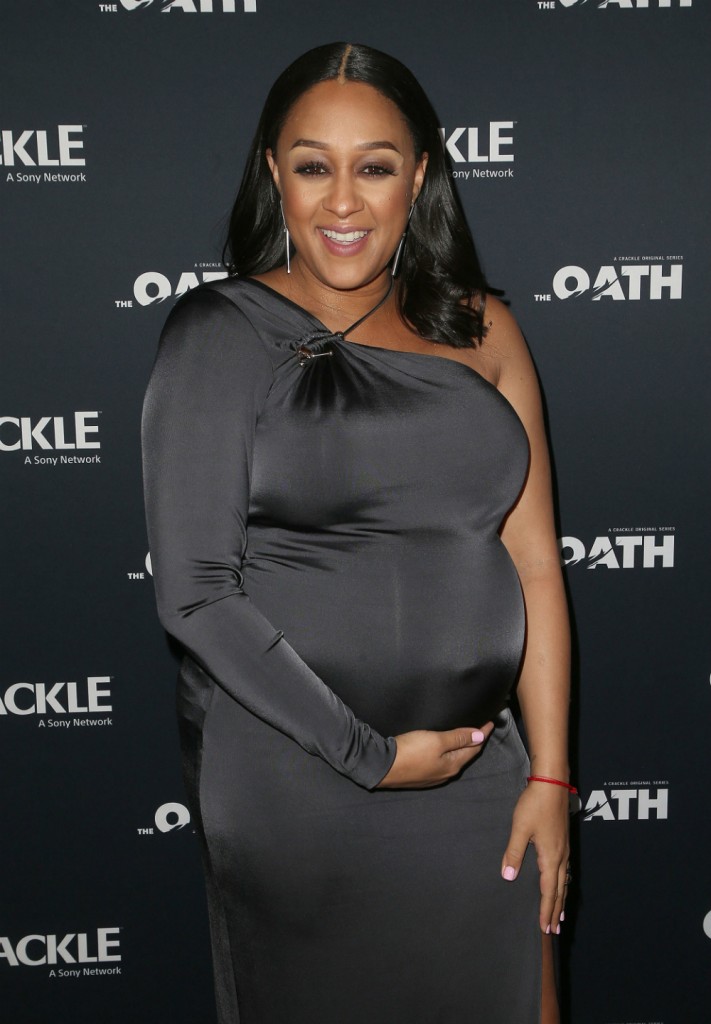 Actress Tia Mowry-Hardict is mother to two beautiful children, Cree, seven and Cairo, five months. A month after having Cairo, Tia spoke about the unrealistic expectations of her post-partum body. Now she's opening up about another topic, one that needs more attention: endometriosis. Tia wrote an essay about her struggles with endometriosis that include the excruciating pain, extensive treatments and fertility issues. But Tia is also speaking out because, as she points out, the issues is not addressed or researched enough in the African American community. You can read the unedited essay here.
I never thought I would have infertility issues. No one around me, including my mother and family members, had ever talked about having trouble getting pregnant; it was never something that crossed my mind. So about 15 years ago, when I was in my mid-20s and had been dating my then-boyfriend, now husband, for some years, the natural next step was to talk about marriage. Although we weren't immediately ready to start trying to have a baby, we knew we wanted kids at some point.
And then I was diagnosed with endometriosis.

The diagnosis wasn't the first time I realized something might be wrong. I'd been experiencing extreme pelvic pain for years and went to several doctors. Each one would brush me off. "Those are just really bad cramps, some women get them more severely," one told me. "Just put heat on it," one suggested. Another doctor simply said: "Get on the treadmill—working out helps."

No one should ever have cramps so bad that they're ready to call an ambulance. I once found myself crying in the back of my car, and my sister Tamera had to drive me home because I was in too much pain to drive.

Finally, in my late 20s, I ended up going to an incredible African American doctor who immediately knew what I had. She explained that endometriosis occurs when the tissue that belongs inside your uterus grows on the outside instead. It's very painful, and many African American women are often misdiagnosed because there's been less research done on the prevalence of endometriosis in our community.

I thought I was alone because no one I knew personally had dealt with this. And then I realized: I'd never really seen someone African American in the public eye talking about endometriosis or their struggles with infertility. And when you don't know or see anyone else who looks like you talking about what you're going through, you feel alone and suffer in silence.

I also want to raise awareness. As Black women, we're particularly at risk for endometriosis, yet so many of us don't even know what this condition is. If more of us talked about it, more women might say: "Hey, I've had those symptoms, let me go get checked."
Tia said in the essay that going public with this was really hard for her. She worried about backlash and people accusing her of making it up. That's another downside of an issue not being discussed openly. I still don't know much about endometriosis. I'd not heard of it until Lena Dunham started talking about it. And this is where celebrities like Tia really do the good work. I had debilitating cramps as a young woman. I had to keep a bowl by me on the couch because the pain caused me to vomit but it also prevented me from being able to walk. I don't think I had endometriosis because the pill alleviated the bulk of the pain and I had no fertility issues. My daughter is already in need of a heating pad for her cramps. Before, I might have told her it's just girl trouble like I was told, but now that I'm hearing these discussions, I will absolutely press her doctor about it.
I'm glad Tia is speaking up for her community. It's tragic to read, "many African American women are often misdiagnosed because there's been less research done on the prevalence of endometriosis in our community." She discusses her treatments in more detail in the essay, about changing her diet and needing multiple surgeries. I hope endometriosis continues to stay in the spotlight and no longer written off as something women should just expect to endure because that's their lot in life. No one should have to call an ambulance for a naturally occurring condition and certainly no one should have to feel alone in discussing it.
Photo credit: Avalon and Instagram